Aqua Acoustic Quality Aqua Formula xHD D/A processor

At the 2018 Consumer Electronics Show, when John Atkinson and I entered the room shared by Lamm Industries, Aqua Acoustic Quality, and Kharma room, we were looking for two things: good sound, and digital products for me to review. When we spied AAQ's Formula xHD digital-to-analog converter, the possibility of evaluating a potentially excellent DAC made by someone other than the usual suspects felt like a golden opportunity.
There were two mitigating factors. First, I usually don't use a preamplifier with either of my reference DACs, dCS's Rossini ($23,999) and Vivaldi ($35,999). Instead, I try to keep things simple, and use the dCS DACs' onboard volume controls, rather than add to the system a preamp. (Did I just describe as "simple" an expensive digital front end that, together with the dCS Network Bridge, Scarlatti clock, and Paganini transport comprises up to four components, all connected by a maze of cables?) The conundrum was easily solved: John suggested that I borrow Lamm Industries' L2.1 Reference preamplifier ($22,790), which he described as "excellent," and which Art Dudley favorably reviewed in the July 2017 issue.
Second, I was not totally blown away by the sound of digital recordings through this room's $649,440 system. While there was much in the system to admire, as I said in my report on this room, this rig "rounded the leading edges of tones," and I questioned "Whether it did full justice to the lower voices and wealth of detail in two of John Atkinson's superb choral recordings." As someone who prefers to review products whose sound attracts me in the first place, I was a bit uneasy as I committed to reviewing the Formula xHD. Then again, I'd heard it in a system comprising multiple components whose sound was unknown to me—who knew what was responsible for what?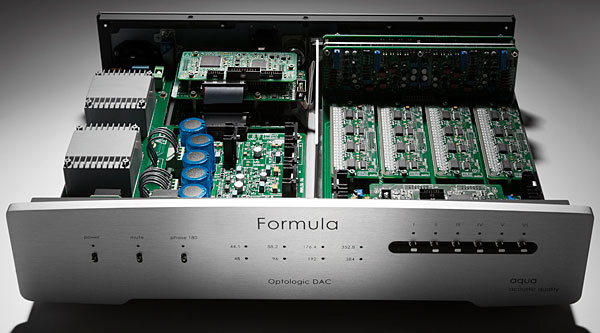 Stairway to Heaven?
A relatively new company, Aqua Acoustic Quality, aka Aqua Acoustic Quality, was founded in Milan, Italy, in 2010 by product designer and CEO Cristian Anelli. AAQ released its original Formula DAC in 2016, a year after the company entered the US market, and introduced its successor, the Formula xHD Optologic ($17,000), last fall at the 2017 Rocky Mountain Audio Fest.
The Formula xHD has no chips or digital filters. Its fully decoupled, non-oversampling, 24-bit, four-branch resistor-to-resistor (R2R) ladder conversion technology is based on field-programmable gate arrays (FPGAs). Each channel's R2R ladder network is galvanically and magnetically isolated from the FPGAs and connected by way of opto-couplers, or light couplers, hence this system's name: Optologic. AAQ's website claims that its Optologic system "creates complete isolation of all digital circuitry—including the clock—from the analogue section, for a clean, noiseless ground plane. It also plays the main role in the differential management of the R2R ladders, achieving perfect symmetry between the counter-phase halves."
Boasting "Proprietary hybrid 2-stage XMOS xCore XE216 + FPGA," the Formula xHD's Isolated Synchronous Discrete Circuit (ISDC) handles digital decoding and clock management. The analog and digital power supplies use MOSFETs, J-FETs, BJTs, and ultrafast diodes. Capacitor choices are a mix of electrolytics, tantalums, and other types. The signal path is direct-coupled and free of capacitors. The Formula xHD's two output stages—one single-ended, one transformer-coupled and balanced—use discrete BJTs and J-FETs alongside metal-film resistors.
For owners of AAQ's La Diva CD transport (or, presumably, other transports with an I2S interface), the Formula xHD includes an RJ45 AQlink (I2S serial bus) that decodes PCM up to 24-bit/768kHz and DSD up to 256Fs via DoP, as does its USB Type B port. BNC, RCA, and AES/EBU digital inputs handle PCM up to 24/192. An optional AT&T (ST fiber) input tops out at PCM 24/192, and an optional optical/TosLink input tops out at PCM 24/96. The Formula xHD's modular, multi-circuit-board design should permit easy upgrading as new improvements are developed.
On the left of the front panel are three toggle switches: Power on/off, Mute, and Phase 180; on the right are six more toggles, one for each of the six digital inputs, labeled I through VI, with a green LED above each. Eight more LEDs at front center indicate the sample rates: 44.1, 88.2, 176.4, 352.8kHz, and 48, 96, 192, and 384kHz. In other words, the front panel is quite busy, and not destined to win design awards.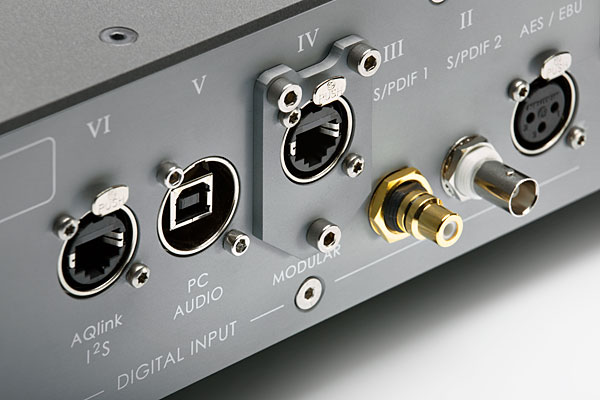 On the rear panel are pairs of balanced (XLR) and single-ended (RCA) analog outputs; the digital inputs are AQlink I2S, USB-B, Modular (Ethernet), RCA, BNC, and AES/EBU; there are also a Remote jack and an IEC power inlet. AT&T and optical TosLink inputs are optional. The digital inputs are numbered I–VI, corresponding to the numbered LEDs on the front. You just have to remember which is which.
The remote control, which is the same as the one provided with AAQ's La Diva transport, can also be used to select inputs and invert polarity on the Formula xHD. I doubt the remote's design was responsible for my inability to figure out how to use it to switch inputs.
Setup
Mark Sossa, of Aqua Acoustic Quality' US distributor, Well Pleased A|V, sent me the very same unit JA and I had heard at CES. Even before installing the Formula xHD, I connected the dCS Rossini DAC to the two-piece Lamm L2.1 Reference preamp, and spent a while evaluating the Lamm's sound. It took me not very long to confirm that it was extremely transparent and open on top, and fully capable of transmitting deep bass, while adding an extra touch of warmth and midrange generosity. While the Lamm 2.1 did beef up the upper lows and lower mids, the extra weight felt natural rather than bloated.
My goal was to use the best source components at my disposal to send the Formula xHD music from discs, files, and Tidal. I first hooked up the dCS Paganini transport via BNC, and dCS's Network Bridge network player via Ethernet. The Formula xHD's unbalanced outputs were connected to the Lamm preamp and it sat on a Grand Prix Formula Platform—these help my system achieve utmost transparency—which I in turn placed on a shelf of my Grand Prix Monaco equipment rack.
Sossa assured me that the review sample had already seen 300 hours of use, which AAQ considers sufficient. He also said that some users have claimed that the Formula xHD needs 500 hours of break-in before it can fully strut its stuff.
Listening
After playing Nordost break-in tones through the system for 24 hours, to ensure that the cables were settled in, I began listening. What possessed me to begin with Michael Tilson Thomas and the San Francisco Symphony's download-only recording of Berg's Three Pieces for Orchestra (24/192 FLAC, SFS Media/HDtracks), whose disturbing atonalities seem to presage WWI, I don't know. But detailed listens to it and other pieces over the next two days through dCS's Network Bridge and Paganini transport convinced me that while the Aqua Formula xHD fully conveyed the emotion of music, the highs were subdued and the color palette limited. In fact, the sound reminded me of what I'd heard in the AAQ-Lamm-Kharma room at CES 2018.