Aqua Acoustic Quality Aqua Formula xHD D/A processor John Atkinson December 2018
John Atkinson reviewed the Aqua Formula xHD in December 2018 (Vol.41 No.12):
Jason Victor Serinus reviewed this non-oversampling (NOS) digital-to-analog converter from AQ Technologies, aka Aqua Acoustic Quality, in June 2018. The Formula xHD, which costs $17,000, has no chips or digital filters, instead using a 24-bit, four-branch, resistor-to-resistor (R2R) ladder based on field-programmable gate arrays (FPGAs). When JVS listened to a recording of Vadim Gluzman performing the Brahms Violin Concerto, with the Lucerne Symphony Orchestra under James Gaffigan (SACD/CD, BIS 2172), he found that "Focus was excellent, with beautiful warmth and fullness in the midrange, a sweetness to the sound, and a credible halo of air around the violin." However, he also felt that the Formula xHD "shortchanged" the bottom line of the piano in Murray Perahia's recording of Handel's Harpsichord Suite in E, HWV 430 (CD, Sony Classical 62785), adding that the piano "was less naturally percussive than I'm accustomed to—it sounded as if the soft pedal was depressed."
Jason auditioned the Aqua Formula xHD using its unbalanced outputs. While I found that the DAC measured relatively well from its unbalanced outputs, I discovered a problem with the Formula xHD's balanced outputs when I tested its harmonic distortion: very high distortion. With a 50Hz tone at –3dBFS into 100k ohms (fig.1), the third harmonic lay at just –20dB (10%), which will be audible. Examining how the percentage of THD+noise varied with frequency with a full-scale signal, the balanced THD+N percentage increased rapidly below 200Hz, with almost complete waveform clipping below 80Hz. As the distortion from the balanced outputs was almost entirely odd-order harmonics, I suspect that the balanced outputs' transformer cores were saturating.
Following publication of our review, AQ Technologies' Cristian Anelli e-mailed me, saying, "We investigated and understood what happened to some units of Formula xHD, including the one for the Stereophile test," and offered to send a second sample. I agreed, and before listening to the new sample, I got it up on the test bench.
The serial number of the original sample of the Aqua Formula xHD DAC was 1370; the new sample was no.1401. I measured it with my Audio Precision SYS2722 system (see the January 2008 As We See It"), using the Audio Precision's AES/EBU digital output.
The new sample's maximum output level at 1kHz was 3.52V from its balanced outputs and 2.61V from its unbalanced outputs, compared with a respective 3.84V and 2.8V for the original sample. The unbalanced output impedance was the same 100 ohms across the audioband; the balanced output impedance of the new sample was 61 ohms at low and middle frequencies, rising to 238 ohms at the top of the audioband. (The original sample's balanced output impedance measured 24 ohms at 20Hz and 1kHz, rising to 68 ohms at 20kHz.) Both samples preserved absolute polarity from both sets of outputs.
I then repeated the spectral analysis from the balanced outputs with a 50Hz tone at –3dBFS into 100k ohms (fig.2). While the new sample still revealed many distortion harmonics, the highest in level, the third, now lay at –60dB (0.1%) instead of the original sample's –20dB (10%), a hundredfold decrease. Fig.3 compares how the balanced THD+N percentage changed with frequency using a full-scale signal in the original sample (cyan and magenta traces) and the new sample (blue, red). While the shapes of the curves are similar, the rise in THD+N at low frequencies is not as extreme in the second sample; it doesn't rise above –60dB until the frequency drops below 70Hz, compared with 300Hz for the first sample.
Other than recordings of pipe organ, and some EDM and dubstep, music with full-scale energy in the low bass is rare. I therefore examined how the balanced THD+N percentage changed with frequency as the level dropped from 0dBFS (fig.4, blue and red traces) to –6dBFS (cyan, magenta) and then to –12dBFS (green, gray). At the last level, the THD+N didn't rise above 0.1% until the frequency had dropped to 32Hz, and was still <1% down to 14Hz.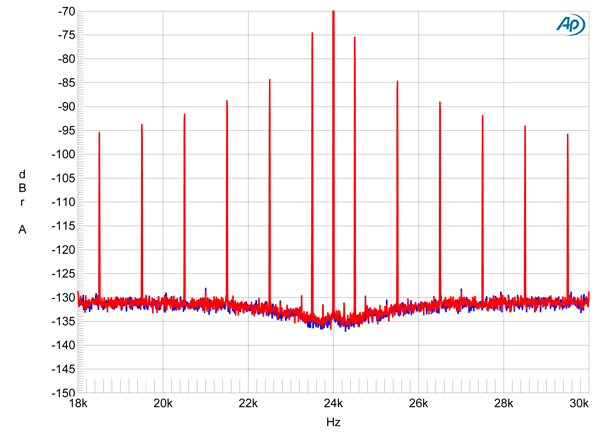 When I tested the original Formula xHD for its rejection of word-clock jitter, using undithered 16-bit J-Test data fed to its AES/EBU input, the odd-order harmonics of the low-frequency, LSB-level squarewave were much higher than they should have been. The second sample behaved identically (fig.5), although, like the first sample, the spectrum looked a little cleaner with J-Test data sourced via USB. Out of interest, I looked at the waveform of the 16-bit, 96kHz J-Test data as output by the Formula xHD (fig.6). Because of the absence of a reconstruction filter, the waveform is square rather than a sinewave, with a single damped cycle of ringing on each transition that is presumably due to an ultrasonic resonance in the balanced output transformer.
The balanced outputs of this second sample of the Aqua Formula xHD have considerably improved output transformers. However, it still has poor rejection of word-clock jitter.
So how did it sound?
I don't use a preamp any more, feeding the balanced outputs of my PS Audio DirectStream D/A processor directly to the power amplifiers and controlling volume with the DAC. To audition the Formula xHD's balanced outputs, therefore, I used an NHT balanced passive volume control, feeding its outputs to Audio Research Reference 160M monoblocks with short, balanced Canare TRS-XLR interconnects. For my comparisons of the Aqua and PS Audio DACs, I fed the AES/EBU inputs of both with data from my Ayre Acoustics C-5xeMP used as a CD transport. I used the Tidal Akira speakers I reviewed in November for my initial auditioning; when those overachievers went back, I replaced them first with my 1978 pair of Rogers LS3/5as, then the Wharfedale Diamond 11.2s I review elsewhere in this issue.
Stereo imaging was well defined in width and depth, but the sound seemed a little, for want of a better word, opaque in comparison with the PS Audio. With Ry Cooder's The Prodigal Son (CD, Fantasy FAN00236), the Aqua DAC had a somewhat warmer, less transparent sound. The bass guitar on this album hadn't been recorded with much in the way of attack, but it took on more of a thrumming quality with the Formula xHD. Nevertheless, Cooder's voice was delightfully palpable with the Aqua.
A piano recording that's been in constant rotation since I bought it is a recital of duos from Daniel Barenboim and Martha Argerich, recorded live in 2014 (CD, EuroArts/Deutsche Grammophon 479 3922). In the arrangement for two pianos of Stravinsky's The Rite of Spring, the top octaves were slightly more mellow than the PS Audio's, and the sound was overall a little less forceful in the instruments' left-hand registers. Even so, I found myself drawn into the performance of this overfamiliar music.
Although the Formula xHD's modular input features an RJ45 Ethernet jack—input 6 also has an RJ45 jack, but this is labeled "I2S"—the Aqua DAC wasn't recognized as an "audio zone" by Roon when I connected it to my network using this input. To play high-resolution recordings, therefore, I used a Metric Halo FireWire interface to send audio data from my Mac mini over an AES/EBU link.
I played a number of the 24-bit/88.2kHz master files (WAV and AIFF) for my recordings of male-voice choir Cantus, the Portland State Chamber Choir, and classical pianist Robert Silverman, as well as some needle drops made with a 96kHz sample rate. Overall impressions were very similar to those I found with CD, but with more of a sense of ease to the sound. A very listenable, rather polite tonal balance was combined with good soundstaging, but the low frequencies were still rather reticent. There was also less sense of musical drive than I was expecting. The last attribute—which I checked with both DACs by playing "Lose Yourself to Dance," from Daft Punk's Random Access Memories (24/88.2 ALAC file, Columbia/HDtracks), puzzled me, as there seems to be general agreement that NOS processors with resistor-ladder DACs sound more forceful than those using oversampling filters and sigma-delta DAC chips.
Jason concluded his review by saying, "Thanks to the Formula xHD's ability to smooth over digital's rough edges, I don't hesitate to recommend that it be auditioned by anyone . . . whose system suffers from bright or harsh sound, or who values, above all else, the warmth and bloom often ascribed to analog sources." That pretty much sums up my own feeling about this excellent-sounding D/A processor. A 1989 CD of the Cleveland Quartet performing string quartets by Borodin and Smetana (Telarc CD-80178) has long been a favorite, but its sound quality is somewhat on the airless, upfront side. With the bits decoded by the Aqua Formula xHD, the edges were smoothed over, which was to the benefit of the music.
I enjoyed my time with the Aqua Formula xHD, but its obvious competitor is the HoloAudio Spring "Kitsuné Tuned Edition" Level 3 D/A processor ($2499), which also uses an R2R resistor-ladder DAC module, and was reviewed by Herb Reichert and Art Dudley in our June and July 2018 issues. As Herb still has the review sample of the HoloAudio, I've asked him to compare the HoloAudio and Aqua DACs, for a follow-up to be published in our January 2019 issue.—John Atkinson