Musical Fidelity kW Hybrid line preamplifier & kW750 power amplifier
Not every audiophile needs an amplifier powerful enough to tax a small town's power grid while simultaneously draining his or her bank account. So, having quickly sold out of its ultra-limited-edition, extravagantly powered and priced combo of kWp preamplifier ($14,995) and kW power amp ($27,995) that I
reviewed in January 2004
, Musical Fidelity (footnote 1) set about capitalizing on the enthusiastic reviews earned by those giants with less expensive, less powerful, "real-world" replacements.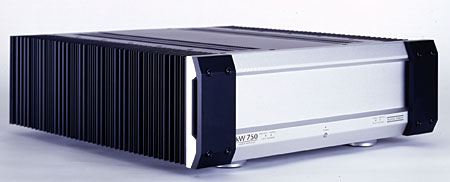 At $4500, the kW Hybrid preamp isn't exactly inexpensive. Nor is the kW750 stereo amplifier that much less powerful, being conservatively rated at 750Wpc into 8 ohms (or 1100Wpc into 4 ohms). But at $10,000, the kW750 is considerably less costly than the 1000Wpc kW. And because the kW750 is two mono amplifiers packed into a single chassis, it guarantees that at least some carpet will show between your speakers. Make no mistake, though: the kW750 is still a big, heavy brute weighing 75 lbs—and that doesn't include the 47-lb outboard power supply. It does, however, fit on a standard equipment rack. The power supply requires an additional 11" by 14" of floor or rack area and another 7" of height—a lot. But compared to the three-story edifice of the kW, whose power supply alone weighed 94 lbs, the kW750 is almost petite.
After reviewing the original kWp and kW, I bought the review samples. Though I could have lived without the kWp's cartoony looks and the kW's ungainly, boxy clutter, I'd fallen in love with their effortless sound. I also figured that I'd then have a power amp beefy enough to drive any loudspeaker I might get for review. That has proved to be the case; soon thereafter, mbl's hideously inefficient 101s arrived (see review in the October 2004 issue). I also knew that, had I passed on the kWp-kW combo, the opportunity to own them wouldn't come again soon—if at all—as they were very limited editions (only 75 sets were made).
You'll face no such buyer's remorse should you hesitate to run out and plunk down your $14,500 to buy the kW and kW750 immediately after reading this review: their production runs are not limited. If you come, Musical Fidelity will build it—not forever, but at least for the foreseeable future.
kW Hybrid Line Preamplifier
With its handsome brushed aluminum faceplate, black faux handles, and single large volume control, the kW Hybrid represents a huge cosmetic improvement over the kWp. And while it is, like the kWp, a relatively large preamplifier, it's really only half as big—unlike the kWp, the kW's power supply is onboard.
Line-level only, the kW has four inputs (CD, SACD, Tuner, Aux), plus a tape loop and a unity gain pass-through input to feed a home theater preamplifier-processor. LEDs indicate the signal source selected and the status of the On/Off and Mute controls. As with the kWp, LEDs built into the kW's feet glow yellow on turn-on, blue when the unit has warmed up, and red when the preamp is muted. The kWp's Flintstones-sized rectangular aluminum remote—heavy enough to break a toe or crush a jewelbox if dropped from armrest height—is gone, replaced by one of lightweight plastic. Though the full-featured remote is ergonomically laid out, I wonder if anyone at MF tried using it in normal room lighting. Most of the time I found it impossible to read the pale, silk-screened letters that identify the source buttons.
While the kW's RCA output and tape-monitor jacks are chassis-mounted, the input and tape-monitor jacks protrude through holes in the rear panel, indicating that they are mounted directly to the board. While this was probably done to keep the retail price down, this construction method also shortens signal paths, which is a potential benefit.
Preamp or small power amp?
With its output of more than 62V RMS peak and 4.5 amps, the kW is capable of producing nearly 20W RMS into 8 ohms—not that you'll want to, or be able to use the kW Hybrid as a power amp. In practical terms, these numbers mean that it will be virtually impossible to overdrive the kW. With a claimed line input impedance of 500k ohms and an output impedance of less than 0.5 ohm, the kW presents sources with an easy load to drive and offers similar ease to the accompanying power amplifier. Like the kW750, the kW Hybrid is single-ended only.
The kW's low-feedback hybrid circuit includes a tiny "Mu Vista" (6112) vacuum tube in each channel's driver stage. This tube must be ultraquiet—the kW's specified signal/noise ratio at 1V RMS output is greater than 105dB (A-weighted at half volume). The tube must be long-lived, too: it's soldered in place. The THD+noise is said to be less than 0.0068% (5V output, maximum volume), and MF claims a frequency response of 20Hz–30kHz, ±0.5dB. The proverbial "straight wire with gain"?
kW750 dual-mono amplifier
Styled to complement the kW, the single-ended kW750 has an attractive and understated appearance and is remarkably compact for its power rating. Its rear-panel facilities consist of two pairs of gold-plated, multiple-termination binding posts, input and loop output RCA jacks, and a 20 amp IEC AC jack.
With almost unlimited reserves of power and ultra-high current, the kW750 would seem capable of driving any speaker ever built without sounding strained, never mind going into clipping, no matter the volume. When I spoke with Musical Fidelity's reliably excitable founder and CEO, Antony Michaelson, he was that and more. While the kW750 can't match the original kW's output, it comes pretty close, though Michaelson was quick to point out that there's still a substantial difference in dynamic headroom of 1.5dB between the two behemoths. That said, few if any amps ever made will be able to match the power output of either of them.
"[The] kW amps are capable of even greater dynamic swings," Michaelson told me, "and when John [Atkinson] measures it, I'm sure he'll find that the kW750 can't match the original kW's output capabilities into low-impedance loads, because we used smaller transformers in the power supply. But 1100W into 4 ohms (vs the kW's 1800W) is still beyond the capabilities of most other amplifiers."
"In practical terms," I asked him, "will I hear a difference?"
"I think you will," he said. "Perhaps not in terms of power, but the sound, particularly in the top octaves, should be smoother and more refined. We've learned a thing or two since we designed the kW, especially when it comes to circuit layout. We've shortened the signal path and changed some of the parts. Distortion is measurably lower without increasing feedback—though the kW's distortion was low to begin with."
So this new amp, which costs less than half as much as the kW while providing three-fourths of its power, will also sound better? We'll see...
Assessing the sound
Given its high overload margins, ultra-low noise, low distortion, wide bandwidth, and flat response, the kW had the potential to be as close to a straight wire with gain as a preamp can be. Still, the distinctive sonic consequences of the tubes remained to be heard, and I couldn't help but note that the kW's channel separation was rated at >84dB compared to my reference kWp's >110dB. Rather than beginning by auditioning the two pieces separately using my reference amp and preamp as a control, I chose to first listen to the new combo together, figuring most buyers will opt for both.
So out went the kWp and the original kW power amp and in went the new kW Hybrid preamp and kW750. That was more difficult than it sounds. Wilson Audio Specialties supplies a floor jack with their massive MAXX2 loudspeakers. Musical Fidelity should offer a crane with the original kW.
Out of the boxes and cold, the new kW and kW750 indeed presented a sonic picture somewhat different from what I'd become accustomed to from their predecessors. While much solid-state gear can sound chilly, clinical, and brittle on first power-up, the kW and kW750 were anything but. They sprang to life rich, full-bodied, and sweet, yet also detailed and reasonably fast. And that's how they sounded throughout the months I kept them in my system.
The duo's upper-octave performance was noticeably richer, more refined, and less aggressive than my reference but also somewhat mellow, and instrumental separation was not quite as pronounced. The presentation was more tube-like, though not at all soft and smoothed-over in the way of some solid-state designs that are intended to sound like tubes. Transients were satisfyingly fast, never flaccid or repressed, but faster rides are available. The midrange presentation was about as delicate and neutral as you could want—or at least as I could want. Whether it was the tube in the preamp or something else, the combo never sounded transistorized or mechanical. String tone was on the lush side, but not to the point where massed violins turned to mush.
---
Footnote 1: Musical Fidelity advertises on Michael Fremer's
website
.