Stereophile's Products of 2018 Joint Amplification Components of the Year
Joint Amplification Components of the Year
Audio Research Reference 160M monoblock power amplifier ($30,000/pair; reviewed by Jason Victor Serinus, October 2018, Vol.41 No.10 review)
Pass Laboratories XA60.8 mono power amplifier ($13,500/pair; reviewed by Jim Austin, December 2017, Vol.40 No.12 review)
Finalists (in alphabetical order)
ASR Emitter II Exclusive integrated amplifier ($30,000; reviewed by Art Dudley, August 2018, Vol.41 No.8 review)
Ayre Acoustics KX-5 Twenty preamplifier ($9950; reviewed by Art Dudley & Jim Austin, March & June 2018, Vol.41 Nos. 3 & 6 review)
Bel Canto Black ACI 600 integrated amplifier ($24,990; reviewed by Jason Victor Serinus, April 2018, Vol.41 No.4 review)
Benchmark AHB2 power amplifier ($2995; reviewed by Kalman Rubinson & Jim Austin, November 2015 & October 2018, Vol.38 No.11 & Vol.41 No.10 review)
Constellation Audio Centaur II 500 power amplifier ($55,000; reviewed by John Atkinson, October 2018, Vol.41 No.10 review)
Luxman MQ-88uSE power amplifier ($5995; reviewed by Art Dudley, September 2018, Vol.41 No.8 review)
Moon by Simaudio 888 mono power amplifier ($118,888/pair; reviewed by Michael Fremer, August 2018, Vol.41 No.8 review)
NAD Masters Series M32 integrated amplifier ($3999; reviewed by John Atkinson, May 2018, Vol.41 No.5 review)
Naim Audio Uniti Nova integrated amplifier/media player ($6995; reviewed by Ken Micallef, March 2018, Vol.41 No.3 review)
Parasound Halo A 52+ multichannel power amplifier ($2995; reviewed by Kal Rubinson, May 2018, Vol.41 No.5 review)
Pass Laboratories XA200.8 mono power amplifier ($42,000/pair; reviewed by Jason Victor Serinus, August 2018, Vol.41 No.8 review)
PS Audio Stellar M700 mono power amplifier ($2998/pair; reviewed by Robert Deutsch, February 2018, Vol.41 No.2 review)
Ypsilon Hyperion mono power amplifier ($93,000/pair; reviewed by Michael Fremer, April 2018, Vol.41 No.4 review)
If we must have a tie, let it be like this: two different yet similarly effective ways of turning household electricity into music. Our Joint Amplification Components of the Year are both monoblock amplifiers, both a bit on the heavy side—yet the 140W Audio Research Reference 160M contains old-fashioned vacuum tubes and output transformers, while the 60W Pass Laboratories XA60.8 is exclusively solid-state.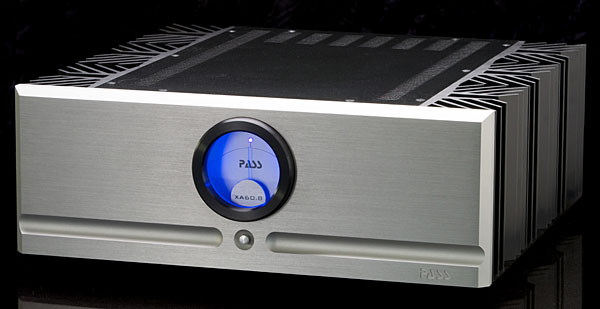 Notwithstanding their different technologies—and very different prices—the Audio Research and Pass amps shared a key distinction: The Stereophile contributors who reviewed them, respectively Jason Victor Serinus and Jim Austin, were sorry to see them go.
Notes on the Votes
Our Joint Amplification Components of the Year received the same number of votes, but the Audio Research amp received more first-place votes than the Pass, the latter making up for that with a considerable number of second-place votes. But the competition in this category was tighter than in the race for Loudspeaker of the Year. The second-place Constellation Centaur II 500 power amplifier wasn't terribly far behind the winners—and just one point behind the Constellation was the third-place Benchmark AHB2 power amp, which, with the Parasound Halo A 52+ power amp, was one of the two least expensive of all contenders in this category.
One other point of interest: Among those contenders, only two were preamplifiers—all the rest were power amps and integrated amps. What's up with that?