Pass Laboratories XA60.8 monoblock power amplifier
Years ago, when I was young and foolish (instead of old and foolish, as now), I was hanging out with a friend at a strip-mall strip club in a small southeastern city. A youngish lady approached our table in G-string and pasties and did a tableside dance. My friend's jaw scraped the floor; I, noting her lack of enthusiasm, was unmoved. The stripper noted my impassivity and stated, with irony that at the time I somehow missed, "You're a hard man."
John Atkinson, too, is a hard man, at least when it comes to audio gear. When, in January 2014, he reviewed the Pass Laboratories XA60.5 monoblock amplifier, he concluded, "It is the best-sounding amplifier I have ever used." High praise.
But years later, when a pair of the XA60.5's successor, the XA60.8, arrived for review in JA's Brooklyn abode, he promptly stuck them in a closet. Apparently, he doesn't fall in love too easily.
Many months later, in midwinter, it became clear to JA that his dance card was still full and he wasn't going to get to the XA60.8 monoblocks "anytime soon." He asked me to give them a listen. It took a few more months for me to make it out to Brooklyn to pick up the XA60.8s. On returning home, I promptly put them in my own closet for a while.
When I finally hooked up the XA60.8s, it was August. In New York, August's only saving grace is that bridges out of town are not far away, and neither is fall, with its promise of new love and cooler weather. In August, most of my neighbors have fled to various hills and Hamptons—anywhere there might be a cool breeze. I, lacking funds and rural real estate, embrace my fan and nurse cool beverages.
Obsessive Stereophile readers will recall that in the December 2016 issue I wrote a Follow-Up on Lamm Industries' M1.2 Reference Signature monoblocks, which JA had originally reviewed in April 2012. I called the Lamms "awesome music machines," but my apartment, which has no AC, was oh, so hot. The Lamms' weight, size, prohibitive cost ($27,390/pair), and—especially—the heat they produced offset their considerable musical merit. They "literally do not fit into my life," I wrote, concluding that "I want my stuff to work with me, to complement the way I like to live."
After I wrote that quasi-review of the Lamms, one perceptive online commenter made a compelling point: When you're in love, you don't care if your partner (in this case, identical twins) is hard to live with—you just want to be with them all the time. And surely, the hotter they are, the better.
So, will I fall in love? Listen in.
Point 8
The Pass Labs XA60.8s do have some logistical—that is, non-audio—advantages over the Lamm M1.2 References. At $13,500/pair, they cost less than half the Lamms' price, and put out significantly less heat.
But at 88 lbs, the XA60.8 is even heavier than the Lamm, which makes each of them the heaviest component I've had in my system, not counting loudspeakers. And because, at 19" wide by 7.5" high by 21.25" deep, the Pass monos are low-slung, deep, and wide, they take up more floor space than the Lamms.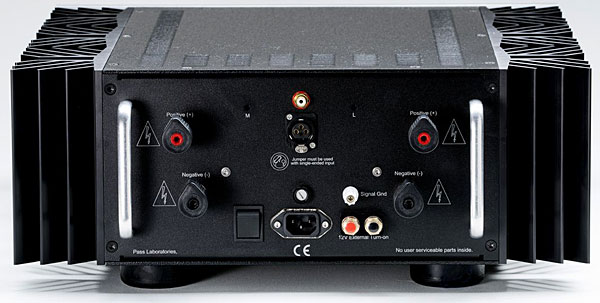 If you consider only its size and weight, you might conclude that the XA60.8 is a powerhouse designed to drive difficult loudspeaker loads. But that size is deceiving. As the model number implies, it's specified to produce 60W RMS (120W peak)—almost 1.5 lbs of heavy metal per watt, and easily the greatest ratio of weight to power of any amplifier I've directly experienced (footnote 1).
Brute force, apparently, isn't the XA60.8's nature. "We approached the development of the XA series with an eye to creating a warm/sweet X amplifier, or conversely, a powerfully dynamic Aleph," said Nelson Pass in an article quoted in JA's review of the XA60.5. It might be best to think of these amps as delicate little flea-watt flowers scaled up—way up—to provide enough practical class-A power to drive reasonable loudspeakers. The sonic goals are touch, texture, delicacy, sweetness, vividness, corporeality.
Then why are they so heavy? "The weight is mainly in the massive aluminum heatsinks and the steel power transformers," Nelson Pass told me in an e-mail. In contrasting the .8 with the .5 series, Pass Labs' ad copy focuses on refinements that yield synergy, but the most obvious change is the increase in mass: Each XA60.8 has the same power as its predecessor but is 22 lbs heavier. "When you start making all things equal, the amplifier with the bigger hardware seems to have the advantage," Pass told me—a subjective observation, but surely one based on long experience, and it has a certain appeal. As an old engineering friend who raced motorcycles used to say, there's no substitute for cubic inches.
Bigger hardware, though, can bring downsides, Nelson Pass told me. "[Y]ou can find yourself trading off other qualities, so you have to be careful what you might be giving up."
Listening
I currently have in my system a pair of Alta Audio's Titanium Hestia loudspeakers, in for review. The Titanium Hestias replaced the DeVore Fidelity The Nine speakers with which I started my auditioning of the XA60.8s, and are big and produce a lot of bass. With appropriate recordings, they cast a huge soundstage: wide, tall, stable, and—especially—deep.
I've long been ambivalent about recordings with a lot of venue sound, as they tend to mix up the acoustics of the original venue and the listening room, causing sonic confusion. I've generally preferred close-miked recordings that deliver intimacy and texture and put musicians in the room with me, instead of transporting me to a different space. With such recordings, there's only one main acoustic involved, so the opportunity for aural confusion is minimized.
That preference, I now realize, was partly a result of a dearth of experience: I'd never had speakers in my home that could convincingly reproduce the illusion of a big space. You can't completely get rid of the local room—I wouldn't want to (footnote 2)—but you can tilt the balance toward the recording venue in a convincing fashion.
Pass Labs' ad copy emphasizes the XA60.8s' accurate reproduction of recording venues. I speculate that this goes back to something Nelson Pass said in my interview with him in the September 2017 issue. He noted how his First Watt experiments with amplifiers based on static-induction transistors (SITs) led to an insight into the subjective effects of second-harmonic distortion, particularly its phase, and in turn influenced his design of his big Pass Labs amps. "The SIT being very much like a triode, it is easy to make a single bias adjustment which affects the second harmonic distortion of the device, ranging from a relatively large amount [of] positive phase second [harmonic] through a null point with no second [harmonic], to large, negative phase second-harmonic distortion," he said. "Negative-phase second harmonic tends to expand the perception of front-to-back space in the soundstage, separating instruments a bit. Positive phase does the opposite, putting things subjectively closer and 'in your face.'"

The changes Pass was describing were first implemented years ago, in the amps in the X, Xs, and XA series, but according to a Pass Labs marketing brochure, "The Point 8 amps present a more accurate representation of the recording venue." Having heard the XA60.8, my ears tell me that Nelson Pass must have gone with negative-phase distortion. When I put the Pass Labs monoblocks in my system, the Alta Titanium Hestias' ability to create a huge, convincing soundstage was enhanced not a little but a lot. I couldn't help but hear it. I'd never heard an amplifier make such an obvious difference.
Now that I live in New York, I interact often with other audiophiles. On separate occasions, two audiophile friends who are familiar with my system noticed the change as soon as they walked through my door. (My listening chair is just a few feet away.) That big soundstage was bigger and more precisely rendered, and images on it were more vivid, precise, and real. To walk into this room while a good recording was playing through this system was to enter an immersive aural space. There was synergy here—the Pass amps were accentuating these speakers' best qualities.
During his auditioning of the XA60.5s, JA listened to a high-resolution recording of Mahler's Symphony 2, "Resurrection," with Benjamin Zander conducting the Philharmonia Orchestra and Chorus (24-bit/192kHz ALAC files, Linn CKD 452). It was, he noted, "recorded by the team responsible for some of Telarc's great-sounding orchestral recordings, including Elaine Martone as co-producer and Robert Friedrich of Five/Four Productions." He went on, "The 'Resurrection' is an enormous, episodic work with huge orchestral climaxes contrasted against chamber-scaled sections in which a single solo instrument, a violin or a woodwind, takes the lead. Despite their modest power rating, the XA60.5s had no problem coping with the work's huge dynamic range." In my room, with this system and the XA60.8 monoblocks, the orchestra was huge, even as voices and solo instruments were reproduced with impact, sweetness, body, and texture. There was no hint of hardness.
---
Footnote 1: The XA60.8's younger sister, the XA30.8, has half the power but weighs just as much. Is there an amplifier out there with a higher ratio of weight to power than 3 lbs per watt?
Footnote 2: An aural image is an illusion; the space I listen in is real. Overzealous attempts at room correction, especially the digital kind, can take us too far out of what's real. Fix the flaw in your listening room, but don't bury the character.