Music in the Round #91: Parasound Halo A 52+
For some years now, I've tried to free myself from playing physical media and get all my music organized on a server. It's not that I don't enjoy handling and playing discs, but it's almost impossible to keep track of them. When my collection was only a thousand or two LPs, I felt I could remember each one individually. But now I have several times that many silver discs, and I know I can't.
The fundamental issues are those of filing the music and then finding the music. It's easy to file a compilation disc like Red Hot + Blue: A Tribute to Cole Porter on a shelf under "Collections," and just as easy to find it there. But can I remember every performer on that neat collection when I have an itch to hear one of them? No. Similarly, I just got a disc with two chamber symphonies by Kabalevsky and a concertino by Weinberg. It's unsurprising to pair works by these composers on a single disc, but it seems logical to file the disc under Kabalevsky. But how do I now find that Weinberg recording when more than half of the Weinberg works in my collection aren't filed under that composer's name?
Digital music files to the rescue. With them, any decent music-player software can quickly find whatever I want, based on the metadata (whatever its origin). And that includes finding Tom Waits's performance of "It's All Right With Me" on Red Hot + Blue—and that Weinberg concertino, wherever it is.
Facing a couple of thousand CDs and beginning the process was daunting, but friends helped. We all chipped in and together bought an Acronova Nimbie USB Plus NB21BR disc duplicator (available online and at some big-box retailers for around $850). Connected to a laptop running the CD-ripping program dBpoweramp, the Acronova accepted stacks of up to 100 CDs for ripping. I would load it up in the morning before I left for the day, then deal with the results on my return. The process wasn't perfect, but the yield was about 90%—I dealt with the rest individually, using my laptop. The recovery of metadata was okay, but, as any file curator will tell you, some hands-on work is almost always necessary.
After that, I felt confident enough to start archiving my SACDs, which now, along with DSD downloads, constitute the bulk of my music collection. This process isn't as simple as ripping CDs, and required finding specific early PlayStation 3 players that had not had firmware updates. Today, you can also use a few mainstream SACD players, but it's still a two-step process (footnote 1). I'm now most of the way through my SACDs; ripping a handful each day has become a habit.
Perhaps my nostalgia has been stirred by the snow softly falling outside my windows, or by the stock market's current swoon, but I've now begun ripping and playing multichannel recordings from DVD-Audio discs, DVDs, and DTS Music Discs (a multichannel audio CD that uses the Coherent Acoustics compression algorithm). Many of these discs are no longer in print, and the recordings are unavailable for download in multichannel. I had to resort to the Internet for help and found no shortage of guidance there—including that each format required a different procedure.
For a while, DVD-A was in direct competition with SACD, but it faded. Its brief popularity left behind a significant number of releases, albeit with much less classical than nonclassical repertoire. Today, several off-the-shelf programs let you rip your own DVD-As as multichannel files. I used a simple menu-driven application, DVD Audio Extractor. After installing it, you load the disc into the computer's DVD drive, click the button to read the disc, choose the multichannel tracks, then click another button to download the metadata. That done, you select the preferred output format (I use FLAC), the number of channels (important!), and where to put the files. That's it, and it worked just as well for DualDiscs; the Talking Heads' entire Brick—all of their eight studio albums, each on a DualDisc—ripped flawlessly to 5.1-channel, 24-bit/96kHz files!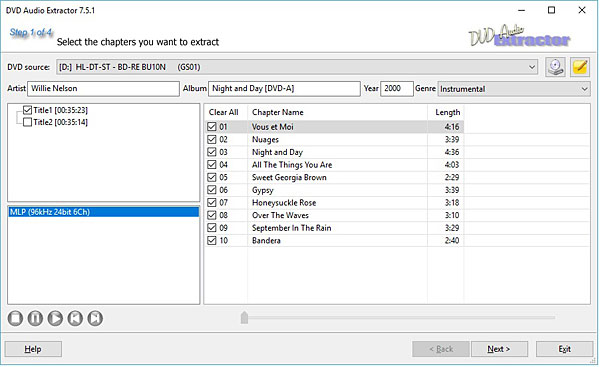 Standard DVD has seldom been used as an audio-only platform. The major producer was Classic Records and its successors, who offered DVD 24/96 discs, and HDAD discs with 24/96 multichannel tracks and 24/192 two-channel tracks. They, too, can be ripped with DVD Audio Extractor, but multiple formats stored on the same disc make it tricky to get to the multichannel title/format. In a few cases, I could access only the stereo tracks.
The DTS Music Disc, like the Dolby Digital CD, rapidly came and went. DTS Discs were playable on DVD players but not on standard CD players, which lacked decoding ability. And you can't rip them with DVD Audio Extractor because they ain't DVDs! I tried to rip them with dBpoweramp, but the resulting FLAC files were stereo only. What worked was to rip them with Exact Audio Copy (www.exactaudiocopy.de) or any other CD ripper that will save them as WAV files, which retain the undecoded DTS format. These can be played just fine by JRiver Media Center, or you can let JRiver convert them to FLACs. I suspect that foobar2000 will do it, too.
Blu-ray Audio Discs? BDs can be ripped, but the process involves multiple steps, including the removal of copy protection. While DVD Audio Extractor now supports BD, it requires that the user first remove the copy protection, and programs that can do that have had a spotty legal status. Moreover, when I tried this [sshhh], I wasn't able to separate the audio content into individual tracks, or recover any of the audio metadata for the tracks. Well, the BDs can wait until I finish archiving all the recordings I own on friendlier disc formats.
Parasound Halo A 52+ multichannel power amplifier
Last summer, I received a press bulletin about a new Parasound five-channel power amplifier (footnote 2). I was attracted—Parasound has a reputation for producing great-sounding electronics at reasonable prices. Judging from the picture—a large, black-anodized enclosure with no external heatsinks—I concluded that the new model would not be part of Parasound's Halo line, and would thus cost less than those models. But . . . how quickly could I get one?
Parasound: On the record? "Soon." Off the record? About two–three months. Do you still want one when we can get it?
Me: Well, okay.
I then forgot all about it until almost exactly three months later, when I got the call: The new Parasound amp was on its way.
It arrived at my Manhattan apartment building in a box bigger than I'd expected—even the burly guys who delivered the amp remarked on its weight. Graciously, they helped me get it into the car for the trip to our place in Connecticut.
The burden of unboxing the amp and setting it up was entirely on my shoulders—or, more critically, my lower back. I, too, was impressed at the amp's weight, but using a hand-truck and dolly, I got it up to the house, unpacked it, and wrangled it into position. Setup went swiftly, with no need to refer to the user manual. I connected the five Kubala-Sosna Fascination balanced XLR cables from the output of my Marantz AV-8802a AV-8802A preamp-processor to the amp's five input jacks, and the five pairs of speaker cables to the appropriate terminals: Kubala-Sosna Fascination for the left, right, and center channels, and Kubala-Sosna Anticipation for the left and right surrounds. The power cord went into the IEC connector. I toggled the rear-panel master switch to On and pressed the Power button on the faceplate. A relay clicked, and blue LEDs lit up. I stepped back. It was all so easy—the process was identical to the operations of the Halo A 31 three-channel amp in my Manhattan system.
I played a recording. That's nice, I thought. Not long after, I thought, Hey, that's really nice. All my flags went up, indicating that this amp would be much more than expected. I sat back, casually picked up the manual, and there it was on the cover: I was listening to Parasound's Halo A 52+ power amplifier.
Not what I'd thought. Somehow, I'd gotten the impression that Parasound would be sending me the model replacing their NewClassic 5250v2. Don't tell me that "Halo" had to have been printed all over the shipping carton, and that "A 52+" was printed right there on the front panel. When I sink my teeth into a misapprehension, I don't let go until reality slaps me in the face! I hit my inner reset button and settled in, eyes now wide open.
Parasound's Halo A 52+ multichannel power amplifier ($2995) is specified to output 180Wpc RMS into 8 ohms or 255Wpc RMS into 4 ohms, all five channels driven. Its power-output specs when driving only two channels are slightly higher: 225Wpc into 8 ohms or 350Wpc into 4 ohms. Full power is maintained down to 5Hz, and the distortion specs are impressively low. Parasound says that the A 52+ was "designed by legendary John Curl," [sic] as was the more elegant and powerful Halo A 51 amp ($4795), whose flanks do comprise massive external heatsinks. The two models have similar specs; the only notable thing in the A 51's favor was its greater power output (+1.4dB into 8 ohms, +1.9dB into 4 ohms) and higher current capacity (60A vs 45A peak per channel); in the A 52+'s favor are its lower total harmonic distortion (THD) at full power (<0.05% vs <0.2%) and its lighter weight (55 vs 80 lbs). Lacking access to full circuit diagrams and parts lists, I can only speculate that the differences are a consequence of the A 52+'s less generous heatsinking, slightly smaller power transformer (1.5 vs 2.2kVA), and reduced power reservoir (100,000 vs 164,00µF). These result in limitations on current output and power output, but also in lower THD measurements and net weight.
---
Footnote 1: There is no single authoritative guide for this. The best place to start is the original forum post and thread begun by Ted Brady, Technical Consultant for NativeDSD
here
.
Footnote 2: Parasound Products, Inc., 2250 McKinnon Avenue, San Francisco, CA 94124. Tel: (415) 397-7100. Fax: (415) 397-0144. Web: www.parasound.com.