Stereophile's Products of 2013 Overall Component of 2013
Overall Component of 2013
KEF LS50 50th Anniversary Model loudspeaker ($1499.99/pair; reviewed by John Atkinson, December 2012, Vol.35 No.12 review)
This is the first time since . . . um . . . Hold on a sec. I have to consult the archives . . .
Well. Yes. This is the first time ever that our Budget Component of the Year has also been our Overall Component of the Year.
Have we mentioned that the components in our Budget category are awesome? Have we mentioned that the KEF LS50 is especially awesome?
The rave reviews began with the speaker's official debut at the 2012 Munich High End Show: KEF had knocked it out of the ballpark. The LS50 was something special. We were in for a treat.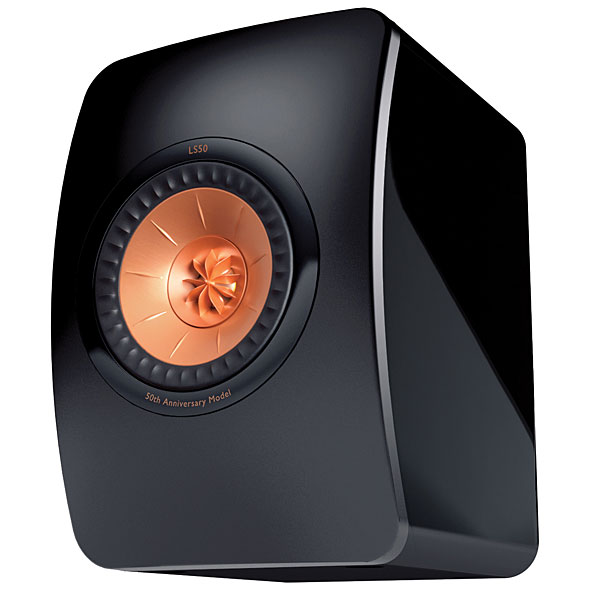 In October 2012, at the Rocky Mountain Audio Fest, the little LS50 made another big splash. Driven by Parasound electronics, its sound was both delicate and full-bodied, JA reported. I missed the LS50 in Denver but got to hear it a month later, when I visited KEF's factory in Maidstone, England. Driven by Arcam's A38 integrated amplifier, the LS50 made absolutely beautiful music, sounding bigger and far more confident than I'd imagined possible, while delivering all the detail, clarity, and spatial abilities for which the best minimonitors are known.
Just as I returned from England, mind still thoroughly blown by what I'd heard, the LS50 appeared on the cover of our December issue. "Exquisite performance from this tiny package," we giddily wrote. "Class A sound from KEF's 50th Anniversary LS50 speaker." Indeed, by the following April, the LS50 had taken its rightful place in Class A (Restricted Extreme LF) of our "Recommended Components"—alongside speakers costing up to 40 times as much.
Today, thanks to its unique combination of first-rate sound and exceptional value for money, the KEF LS50 takes our top prize. "It is rare to find a loudspeaker that offers this combination of clarity and neutrality," JA wrote in his review. "For KEF's 50th Anniversary Model to do so for a penny under $1500/pair makes it even more remarkable."
Right on.
Runners-up: (in alphabetical order)
Audio Research Reference CD9 CD player
Audio Research Reference 5 SE line preamplifier
Ayre Acoustics AX-5 integrated amplifier
Dan D'Agostino Momentum monoblock power amplifier
Devialet D-Premier integrated amplifier
Lamm Industries ML3 Signature monoblock
Spiral Groove SG1.1 turntable with Centroid tonearm
Wilson Audio Specialties Alexandria XLF loudspeaker
YG Acoustics Sonja 1.3 loudspeaker