Stereophile's Products of 2013 Budget Component of the Year
Budget Component of the Year
KEF LS50 50th Anniversary Model loudspeaker ($1499.99/pair; reviewed by John Atkinson, December 2012, Vol.35 No.12 Review)
Jeez, man! This year, perhaps more than any other in the history of our competition, the Budget category was positively stacked with awesome contenders. Selecting only from our Runners-up, I could easily put together a totally badass little system that even Tinwoman's ex-husband couldn't dismiss (see this issue's "As We See It"). Imagine having either the Peachtree decco65 or the Croft Phono Integrated drive Pioneer's SP-BS22-LR loudspeakers, while using as a source VPI's Traveler turntable, our Analog Component of the Year. Sweet. Or how about a second system comprising PSB's Alpha PS1 powered loudspeakers mated with either the Schiit Audio Bifrost or Meridian Explorer DAC and an Oppo Blu-ray player? Yummy. Or . . . for the ultimate portable music system, you could match our Accessory of the Year, B&W's P3 headphones, with Astell&Kern's gorgeous little AK100 media player.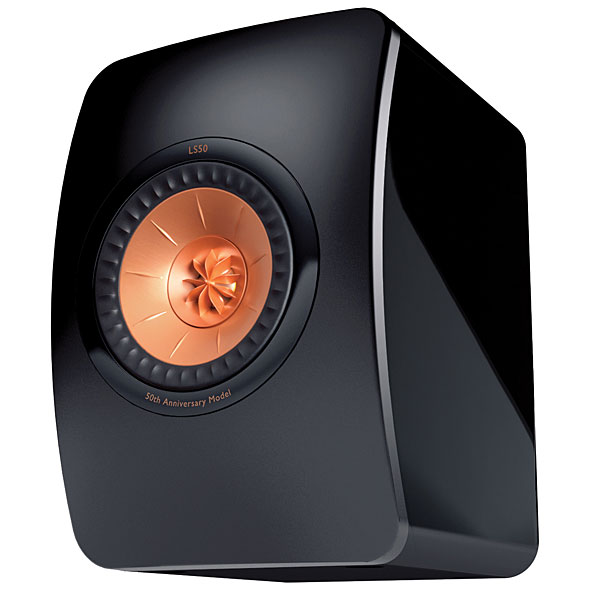 See what I mean? The Budget category rules—all of our candidates are worthy of the prize. But with five first-place votes, and more total votes (22) than any other component in any other category, it was KEF's LS50 loudspeaker that pulled away from the pack.
While other loudspeaker companies might've built a cost-no-object behemoth to celebrate 50 years in business, KEF went small, sleek, and affordable. How cool is that? But don't underestimate the LS50. This beautiful little speaker is packed with state-of-the-art technology. The two-way, reflex-loaded design uses KEF's Uni-Q coincident-driver array with a 1" vented aluminum-dome tweeter and a 5.25" woofer with a cone of magnesium-aluminum alloy, and the gorgeous, computer-modeled MDF cabinet incorporates a convex front baffle, offset port, and damped internal cross-bracing for optimal suppression of external sound radiation and internal standing waves.
Even though the LS50 is relatively affordable, KEF refers to it, along with its Muon and Blade floorstanders, as a flagship. And rightfully so. The LS50's combination of overall neutrality and top-to-bottom clarity worked wonders with all types of music, but especially benefited voices. "I would go so far as to say that the LS50 is one of the finest speakers at reproducing female vocals that I have heard—for less than what you can pay for a set of high-end interconnects!" said JA.
A marvelous speaker, indeed—and a downright bargain.
Runners-up: (in alphabetical order)
Astell&Kern AK100 portable media player
Bowers & Wilkins P3 headphones
Croft Phono Integrated integrated amplifier
Meridian Explorer USB D/A processor
Oppo Digital BDP-103 & BDP-105 Blu-ray players
Peachtree decco65 integrated amplifier ($999; reviewed by Art Dudley, March 2013, Vol.36 No.3 Review)
Pioneer SP-BS22-LR loudspeaker
PSB Alpha PS1 powered desktop loudspeaker ($299/pair; reviewed by Stephen Mejias, July 2013, Vol.36 No.7 Review)
Schiit Audio Bifrost D/A processor ($349; reviewed by Jon Iverson, August 2013, Vol.36 No.8 Review)