Stereophile's Products of 2013 Joint Loudspeakers of the Year
Joint Loudspeakers of the Year
Wilson Audio Specialties Alexandria XLF ($200,000/pair; reviewed by Michael Fremer, December 2012, Vol.35 No.12 Review)
YG Acoustics Sonja 1.3 ($106,800/pair; reviewed by John Atkinson, July 2013, Vol.36 No.7 Review)
The race for Stereophile's Loudspeaker of the Year is always fascinating and often fiercely contested—and the stakes are raised when, as this year, such esteemed brands as Bowers & Wilkins, KEF, and Sony are involved. Adding to the intrigue was the fact that two of our contenders—the Pioneer SP-BS22-LR ($129.99/pair) and the TAD Evolution One ($29,800/pair)—were designed by the same man, Andrew Jones. Between the two, the TAD received twice as many total votes (8), but lacked the modest Pioneer's distinction of winning a first-place vote! While two other contenders—DeVore Fidelity's Orangutan O/96 and KEF's LS50—received first-place votes, it was the literal and figurative giants of our competition that ran away with the prize.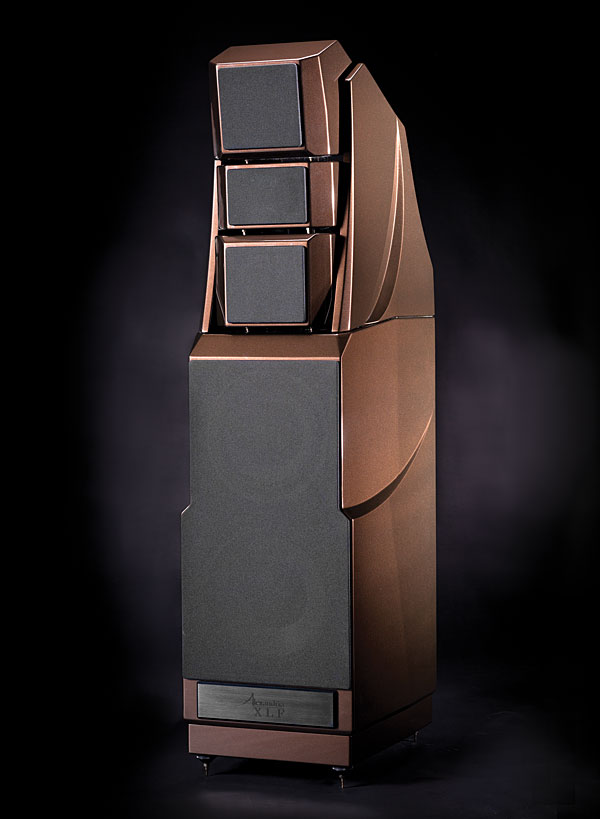 Nine of our 13 writers gave votes to Wilson Audio Specialties' flagship Alexandria XLF, making it the most popular of all loudspeakers in the competition. However, of the eight writers who voted for YG Acoustics' Sonja 1.3, five awarded it a first-place vote. The result was a dead tie, the Wilson and YG each earning 19 total votes. There could have been no better or more appropriate conclusion to this race.
Standing nearly 6' tall and weighing an incredible 655 lbs, the imposing Alexandria XLF is a complex three-way design with two 1" silk-dome tweeters, two 7" carbon-fiber/paper-cone midrange units, and two (one 13" and one 15") W-sandwich cone woofers. Despite its bulk, the XLF's awesome 92.6dB sensitivity and 4-ohm nominal impedance mean it'll play at high levels with only a few watts. Michael Fremer had the job of pushing the XLF to its limits; in a brief audition at Mikey's home, John Atkinson and I observed peaks of no more than 5W through darTZeel's NHB-458 monoblocks—and the volume was cranked. But more than merely powerful, the XLF was also nuanced. Said Mikey, "The most familiar recordings expressed subtle, occasionally dramatic, new, and often profound musical information in just about every performance parameter. Listening to music through the Wilson Alexandria XLFs was a transformative experience." And that's what we're looking for, right? Transformation.
JA had the pleasure of test-driving YG Acoustics' Sonja 1.3. Succeeding the Anat Reference Professional II as the company's flagship model, the Sonja 1.3 is a three-way, sealed-box floorstander. It comprises three separate modules of anodized aluminum, measures 70" H by 17" W by 28" D, and weighs a stunning 506 lbs. The top module contains a 1" ForgeCore silk-dome tweeter flanked by two 6" aluminum-cone BilletCore midrange drivers; inside each of the two lower modules is a single 10.25" aluminum-cone BilletCore woofer. JA noted sound and measured performance that justified the speaker's high price: "YGA's Sonja 1.3 is that rare beast: a true full-range loudspeaker capable of playing at realistic sound-pressure levels with very low coloration and superbly stable, accurate soundstaging."
With any luck, the technologies employed in Wilson's and YGA's flagship designs will soon find their ways into more affordable models. Until then, do what you can to hear these speakers. They epitomize high-performance audio.
Runners-up: (in alphabetical order)
Bowers & Wilkins 804 Diamond ($7500/pair; reviewed by Kalman Rubinson, September 2013, Vol.36 No.9 Review)
DeVore Fidelity Orangutan O/96 ($12,000/pair; reviewed by Art Dudley, December 2012, Vol.35 No.12 Review)
KEF LS50 Anniversary Model ($1499.99/pair; reviewed by John Atkinson, December 2012, Vol.35 No.12 Review)
Pioneer SP-BS22-LR ($129.99/pair; reviewed by Robert J. Reina and Stephen Mejias, July & September 2013, Vol.36 Nos. 7 & 9 Review)
Sony SS-NA2ES ($10,000/pair; reviewed by John Atkinson, September 2013, Vol.36 No.9 Review)
TAD Evolution One ($29,800/pair; reviewed by Kalman Rubinson, July 2013, Vol.36 No.7 Review)
Vandersteen Treo ($6590/pair; reviewed by John Atkinson, March & May 2013, Vol.36 Nos. 3 & 5 Review)
Volti Audio Vittora ($17,500/pair; reviewed by Art Dudley, September 2013, Vol.36 No.9 Review)