Simaudio Moon Evolution 860A power amplifier Measurements
Sidebar 3: Measurements
I performed a full set of measurements on the Moon Evolution 860A (serial no. 4524200) using my Audio Precision SYS2722 system (see www.ap.com and the January 2008 "As We See It"). As the amplifier is specified as having a maximum power output of 200Wpc into 8 ohms, I preconditioned it before the measurements by running it at one-third that power, 67W, into 8 ohms for an hour. Following that period, the heatsinks were warm, at 110.2°F (43.4°C). The THD+noise percentage at this power level was 0.0126% with the amplifier cold, 0.0115% with it fully warm.
The voltage gain at 1kHz into 8 ohms was higher than the norm, at 31.3dB with both balanced and unbalanced input signals, and the 860A preserved absolute polarity (ie, was non-inverting) for both inputs. (Its XLR jacks are wired with pin 2 hot.) The unbalanced input impedance was to specification at 46.3k ohms at 20Hz and 1kHz, dropping slightly to 34k ohms at 20kHz. The balanced input impedances were twice these values, as expected. The output impedance, including 6' of speaker cable, was very low, at 0.09 ohm at low and middle frequencies, rising to 0.11 ohm at the top of the audioband. As a result, the variation in response due to the interaction between this source impedance and the impedance of our standard simulated loudspeaker was just ±0.075dB (fig.1, gray trace).
The frequency response was perfectly flat in the audioband, and down by 3dB at 120kHz into 8 ohms (fig.1, blue trace). As a result, the M28's reproduction of a 10kHz squarewave was essentially perfect, with no overshoot or ringing (fig.2). Channel separation (not shown) was >100dB in both directions at and below 1kHz, and was still 80dB L–R and 87dB R–L at 20kHz. Though some spuriae were present in the 860A's output at the mains frequency of 60Hz and its harmonics (fig.3), these were all at or below –130dB ref. 2.83V into 8 ohms. The wide, unweighted signal/noise ratio with the input shorted to ground was 85.7dB (average of both channels), improving to 92.7dB with the measurement bandwidth restricted to the audioband, and to 95.1dB when A-weighted. Despite its higher-than-usual gain, the 860A is a quiet amplifier.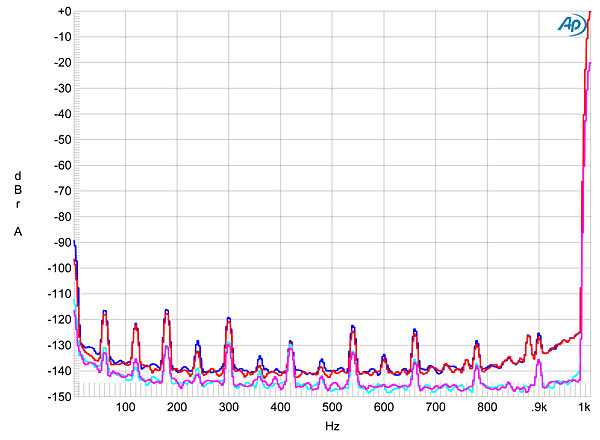 Figs. 4, 5, and 6 show how the percentage of THD+N in the Moon Evolution 860A's output varied with output power into, respectively, 8, 4, and 2 ohms. The downward slope of the traces in these graphs below 10W or so indicates that the actual distortion lies below the already low noise floor at low powers. The gentle rise in THD+N above 10W suggests that the circuit uses only a modest amount of negative feedback, though there is a sharp knee when actual waveform clipping starts to occur.
The Moon Evolution 860A is specified as being able to deliver 200Wpc into 8 ohms or 400Wpc into 4 ohms, both powers equivalent to 23dBW. However, figs.4–6 indicate that, with our usual definition of clipping as the power when the THD+N reaches 1%, the Simaudio delivers 180Wpc into 8 ohms (22.55dBW) or 290W into 4 ohms (18.6dBW), both figures taken with both channels driven; or 465W into 2 ohms (20.65dBW), one channel driven. The wall AC voltage was 122.6V with no signal being amplified, and 121.3V at the clipping point into 4 or 2 ohms, so that doesn't explain the slight shortfall in maximum output power. Even so, the Moon Evolution 860A is still a very powerful amplifier.
Measured at 12.67V—equivalent to 20Wpc into 8 ohms, 40Wpc into 4 ohms, or 80W into 2 ohms—the THD+N percentage remained very low into higher impedances, and the rise of THD in the top two octaves was mild (fig.7). The amplifier was clearly less comfortable driving high frequencies at this power level into 2 ohms, though the THD+N remains below 0.1%. The distortion signature, primarily a mix of the second and third harmonics (fig.8), remains low in level even at very high powers into 4 ohms (fig.9). Intermodulation distortion at a level just below visible clipping on the oscilloscope screen was also low (fig.10), the difference component at 1kHz resulting from an equal mix of 19 and 20kHz tones at 200W peak into 4 ohms lying at –86dB (0.006%).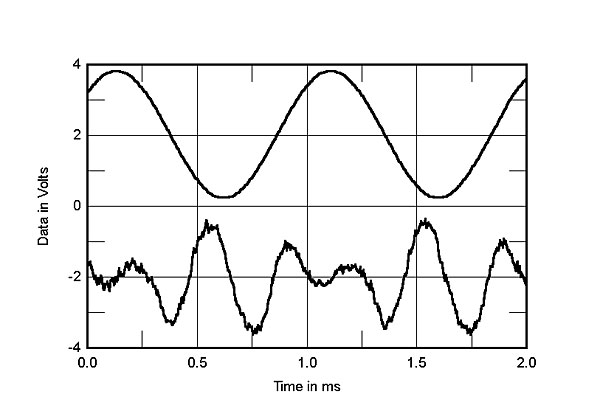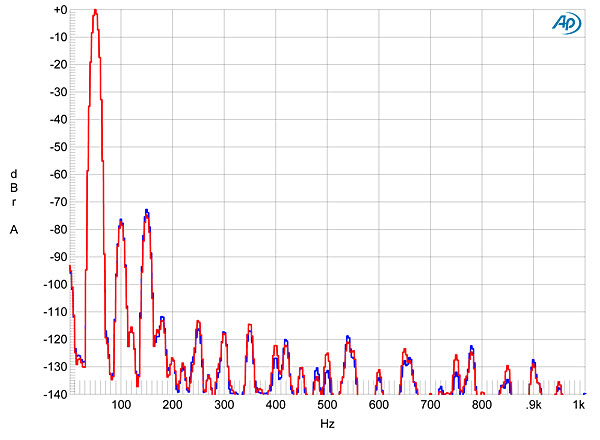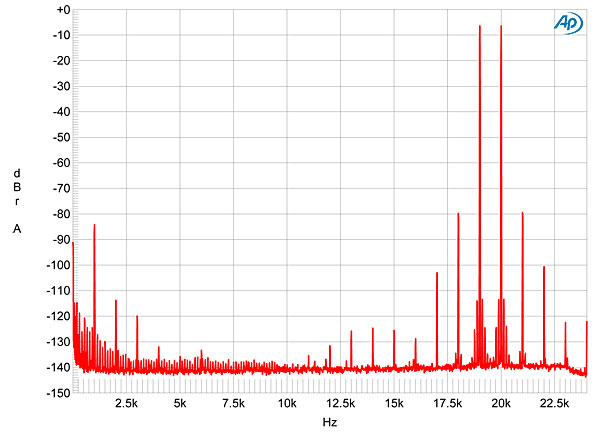 Other than the slight shortfall in maximum power output, the Moon Evolution 860A lives up to Simaudio's reputation for excellent audio engineering.—John Atkinson