Schiit Audio Yggdrasil D/A processor Page 2
When I ask my wiser, more audio-worldly friends which DACs they use, they usually reply with one of these names: Ayre Acoustics, Bricasti, dCS, MSB, TotalDAC, etc.
Audio sages know that DACs can sound as different from each other as do phono cartridges. They also know that the average DACs owned by most people sound broken, brittle, or defective, compared to even the lowest-priced phono cartridges.
Living mostly on handouts, the recycling of plastic bottles, and Scooby Snacks, I couldn't afford a dCS or MSB DAC. So for years I enjoyed my digital via a hand-me-down Halide DAC HD ($500, now discontinued). When I borrowed a Schiit Bifrost DAC ($399) with Multibit upgrade ($250), my musical life took a major step upward. I no longer felt less privileged than friends who did have a dCS or MSB. The Bifrost made my music sound richer, stronger, more whole and authentically toned—less sliced'n'diced. Moffat and Stoddard's Bifrost Multibit showed me a new version of what digital is capable of. Now I have the Yggdrasil . . .
And the Yggdrasil plays the living, human-formed rhythmic hell out of an AIFF file ripped from Jolie Blonde, by Luderin Darbone's Hackberry Ramblers (CD, Arhoolie 399). This music plucks and picks and fiddles and strums more sincerely than any other music I know. It saws and hollers its way right into your heart, but only from ancient 78rpm discs—or when the DAC is good. And as I've said before, I've never heard a band with an accordion that I didn't love. Well, no digital device I know has honored Darbone's fiddle sawing and Edwin Duhon's accordion squeezing better than the Yggdrasil. Both instruments were tangibly physical in a way that digital rarely permits.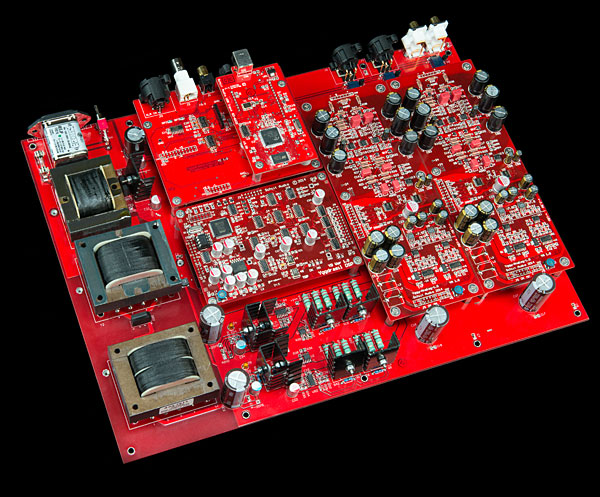 Ever since the Yggy arrived, I've been bathing in the shimmering tonal colors of harmonicas—especially when their blossoming sound is set against a backdrop of guitar strumming, as it is in "J'ai Passe," recorded very simply in Darbone's home in Lake Charles, Louisiana, in 1963. Cajun fiddle sawing is the ultimate test of an audio system's ability to dance and swing. The Yggdrasil let me not only feel or sense the machines Arhoolie used to digitally remaster these Hackberry Ramblers tunes, it let every tune move with a storm-like urgency that I found so completely engaging that, when a song ended, I felt sad, rejected, let down in an almost physical way. Only an exceptional level of musical continuity factor can generate that kind of engagement.
Yggdrasil vs Brooklyn vs Velvets
The worst art of postwar America trafficked in irony, dissociation, and tongue-in-cheekiness. So did the best. My favorite art always parlayed the unexpected and the introspective into the marvelous. No period of 20th-century art combined those qualities more or better than the 1960s, and few artists mixed these qualities better than German composer, actor, model, and singer-songwriter Christa Päffgen, aka Nico. Every time I've heard her plaintive voice—from my first exposure to it, on the Velvet Underground's first album, The Velvet Underground & Nico, until today, when I played her The Classic Years (CD, Chronicles 314 565 185-2)—I've been reminded why I became an artist. Today, I realized just how much her songs have contributed to my aesthetic viewpoint. As I listened to this 19-track compilation, I wondered if the Schiit Yggdrasil was reproducing Nico's voice more probingly or melodically than does the Mytek Brooklyn. Which DAC would show me the most of Nico?
The Yggdrasil and the Brooklyn have been the most significant digital upgrades I've made to my Bed Stuy Bunker audio system. The sound of the versatile Mytek is the definition of probing—it digs deep and opens wide, showing me new things I've never heard in every recording I play. It reveals the hidden and the unexpected better than any DAC costing under $5000 that I've experienced. Meanwhile, the Yggdrasil exposed melodic lines, instrumental textures, and human voices—also better than any DAC I've heard costing less than five grand.
When my system is good, it forces me to appreciate artists and songs I'd never noticed before. This happened today, with Nico's recordings of two early Jackson Browne songs, "The Fairest of the Seasons" and "These Days," both from her solo debut, Chelsea Girl (1967). I've always worshipped Nico, but neither song had ever fully entered my consciousness—until now, via the Mytek Brooklyn. I was seduced by her pure vocal tones and visions of her faraway, fake-lashed eyes. I was hypnotized by tremendous space and depth of field. Piano tone was weighty and distinct. The Brooklyn's clarity put me very close to my favorite modern chanteuse. The unexpected was emphasized. The hidden was uncovered. My love was increased.
Through the Yggdrasil DAC, these same tracks sounded softer; the leading and trailing edges of tones seemed slightly attenuated. But Nico herself felt more comely and feminine. With the Yggy, my attention was drawn to the music's movement and momentum—and Browne, the composer, was more present.
Compared to the Mytek's master-tape–like grainlessness, the Schiit's sound was slightly textured, and dynamic contrasts were less evident. Nevertheless, with the Schiit, I noticed more Nico and fewer recording artifacts. Nico's signature detachment and introspection were emphasized.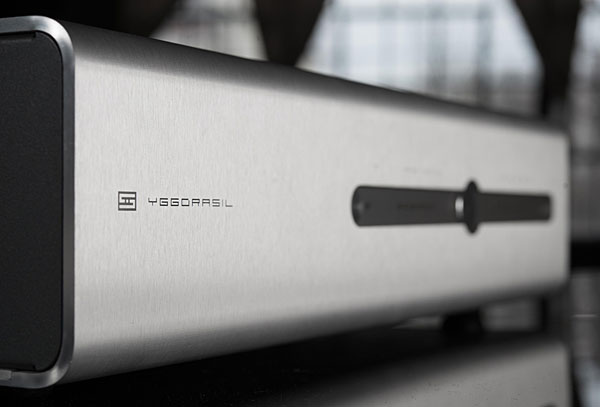 One thing was weird, and a bit perplexing: Through the Yggdrasil, the lowest and highest frequencies seemed less pure and well defined than through the Brooklyn—but with the Schiit, those same octaves seemed more realistic and tangible, less hi-fi sounding. The contrast reminded me of studio monitors and home audio loudspeakers.
I've played The Classic Years a lot—the songs are high-level poetry—but was always annoyed with its sound. Until now. Together and separately, the Yggdrasil and Brooklyn showed me more of Nico's beauty than I'd previously heard via any form of digital.
Nico as Kriemhild
In Nico's song "Nibelungen," the ash tree at the center of Norse mythology collides with Nico and Fritz Lang (footnote 2) to generate a haunted forest and a pure Nordic sky show of fantastic sound and poignant vocal expression. Imagine her lonely voice emerging from a dark abyss of reverberating air:
Since the first of you and me asleep In a Nibelungen land
Titanic curses trap me in
A banishment of stay
Symbols vanish from my senses
Stem and stave the view appears
With Nico's "Nibelungen," the Yggdrasil showed me everything it had to offer. It showed me, in a most attractive manner, the exact measure of artificial reverb added to Nico's unaccompanied voice. It showed me the poetically formed, vibrating core of her vocalization. It showed me Nico as a solitary artist, alone near her studio microphone. All with surprising verity and focused expression. Most of all, the Yggdrasil let me experience the brooding intimacy of Nico's art.
The Fate of Yggdrasil in the Era of Ragnarok
For me, understanding what makes one DAC sound different from another is fraught with anxiety and intellectual difficulties. I like the convenience of digital, but I don't appreciate high-resolution files and computer audio as much as do my friends Michael Lavorgna and David Chesky. I've seen systems with five digital boxes all strung together with wires and antennas, connecting a laptop or iPad to the line-level input of a preamp. I don't fully understand why this is necessary. I'm concerned about what appears to be the growing complexity of "high-quality" digital playback. I still remember the dizziness I experienced when I first looked at the block diagram of a digital converter. Error correction? Upsampling? MQA? DSD? SACD? Why must digital be so tedious, pedantic, and boring? Why must digital—even at its very expensive best—sound less real, direct, and tangible than a 7" 45rpm or a 10" 78rpm?
You tell me. Which sounds best: CDs? SACDs? Hi-rez downloads? I am a lifelong gearhead audiophile, and by 1992 I had embraced CDs and collected them with childlike enthusiasm. Now, all I desire is a simple audio system that plays real music, via headphones or loudspeakers, with conspicuous palpability, precise temporality, and poetic insight. The Schiit Yggdrasil DAC does all that. I think it would do a magnificent job of anchoring a giant-killing budget system.
I believe this so strongly that I recommend a simple, high-value, music system that I know I could live with forever: the Schiit Yggdrasil DAC ($2299), feeding a Schiit Ragnarok integrated amplifier ($1699) driving a pair of KEF LS50 speakers ($1499). For a total cost of $5497, this system will play headphones and speakers with equal perspicacity. Cross my heart, it will deliver sky-high musicality as well as oceans of myth and Norse magic. I've listened to this exact setup for almost a year, and if I weren't an audio reporter, I'd keep it and use it until the Fate of the Gods is nigh.
---
Footnote 2: In 1924, the Vienna-born Fritz Lang directed The Nibelungs: Siegfried and
The Nibelungs: Kriemhild's Revenge
, two silent films based on the
Nibelungenlied
, or
Song of the Nibelungs
, an epic Norse poem.