Schiit Audio Yggdrasil D/A processor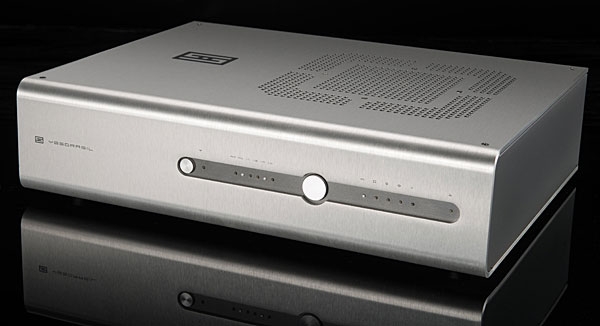 Right now, I swear, Schiit Audio's Mike Moffat and Jason Stoddard are sitting there in California, smugly smirking at me
and
John Atkinson. While JA was struggling to properly measure Schiit's Ragnarok (Fate of the Gods) integrated amplifier for my review in the
May 2016 issue
, I sent Moffat an e-mail: "Are you smiling?"
"Yup," he replied. He'd known in advance that the Ragnarok wouldn't look good on standard tests. But he hadn't warned us: The Ragnarok's output-stage bias program responds to music sources, not signal generators.
Not to mention: What sort of people name their company Schiit? Smirking, smart-alecky iconoclasts, that's who.
I asked Moffat how he could make a $139 phono stage—the Schiit Mani—in the US. "Why not?" he said. "It's just a little board in a box. First I get a bunch of little boxes . . . it costs the same to stuff a board in California as it does in China." Not only is Schiit stuff made in the US—so are most of their parts.
These guys aren't just snickering—they're not doing a lot of things other high-end companies feel they must. No MQA, DSD, or class-D. No menus or OLED displays. No remotes. No legible lettering. Their primary advertising campaign is Stoddard's Schiit Happened: The Story of the World's Most Improbable Start-Up—nearly 800 pages' worth of humorous stories that explain why and how each Schiit model came into being.
Moffat and Stoddard don't care about the high-end audio scene. They appear at audio shows, put a few of their silver boxes on the table, then jabber all day to tattooed young'uns on skateboards and fixies (footnote 1), none of whom read Stereophile or visit audio dealers. (Schiit sells only direct, online.) Moffat and Stoddard have become smirking smart-alecks because they've been around so many blocks of high-end audio that the only things they can still take seriously—the only things they actually still enjoy doing—are making modest, inexpensive hi-fi components that outperform glitzy, expensive hi-fi . . . and stealing reviewers' Scooby Snacks.
Can you imagine any company but Schiit making an all-out "statement" DAC that costs only $2299? I can't. Nevertheless, I'm here to tell you about just such a thing: Schiit's heavyweight, big-box, flagship DAC, the Yggdrasil.
Can you think of a DAC with a better name? Yggdrasil (pronounced IG-druh-sill) is an ash tree that, in Norse cosmology, grows out of the Well of Urd at the center of the spiritual cosmos. Some describe Yggdrasil as the World Tree—the source of all things.
Description
From Schiit's website: "Yggdrasil is the world's only closed-form multibit DAC, delivering 21 bits of resolution with no guessing anywhere in the digital or analog path. We've thrown out delta-sigma D/As and traditional digital filters to preserve the original samples all the way through from input to output."
According to Jason Stoddard, "Schiit DACs are the only multibit DACs built on a modern platform, using medical/military-grade D/A converters and our own closed-form digital filter running on an Analog Devices DSP chip. Most digital filters destroy the original samples in the process of upsampling. They're just like sample-rate converters or delta-sigma DACs. We're all about the original samples, so we created a digital filter with a true closed-form solution, which means it retains all the original samples. This is a major difference between Schiit multibit DACs like Yggdrasil and every other DAC in the world."
In audio, power supplies are the source of nearly everything, good or bad. According to its owner's manual, the Yggdrasil's supply has "two transformers (one for digital supplies, one for analog supplies) plus one input choke for discrete, dual-mono, shunt-regulated analog ±24V, plus 12 separate local regulated supplies for DACs and digital sections, including high-precision, low-noise LM723 regulation in critical areas."
The Yggdrasil's front panel is understated Scandinavian elegance—the exact opposite of Mytek's Brooklyn DAC ($1995), which looks sculpted and businesslike, with its busy display. The Yggdrasil is heavy (25 lbs), and big enough to fit four Brooklyns inside it. The front panel has two buttons: one, just left of center, is for inverting the phase, with an indicator light to its right. This button is proof that Stoddard and Moffat are indeed smirking: "An absolute phase switch is of little to no value in a non-time-domain-optimized, stochastic-time-replay system. It makes a huge difference with an Yggy (which is not stochastic)."
Farther to the right is a row of six tiny lights: the sample-rate indicators. Currently, the Yggdrasil accepts input signals of resolutions up to 24-bit/192kHz, but one sample-rate indicator is left unused, for a future upgrade. Then comes a bigger button, for selecting one of five inputs, the selection confirmed by one of the row of five lights to its right. Above each of these lights is a funny little symbol that I'd need a USB microscope to read.
On the Schiit's rear panel are one pair of balanced (XLR) and two pairs of single-ended (RCA) analog outputs; AES/EBU (XLR), S/PDIF (RCA), S/PDIF (BNC and optical), and USB digital inputs; a simple, old-school, on/off toggle switch; an IEC socket; and some little white letters spelling out "MADE IN USA." Schiit recommends leaving the Yggdrasil on continuously "for best performance."
The Yggy is easily upgradable—its entirely modular architecture comprises separate circuit boards for the digital input, the USB input, the DSP engine, and the DAC and analog output.
Listening
Live music may be viewed as a continuously pulsating wavefront. If you hold your hand up, you can almost feel it. Recorded music is a coded narrative simulacrum of that pulsing wavefront. If anything in the recording or playback chain interrupts, bends, truncates, or haphazardly disrupts the original (live) continuity—all the world's smart guys can never restore its hyperfragile relationships of time, frequency, and amplitude. Love, music, and poetry live only in the undamaged continuity of those relationships. (Unlike the stock market or election polling, music is not a stochastic process.)
In home stereo, accurate tonal characters and lifelike rhythms are the surest indicators of an unmolested musical narrative. If we look at audio historically, it's pretty obvious that digital has been (mostly) hammer-and-tongs rough on this sacred continuity. Whether in the recording studio or at home, digital's punch-press aggressiveness can be recognized by the (usually) hard, mechanical nature of its playback. In contrast to the digital norm, the Yggdrasil's sound felt distinctly nonaggressive, nonartificial. Even before it was broken in, I could sense the Yggy's gentle touch and hear the music's relatively unmolested continuity.
When my analog-fanatic, LP-clinger friends carry on about how much better than digital their LPs sound, I always ask them what cartridge they're using. Most say Miyajima, Miyabi, or Koetsu. I then smugly ask which DAC they're using. Most say, "Bits is bits," or "All DACs sound the same—bad!" LP clingers rarely buy high-quality, musical-sounding DACs.
---
Footnote 1: A fixie is a single-speed bicycle with fixed (not coasting) rear axles.