Rega Planar 10 turntable, RB3000 tonearm, Apheta 3 phono cartridge Page 2
The P10 PSU outboard motor-drive unit uses the same electronics found in the older RP10. It features a DSP-modified low-tolerance squarewave-generating crystal. This most recent version, however, is housed in a new, attractive, more-rigid chassis said to yield improved drive performance. The individual motor/drive system's fine-tuning process smooths out any residual vibrational energy.
The new Rega RB3000 tonearm
Just because the RB3000 looks like the arms used on less costly Rega 'tables doesn't mean it's the same arm. For one thing, the three-point metal mounting base here is far more massive than the plastic ones used further down the line, though it's similar to the one used on the P8's RB880.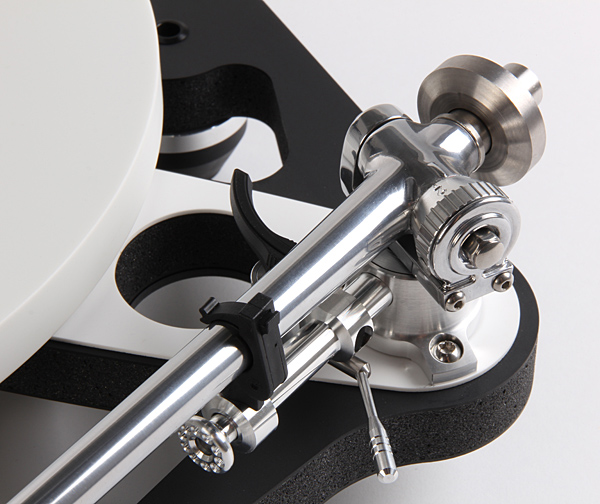 More significantly, while Rega has always paid a great deal of attention to the manufacturing accuracy of their bearing housings and spindles ("roundness" and "parallelity" in particular), over the past three years the company has found a new manufacturing process that improves all of these characteristics, resulting in a micron-scale bearing fit. The RB3000 is the first Rega arm to benefit from these improvements.
This latest iteration of Rega's familiar cast-and-chromed aluminum tonearm features hand-selected, Japan-sourced ABEC bearings, with inner and outer diameters matched to fit both around and within their associated components—to exhibit even tighter tolerances so that no adhesive is needed. Feeling the movement of this arm, both vertically and horizontally, makes clear the ultrahigh bearing quality and fit.
The manual omits mention of the tonearm's effective length, overhang, and pivot-to-spindle distance, which I found out later. (These should be in the manual.) Pivot-to-spindle distance is the familiar (for Rega) 222mm, though the effective length is now spec'd at 236.53, down from 239mm due to a shorter overhang of 14.53mm—itself down from 17mm—with a specified offset angle of 21.56°. The arm is physically the same as the older arms; the difference is where Rega's three-point cartridge mount sets up in the headshell. If you use another model or brand of cartridge, or use just two of the Apheta 3's three screws, you can set it for the original Rega geometry, though the offset angle will differ.
Rega provides a low-precision single-point paper alignment gauge that, according to Freeman, produces a modified Stevenson alignment, putting the second, innermost "null" point in the unmodulated area near the label. The benefit is obvious from fig.1, but so is the disadvantage: considerably greater tracking error distortion over the center of the record's modulated area. (The Stevenson alignment is best for classical music or for mostly older records that are generally cut closer to the label, because distortion rises steeply beyond the second null point.) I'm a Löfgren A person myself, but choose your own solution. If you buy an Apheta with a three-point mount, you can still use your preferred geometry by omitting its center screw.
Rega's insistence on rigidity over adjustability means there's no way to adjust VTA/SRA or azimuth, though you can raise VTA/SRA (if necessary) using shims (although Rega warns against using aftermarket shims because doing so runs the risk of damaging the P10's costly ceramic brace); you can effectively lower the arm by using a taller mat. Tonearm wiring is "straight through" from cartridge clips to the tonearm cable's locking RCA plugs.
The Apheta 3 MC cartridge
The newest Apheta features a nude stylus with a fine line profile. The cartridge's unique generator design features an undamped micro-mass system with a high-powered neodymium magnet, a hand-wound coil on an iron cross former, and a one-piece anodized-aluminum body with wires protected within a smoked transparent cover.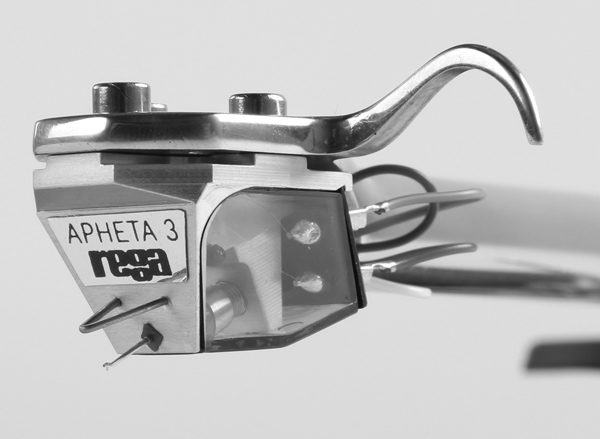 The Apheta 3 tracks at between 1.9 and 2 grams and exhibits a 10 ohm internal impedance. The recommended loading impedance is 100 ohms. Output is spec'd at 0.35mV (350µV), channel balance is equal to or greater than 0.02mV (20µV), and channel separation is spec'd at 29dB or greater.
Setup and use
You can have this 'table out of the box and playing records within minutes (assuming your mounting platform is completely level, because the 'table's feet are not height-adjustable)—especially with the prefit Apheta 3 cartridge (or the more costly Aphelion, which is fitted with a boron cantilever and Vital profile stylus).
If the surface is level, you need only attach the arm's counterweight, balance the arm and set tracking force and anti-skating, and connect both the power supply and tonearm cables. Oh, and don't forget to remove the stylus guard.
In place of a hinged dustcover, Rega now supplies, out of necessity, a sculpted one that fits over the platter and the arm, offering good protection for both. (There's no place for hinges—and who needs that old-school stuff on a modern design, anyway?) It's similar to Kuzma's dustcover.
A tap test produced a bit more sound from the speakers than I'd like to hear, both on the skeletal plinth and on the Stillpoints rack's acrylic top shelf, but it was a quick-to-dissipate, clean, precise, midfrequency "pop"—not a deep, hollow, resonating blob of sound.
Like the P8, the P10 allows you to adjust platter speed—a good thing, because even though importer Sound Organisation says it confirmed a speed of 33.34rpm before shipping, out of the box this turntable ran slow. The 3150Hz test tone produced a 3121Hz tone, which is about 1% off—not fatal, but it's good to be able to adjust speed!
The manual's speed-adjustment instructions need rewriting. Under "speed adjustment," it says: "Program mode LED: This indicates the two modes of operation: Factory default mode and speed adjustment mode." It just doesn't tell you which LED condition is which, nor does it outline the process. I figured it out and got the speed correct and, as the (figs.2 & 3) indicate, this turntable really is a great performer in terms of speed and speed consistency.
The P10's build quality and fit'n'finish were outstanding, other than the white felt (or whatever it is) mat, which was poorly cut and jagged. Not that it mattered: I don't use those dust catchers anyway, though I did listen to one track with and without the white mat, and preferred "without," as I typically do.
Spectacularly natural and exciting sound
The first-generation Apheta cartridge I auditioned years ago was a coarse, bright, miserable-sounding device; at the time, I chose not to use it to assess the Rega turntable it came with. The Apheta 2 and 3 are far better transducers, and the 3 is a smooth, detailed operator. It's the best-sounding Rega cartridge I've heard. (I'm not a big fan of their "meh" sounding MM cartridges.) After I'd broken it in for a while, I did critical listening using the $28,900 van den Hul Grail SE Plus phono preamplifier currently under review beginning with Mobile Fidelity's spectacular remaster of Dire Straits' eponymous debut (MFSL 2-466).
Anyone who thinks a lightweight 'table can't produce deep, tuneful, and well-sculpted bass should listen to the P10 as it decodes this record. It gets the bass foundation just right, especially after I removed the mat and replaced it with Stein Music's The Perfect Interface mat, which further tightened John Illsley's bass and better defined the already fine sense of touch on the strings. The P10 was fast, tight, well-defined, tuneful, and exciting on the bottom. The presentation was so fast and exciting that I had to go back and make sure I'd not sped up the platter beyond the correct speed!
Next up was a new reissue of Grant Green's Sunday Mornin' (Blue Note ST-84099)—not a standard Blue Note, Blue Note Tone Poet, or Music Matters reissue, but rather one that "got away" and was given to Tom "Grover" Biery for his Slow Down Sounds label. (At Warner Brothers, Biery pushed through all the previous decade's great Warner vinyl: Van Morrison, ZZ Top, James Taylor, and so on—all cut from tape.) This one was done à la Tone Poet—cut by Kevin Gray, plated and pressed by RTI, etc.—though it's not a gatefold "tip-on" jacket.
It's a gorgeous recording. Recording engineer Rudy Van Gelder had a great day, so even Kenny Drew's piano sounds luxurious. The P10/Apheta 3's rendering of this record was sensational: a full, supple, textural delivery of Green's single-note picking, Drew's comping, Ben Tucker's bass, and Ben Dixon's drums. All four instruments were spread solidly across the soundstage, locked firmly into place in three dimensions. Just as the Dire Straits album sounded (appropriately) electric, the Grant Green LP sounded warm and acoustic. (Yes he's playing an electric guitar, but it's a hollow-bodied instrument with a warm, round tone.) Transients were clean and precise, neither overly etchy nor romantically soft. The presentation floated effortless and stably in three-dimensional space, in a way that only the best turntables produce.
It's been years since I've played Analogue Productions' 2010 double 45rpm reissue of Nat "King" Cole's masterpiece Love is the Thing (APP 824-45), so I gave it a spin with a definite sonic expectation in mind. I got something far better, in part because the rest of the system has been significantly upgraded—but the turntable was clearly delivering the goods: Nat's voice was 100% artifact-free, smooth, and transparent, with no lower midbass hangover. The strings had a satiny, supple sheen that was so far superior to how I remembered them sounding, which was great to begin with!
For a "slam" test (among other things), I played the fourth movement of Beethoven's Symphony No.9 from the Electric Recording Company's remarkable (and out-of-print) box-set reissue of Otto Klemperer and the Philharmonia Orchestra's Beethoven symphony cycle plus overtures (ERC 046)—a majestic and surprisingly dynamic stereo recording from 1957. The P10 delivered spatial fireworks and dynamic satisfaction for sure, with believable voices emerging from jet-black backgrounds. But some might consider the strings to have sounded a little thin (though not strident), and the overall presentation insufficiently relaxed.
In other words, for those listeners who prefer the richness and "romance" produced by a suspended 'table, this will be a bit "in your face," although sustain and decay were generously presented. A warmer cartridge or phono preamp might do it, but probably not. I wouldn't give up this 'table's excitement and immediacy for that, if I had to choose, but that's just me!
Conclusion
Rega's new P10 is by far the company's most sophisticated, refined, quiet, and subtle-sounding turntable yet. It combines the immediacy, grip, and rhythm'n'pacing excitement Regas have always produced, with the subtlety and delicacy typically found on far more costly analog front ends. The same is true of the Apheta 3 cartridge. If there's a better $6695 plug'n'play turntable out there—or, for that matter, a better or at least competitive one for $10,000—I don't know what it is. I may try a few other more costly cartridges on the P10 before sending it back, but that's a different review.