Recording of October 2016: Lovers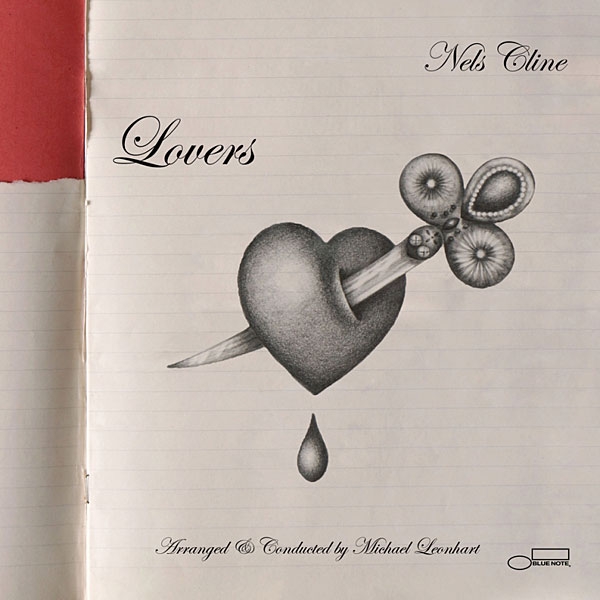 Nels Cline: Lovers
Nels Cline, electric & acoustic guitars, lap steel, effects; Charles Pillow, C & alto & bass flutes, oboe, English horn, B-flat clarinet, alto saxophone; Steven Bernstein, Taylor Haskins, others, trumpet, flugelhorn, trombone; Julian Lage, guitar; Yuka C. Honda, celeste, Juno 60; Devin Hoff, contrabass, bass guitar; Alex Cline, drums, percussion; Kenny Wolleson, vibraphone, marimba, percussion; Michael Leonhart, arr., conductor; many others.
Blue Note 8002505102 (2 CDs). 2016. David Breskin, prod.; Ron Saint Germain, eng. DDD? TT: 90:02
Performance ****½
Sonics ****½
There's an old saying about music written for films and the stage: It's so lush and tuneful that it's almost too schmaltzy to be heard without accompanying visuals. Add to that the suspicion that many so-called "out" jazz cats—guys with outsize reputations as loud, atonal shredders of the brainiac variety, blinding talents who prefer endless effects and generally play unhinged and far away from the melody—are really, under all the noise, big softies. There you have the story of Lovers.
Over the years, the California-raised Nels Cline, now a very youthful 60, has lent his ideas and tones to punk-rock bands with former Minuteman Mike Watt, played country music with Willie Nelson, alt-country with the Geraldine Fibbers, and recorded free jazz with his own group, the Nels Cline Singers—which, of course, includes not a single vocalist. He's also played and recorded more-or-less straight jazz with Charlie Haden, and formed adventurous collaborations with other guitarists, such as Julian Lage (who guests here) and Thurston Moore.
When it comes to getting paid, Cline has shown the talent, open mind, and full-on good sense to have landed and kept a gig as one of the guitarists—some might call him the chief distortionist—of the mighty and wonderful indie-rock machine that is Wilco, which he's been with since Sky Blue Sky (2007). Cline has also collaborated with his wife, Yuka C. Honda of Cibo Matto, in the Nels Cline Singers and as members of Yoko Ono's Plastic Ono Band. He even lent his considerable chops to a Blue Man Group record.
Here, after years of reputedly making lists of songs he wanted to record for a solo record, Cline has come up with Lovers, a collection that mirrors his eclectic career. Performed by a 23-piece ensemble of mostly woodwinds, brass, and strings, arranged and conducted by Michael Leonhart, the results are vast and startling, and sure to bring Cline an entirely new audience. In interviews and his liner note, he refers to the album as an update of the 1960s concept of "mood music," and has also said that this record pays tribute to such influences as Jim Hall, Gabor Szabo, and Marc Ribot. Many of Cline's own compositions show these influences perfectly; eg, the standout "Hairpin & Hatbox," built around vibraphone, brushed snare, and Cline playing leisurely single-note lines. And if it's atmosphere you seek, Cline's cover of Szabo's "Lady Gabor" even includes a concert harp swelling and falling away in the background.
Several of the most striking performances, terms of both creative, inventive arrangements and Cline's playing, are of infectious show tunes (sans visuals)—such as "Why Was I Born," from Jerome Kern and Oscar Hammerstein II's Sweet Adeline, which has an undeniable easy charm and a swinging, jazz-age flavor, that's never been a part of Cline's experience until now. In "I Have Dreamed," from Rodgers and Hammerstein's The King and I, Cline plays with a quavering, theremin-like tone, surrounded by flutes and Kenny Wolleson's vibraphone.
Throughout these two CDs or LPs, Cline unexpectedly favors single note solos and his sound is remarkably free of effects, as noted by Wilco bandmate Jeff Tweedy in a recent article in the Wall Street Journal by Eric R. Danton: "It's not as reliant on his science project of pedals and effects. It's more like the pure tone that I hear off of Nels' fingers when he's warming up backstage."
A cover of Sonic Youth's "Snare, Girl" has a jungle-rock, exotica kind of feel, with a steady, almost tribal rhythm from brother Alex Cline's drum kit, over which Cline plays a solo, trembling, guitar line. While two numbers by American avant-garde composer Annette Peacock, "So Hard It Hurts" and "Touching," here combined in a single track, have the avant sound that fans of Cline's experimental music will recognize—Cline going to a drone enlivened by occasional splashes of percussion—two others represent two of the most salient polemics present on this 18-track collection.
In "The Search for Cat," a cue that never appeared on the soundtrack album of Henry Mancini's immortal score for Breakfast at Tiffany's (1961), Cline plays it straight, letting the strings take the lead, delicately interweaving the melody of "Moon River" as he plinks away in the background. In the biographical material from Blue Note that accompanied Lovers, Cline had this to say about "Cat": "On the record, that's the piece that catapults you into my real idea of what the record is. It has a certain drama, rather than just sweetness or a wan sensibility or feeling. That movie is extremely important to me and my family, and the music is so phenomenal, it's the kind of writing that I aspire to myself."
"The Search for Cat" leads into Cline's "The Bond," a gorgeous, extremely moody tribute to his wife that has a tenderness and a delicacy that might shock or even repel fans of the noisier sides of Cline's past.
While Lovers itself may be more Cline than even dedicated fans need, this very intimate look into the softer sides of Cline's taste and playing is more evidence that, excepting perhaps Bill Frisell (with whom he's also played), Nels Cline may be the most versatile guitarist now working in jazz and pop.—Robert Baird