Recording of February 2011: Markus Schwartz & Lakou Brooklyn: Equinox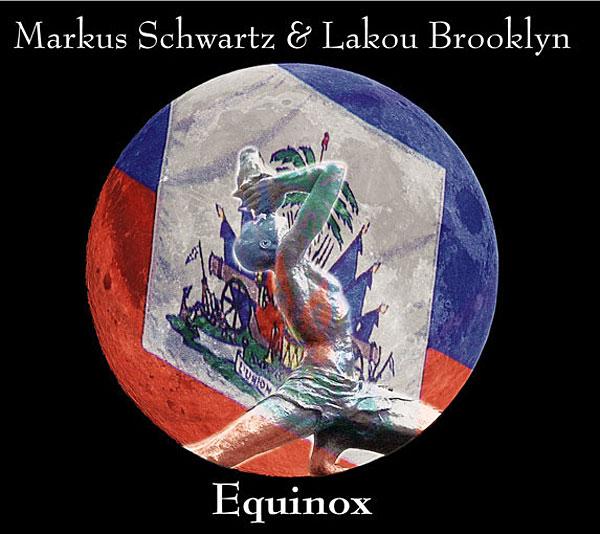 Markus Schwartz & Lakou Brooklyn:
Equinox
Markus Schwartz, Haitian Rada & Petwo drums, miscellaneous percussion, loop sampler, conch, vocals; Jean Caze, trumpet, flugelhorn, conch, vocals; Monvelyno Alexis, electric guitar, percussion, vocals; Paul Beaudry, double bass, percussion
Soundkeeper SR1002 (CD). 2010. Barry Diament, prod., eng. DDD. TT: 43:16
Performance ****
Sonics *****
Think of flat, one-dimensional downloads of soulless, AutoTuned music that sounds more manufactured than played. Then feast on this.
"A live performance, whether in front of an audience or for the players themselves, involves direct communication between the musicians as they play," says Barry Diament, record producer and founder of three-year-old Soundkeeper Recordings in the liner notes to Equinox. "Each player influences the others and there is an electricity in the air, a frisson, created by their interaction. . . . Soundkeeper recordings are made with all the musicians playing live, in real time. The musicians determine the musical balances and musical dynamics. They are recorded directly to stereo. There are no overdubs. There are no mixes. We call it 'recording without a net.' The prime interest is in capturing the feel of the performance, the excitement and emotion that make the music what it is."
In the audiophile community, recordings specifically designated "audiophile" often come with a caveat. To paraphrase the late J. Gordon Holt, the irascible, curmudgeonly founder of Stereophile, "the better the sound, the worse the performance." JGH was always a craftily gleeful bomb-thrower, but his classic epigram contains more than a grain of truth. Audiophile recordings that sound amazing can often suffer from middling talents, weak material, and/or uninspiring performances. (I'm speaking here only of new recordings, not reissues of older recordings remastered along audiophile lines.) Rather than debate the many yeas and nays of this very crusty topic, it must be noted that there are also notable exceptions to this dichotomy, as Norman and David Chesky, in particular, have proven time and again.
Intent on finding that magical equilibrium between sound and content, Diament, a former Atlantic Records engineer, has hit a new high point for Soundkeeper with this immediate-sounding and musically compelling disc of explorations by drummer Markus Schwartz and his Lakou Brooklyn project. Schwartz's rhythmically vital blend of Haiti's Rara (pronounced rah-rah) street band music, voodoo songs, and brassy American jazz textures is popularly known as Vodou Jazz; he prefers to call it Haitian Roots Jazz.
Born in Copenhagen, Denmark, and raised in the US, Schwartz now lives in a predominantly Haitian neighborhood in Brooklyn, and has thoroughly schooled himself in the intricacies of Haitian drumming by spending much time on the western side of Hispaniola. In this album's opener, "Kote Moun Yo?," Schwartz chant-sings a repeated stanza of lyrics in concert with trumpeter Caze, and plays a tcha-tcha (gourd shaker) and a Fe—a percussion instrument of coiled iron made of springs recycled from automobile suspensions. (Haitian Rara bands often feature an entire mini-orchestra of Fe players.) Here Schwartz also plays lanbi, which is Haitian patois for conch shell. Unlike jazz trombonist Steve Turre, who has fitted conchs with trombone mouthpieces, Schwartz and Caze both play conchs whose ends have been plainly sawn and sanded down. The only bits of studio manipulation on Equinox are the drum loops Schwartz created using only his own playing. As he says in the liner notes, "No click tracks or electronic drum sounds were employed in the creation of the loops."
The grand "Seremoni Tiga," begins with double bassist Paul Beaudry bowing a repeated rhythmic figure in the instrument's lower register while Caze on trumpet and Schwartz on shakers slowly entwine above. This pairing becomes a more aggressive dance when Caze increases the volume of his improvised lines and electric guitarist Monvelyno Alexis enters, nimbly picking his way and adding more rhythm until he and Caze double on another sassy rising riff, this time led by the trumpet. It all makes "Seremoni Tiga" the most completely realized and appealing track on Equinox.
While the Equinox band was formed to play the music of Schwartz's last record, Tanbou Nan Lakou Brooklyn (2008), which featured studio-only appearances by unquestioned talents like Dadi Beaubrun (Boukman Eksperyans, Lataye), Eddy Francois (Boukman Esperyans, Boukan Ginen), drummer Jeff Ballard (Chick Corea, Brad Mehldau), and bassist Ugonna Okegwo (Tom Harrell, Jacky Terrason), this working quartet has a vivid chemistry that gives Equinox a very genuine feel. Such esprit de corps makes the album's only ballad, "Cecia," a tune from the Haitian Twoubadou (Troubador) tradition, a smoky, sexy wending. While most of the six tracks are traditional Haitian songs given fresh arrangements by Schwartz, a successful if unrecognizable cover of John Coltrane's "Equinox" is a nice change from "Afro Blue," the Ramon "Mongo" Santamaria tune that is the usual go-to Coltrane cover for most Haitian acts. Coltrane has special meaning for Schwartz, thanks to a shared birthday.
Equinox was recorded in a single day, in the Osborn Theatre in Rye, New York, with a stereo pair of microphones separated by a baffle of Diament's own design. The mikes' output was fed, via Nordost Valkyrja cables, to a Metric Halo ULN-8 preamplifier/ FireWire interface, which converted the signals to digital at 24-bits/192kHz, then sent them on to a laptop computer via FireWire. The CD was mastered to a DDP file with glass cut in real time, and an injection-molding cycle of close to nine seconds (instead of the usual four) for the discs. Equinox is available in seven formats: pressed CD; one-off, slow-burned CD-R; one-off DVD-R (in 24/96 DVD-V format, playable in most DVD players); and one-off, files-on-disc DVD-Rs for music servers in four different formats: 24/96 AIFF, 24/96 WAV, 24/192 AIFF, and 24/192 WAV.
While the technical info is impressive, and the peerless sound is gloriously unaffected and real, the compelling and exotic blend of music on Equinox is equal to the technology—a balance of art and craft that all recordings, audiophile or not, should aspire to.—Robert Baird