Recording of August 2019: Henry Brant: Ice Field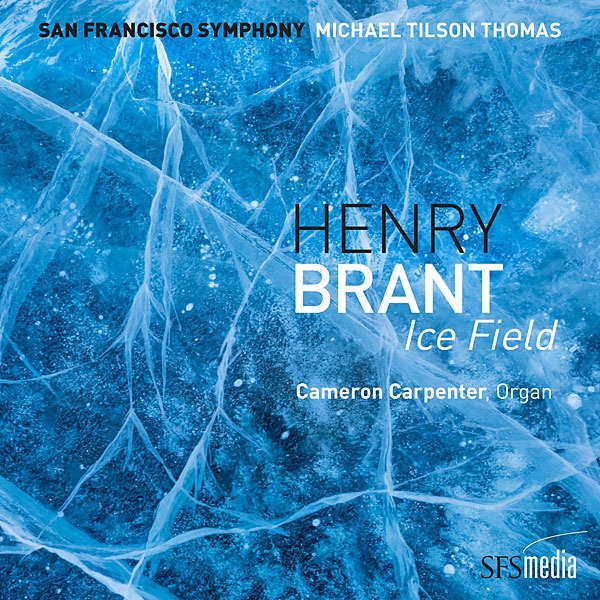 Henry Brant: Ice Field
Cameron Carpenter, organ, San Francisco Symphony, Michael Tilson Thomas, Edwin Outwater, Conds.
SFS Media SFS 0075 (24/48 WAV). 2019. Jack Vad, prod, and eng.; Roni Jules, Gus Pollek, Jonathan Stevens, Denise Woodward, supporting engs.; Jack Vad, Mark Willsher, John Loose, Atmos post-prod. DDD. TT: 24.31
Performance *****
Sonics *****
Even though Henry Brant's mind-boggling Ice Field for orchestra and organ won the Pulitzer Prize for Music in 2002—the year after its premiere—and years later was revisited by the San Francisco Symphony, for which it was commissioned, no recording format has succeeded at capturing its musical and spatial wonders. Until now.
In a first for the San Francisco Symphony, the 2014 performance of Ice Field, recorded in 24/192 PCM in Davies Symphony Hall, has been issued as a bargain-priced (about $7) 24/48 WAV download-only binaural recording. Processed with Dolby Atmos, Ice Field is intended for anyone with two-channel playback gear and a pair of headphones.
And what a listen it is. This work, which combines carefully orchestrated sections with passages that depend on spontaneous improvisation, stretches the limits with its wildly divergent but ultimately unified sonic excursions. In the huge expanse of Davies Symphony Hall, one hears percussive blows, silly treble organ exclamations followed by rumbles from the lowest pedals, deep growls, bits of swinging jazz, and mysterious but determinedly consonant sections that touch the heart—a crazy cacophony of careening sounds and lines superimposed one over the other that fascinates even as it confounds.
Conceived for the unique acoustic of San Francisco's Davies Symphony Hall Brant's virtually unclassifiable work places two conductors and countless musicians in multiple locations within the hall. Years ago, I attended the work's premiere and was so distracted by the many disparate sound sources that I was unable, at times, to comprehend where Brant's score intended to take me. SFS Media's binaural issue is the first time I've been able to close my eyes, focus on the music, and begin to make sense of Ice Field's divine chaos.
Imagine this spatial scenario, which Brant (1913–2008) shared with New Music champion Charles Amirkhaniar before Ice Field's premiere: "On the stage will be the string orchestra in the place where it usually sits, all together. The only other instruments on the stage are two pianos, two harps, and the timpanist. So the sound that comes from that area of the stage is not what you ordinarily hear. It's more intensified because you hear each tone quality by itself, not duplicated by anything else. Behind the stage, in the organ loft, I put the oboes and bassoons. What they play is a kind of music that the strings, pianos, harps, and timpani never play. In the first tier is the entire brass section, plus a jazz drummer. This group has its own conductor, who pays no attention to the conductor on stage, because the music here is entirely different. At one end of the second tier are three piccolos and three clarinets. They play what they have to play without keeping together because I want their sound to represent the kinds of elements that happen in everyday life—a lot's going on, without connecting with anything. At the opposite side of the second tier are the glockenspiel and xylophone. Low percussion instruments are on the orchestra level, in side boxes. There's nothing left except the huge pipe organ of Davies Symphony Hall..."
Now imagine the challenge of recording such a 12-ring circus. According to longtime San Francisco Media producer/engineer Jack Vad, "We just couldn't get it to work in 5.1, 7.1, or 2-channel—it was a mess. The only way this recording has worked musically for us is in an Atmos presentation"—a presentation, I should repeat, that requires no special equipment or decoding: Any two-channel DAC and headphone amp and pair of headphones will do.
When Brant was 12 years old, before he studied at the Montreal Conservatory and Juilliard Graduate School—long before he went on to serve on the faculties of Columbia University, Juilliard, and Bennington College—he joined his violinist father on a trip to Europe. During the voyage, the ship spent an entire day passing through a field of icebergs.
"I claim that the memory of that experience is reflected in Ice Field," Brant said. "But it's only a title. I was thinking about this when I started to write it, but the idea of trying to depict an iceberg in sound is something I wouldn't want to attempt."
As you listen, see if occasional fragments of Brant's massive score bring to mind an orchestra playing as the Titanic sinks, or if others simulate the moaning of huge chunks of ice as they begin to cleave—or reflect the sounds of your own mind bursting at the seams (footnote 1).—Jason Victor Serinus
---
Footnote 1: Be sure to look at
this video
before you leap.