Pono PonoPlayer portable music player Measurements
Sidebar 3: Measurements
With its battery fully charged and using both its unbalanced Headphone and Line 3.5mm output jacks, I measured the PonoPlayer with my Audio Precision SYS2722 system (see www.ap.com and the January 2008 "As We See It"). I uploaded WAV and AIFF files of the test signals to the player's internal memory using the JRiver-sourced PonoMusic World app.
The volume control operates on the headphone output only; the output with a 1kHz tone at 0dBFS from the headphone jack with the volume control set to its maximum was the same as from the line output: 961.3mV. Both outputs had an output impedance of 3 ohms across the audio band, though this varied slightly with level and load impedance, and preserved absolute polarity (ie, were non-inverting), as can be seen from the PonoPlayer's impulse response (fig.1, footnote 1).
Fig.1 also reveals that the player's reconstruction filter with 44.1kHz data has no pre-ringing, and just one cycle of critically damped post-impulse ringing. While this kind of filter is generally felt to be subjectively preferable—Ayre Acoustics' well-regarded QB-9 uses the same filter when its rear-panel switch is set to Listen (footnote 2)—it is associated with a slight loss of top-octave audioband energy and poor suppression of ultrasonic images. This is seen in fig.2, which shows a wideband spectral analysis of the Pono's output while it decoded 44.1kHz data representing white noise (red and magenta traces) and a full-scale tone at 19.1kHz (blue, cyan, footnote 3). The noise starts to roll off gently above 10kHz, and is down by 5dB or so at the Nyquist frequency (half the sample rate) of 22.05kHz. It doesn't reach the full stopband attenuation until 53kHz. As a result, the image of the 19.1kHz tone at 25kHz (44,100 minus 19,100) is suppressed by only 6dB or so, and an alias tone at 5.9kHz (44,100–2x19,100) appears in the audioband, though this lies at a probably inconsequential –74dB (0.02%).
Fig.3 plots the PonoPlayer's frequency response in a more conventional manner, using spot tones at three sample rates: 44.1, 96, and 192kHz. The rolloff with the lowest sample-rate data reached –0.5dB at 10kHz, and –3dB at 20kHz, which may just be audible to young listeners. The rolloff wasn't as gradual with the two higher sample rates, reaching –3dB at 41 and 75kHz, respectively, and the rolloff in the audioband was negligible. Channel separation was very good, at just under 79dB in both directions at low and middle frequencies, decreasing slightly to 76dB at the top of the audioband. The PonoPlayer's noise floor (fig.4) was clean and free from idle tones.
To examine a product's resolution, I show spectra of its output while it decodes first 16-and then 24-bit data representing a dithered 1kHz tone at –90dBFS. The results of this test are shown in fig.5. The increase in bit depth from 16 (cyan, magenta traces) to 24 (blue, red) drops the noise floor by 7–8dB, implying resolution of just over 17 bits. While lower resolution than Astell&Kern's AK100 and AK240, this is actually good for a player with a low-voltage power supply and a maximum output level 6.4dB below the CD standard's 2V. It is enough resolution, for example, to allow the PonoPlayer to readily resolve a dithered tone at –120dBFS, as seen in fig.6—and note the clean appearance of the noise floor in this graph. Nevertheless, the Pono's reproduction of an undithered tone at exactly –90.31dBFS (fig.7), which should consist of three well-defined DC voltages, is obscured by high-frequency noise.
As Ayre designed the PonoPlayer's electronics, I wasn't surprised to find that the player didn't have the lowest distortion in the high-end universe. Ayre believes that the benefits of zero loop negative feedback outweigh the degree of nonlinearity that results from the circuit not having corrective feedback. But the Pono's total harmonic distortion is still low in absolute terms with a full-scale signal, at least in the right channel (fig.8, red trace), where the second and third harmonics bracket –90dBFS (0.003%). However, the second harmonic is much higher in the left channel (blue trace), at –67dB (0.04%). Fortunately, pure second-harmonic distortion is innocuous (see "Listening," February 2015), even at much higher levels than this. This measurement was taken from the Pono's Line output; repeating the test from the Headphone output gave the same result. Turning down the volume control by 6dB reduced the levels of all harmonics.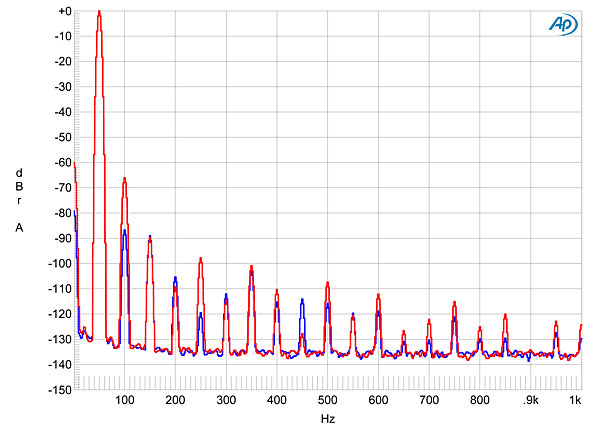 Intermodulation distortion was relatively low, a full-scale mix of equal amounts of 19 and 20kHz tones giving rise to a second-order, difference product of 1kHz at –80dB (0.01%, fig.9). In fact, almost all the spectral lines you can see in this graph are the result of the slow-rolloff reconstruction filter with 44.1kHz data. Repeating this test with the same tones sampled at 96kHz gave a much cleaner result (fig.10).
Despite the Miller-Dunn J-Test signal's not being diagnostic for a digital product whose word or bit clock is not embedded in the datastream, I still include it in my tests of such products. Fig.11 shows a narrowband spectrum of the PonoPlayer's output while it decoded 16-bit J-Test data. The odd-order harmonics of the low-frequency, LSB-level squarewave are mainly close to their correct levels (green line), but there are some differences in the levels of the harmonics closest to the spectral spike, which represents the high-level tone at 11.025kHz. Repeating the spectral analysis with 24-bit J-Test data (fig.12) eliminates all odd-order harmonics, as expected, but leaves a pair of sidebands visible at ±229.6875Hz. It is the interaction between these tones and the odd-order harmonics that changes the levels in fig.10. Perhaps these sidebands arise from a small amount of Meitner and Gendron's Logic-Induced Modulation, where the digital data fed to the DAC result in a small amount of power-supply voltage modulation.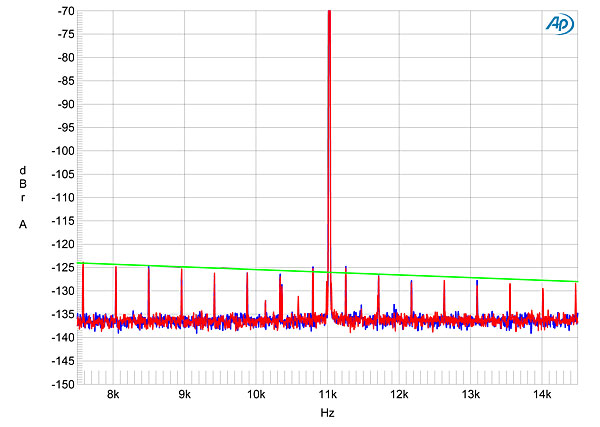 Even taking into consideration its relatively affordable price, the PonoPlayer measures very well.—John Atkinson
---
Footnote 1: Some readers have objected to me performing this test, as a single sample at 0dBFS is an "illegal" signal—it is not bandwidth-limited to less than half the sample rate and will never be encountered with real-life digital recordings. However, I find it diagnostic in nature, as the resultant impulse response maps the digital reconstruction filter's coefficients against time.
Footnote 2: See fig.3 here.
Footnote 3: This graphically revealing test of the frequency-domain behavior of a digital product's reconstruction filter was suggested to me by Jürgen Reis, chief engineer of MBL.