Pono PonoPlayer portable music player Balanced Mode
John Atkinson tried the PonoPlayer in balanced mode in June 2015, Vol.38 No.6):
A highlight of my reviewing year so far has been my experience of the PonoPlayer. When I reviewed this $399, high-resolution portable media player for the April 2015 issue, I was mightily impressed with what I heard and what I measured. But as I later wrote, in the May issue, I realized that I had not said enough in that review about the compelling nature of music played through the Pono. During a long airline flight, my attention kept being drawn to the music in a way that rarely happens with my iPod Classic. "Perhaps the best way to characterize the Pono player," I concluded in May, "is to say that for $399, you get a D/A processor almost as good as Ayre Acoustics' QB-9 ($3250), with a 128GB hi-rez media player thrown in for free."
Prior to that experience, I had updated the Pono's firmware to v.1.0.5, which allows it to play DSD files, and had bought from Surf Cables a $70 adapter cable that would allow me to audition the player's headphone output in balanced mode. Surf Cables offers several such adapters, including one terminated in twin three-pin male XLRs to allow the PonoPlayer to drive a balanced preamplifier (footnote 1). The one I purchased was fitted with two Cardas 3.5mm plugs and a single four-pin Neutrik female XLR, to allow me to drive my Audeze LCD-X headphones in balanced mode.
As usually connected, a single 3.5mm jack drives headphones with the tip carrying the left channel, the ring the right channel, and the sleeve the system ground. The PonoPlayer has two 3.5mm output jacks, one of which is usually used for a pair of stereo headphones, the other either for a second pair of headphones or a fixed-level line output—which means that there are actually four independent output amplifiers. What Ayre Acoustics' Charlie Hansen and his team have done in the PonoPlayer is include a setting whereby the original 3.5mm headphone jack is used as the left-channel balanced output, with the tip and ring connecting the hot and cold signal phases, while what was the line output jack is used for the right-channel balanced headphone output. (This mode can be selected from the Settings menu only when 3.5mm plugs have been inserted in both jacks; the Quick Start Guide includes multiple warnings about how to use the balanced output mode.)
The benefit of balanced operation is twofold. First, because the PonoPlayer must operate from a 3.7V lithium-ion battery, the maximum unbalanced output voltage is restricted to 1V. (With a 1kHz tone at 0dBFS and the Pono's volume control set to its maximum, I measured slightly less than this from the headphone jack: 961.3mV.) Although in balanced mode each of the signal-phase outputs is limited to the same 1V, because they're in opposite polarity to each other—as the cold phase swings negative, the hot phase swings positive—the maximum output voltage is doubled; ie, increased by 6dB. This will, in theory, lower the noise floor by 3dB for the same playback level as in conventional mode. Second, any noise that is common to both signal phases, as well as even-order harmonic distortion, will be canceled with balanced operation.
The only downside to balanced operation is that the combination of the stiff cables and the lightweight PonoPlayer makes cable dressing a bit awkward. But the Toblerone shape of the Pono keeps it stable, even with the stiff cables.
Measurements
To test the PonoPlayer in balanced output mode, I used, as always, my Audio Precision SYS2722 system (see www.ap.com and the January 2008 "As We See It"), and WAV and AIFF files of the test signals. As expected, the maximum balanced output voltage was double that in conventional mode, at 1.922V. The output preserved absolute polarity (ie, was non-inverting), with the 3.5mm plug's tip connector connected as the hot signal phase. Though the output impedance was doubled, there now being two amplifiers in series, it was still low in absolute terms. The Pono had no problem driving my Audeze headphones, which have an impedance close to 22 ohms.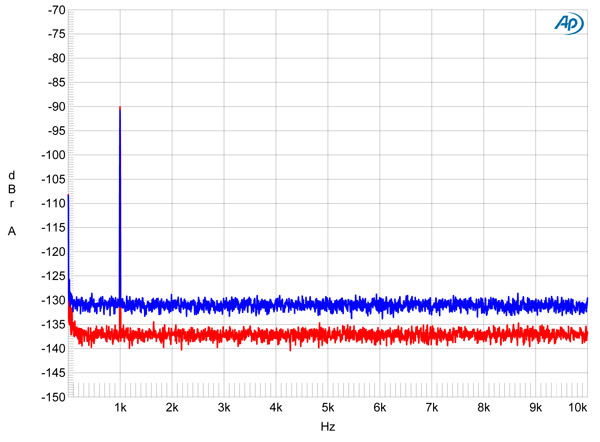 The doubling in maximum output voltage in balanced mode should translate to a 6dB increase in resolution. Fig.1 plots (on an expanded vertical scale) the drop in the PonoPlayer's noise floor in conventional mode when a dithered 16-bit, 1kHz tone at –90dBFS (blue trace) is replaced by 24-bit dithered data representing the same signal (red trace). With 24-bit data, the noise floor is approximately 7dB lower than with 16-bit data, which implies resolution of just over 17 bits.
Fig.2 is a similar plot, now taken in balanced mode. The 16-bit noise floor lies at the same level as in fig.1 because it is actually the spectrum of the dither noise used to encode the signal. But with 24-bit data, which unmasks the player's actual background noise, the noise floor has dropped by an additional 4–5dB, implying an increase in resolution to 18 bits' worth.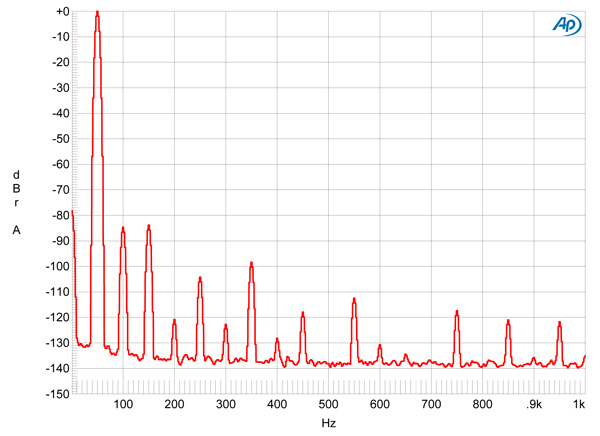 Note the complete absence of distortion products in these two graphs. Despite its using no loop negative feedback, the PonoPlayer has a very linear output stage that is further improved in balanced mode. Compare fig.3, which shows the spectrum of the left channel in balanced mode, with fig.7 in my original review in April. The second and third harmonics are still the highest in level, but at –80dB (0.01%), the second is significantly lower than with single-ended drive.
Balanced Listening
For the April issue's cover, Eric Swanson, our cover photographer, chose to feature on the PonoPlayer's screen "Give Life Back to Music," from Daft Punk's Random Access Memories (24/88.2 AIFF file, Columbia/HDtracks). Using my Audeze LCD-X headphones to compare this track in balanced mode with the conventional unbalanced mode, I was impressed by the increased "drive" of the balanced playback. The low bass line that opens the song sounded simply more compelling. Nathan East's bass lines, percussively punctuated with grace notes, and Nile Rodgers's funky guitar chording in "Lose Yourself to Dance," from the same album, had me wanting to get up and dance. However, with the awkward cable dressing mentioned earlier, I had to be content with some energetic hand jive.
Time for some serious music. I have been very much on a Rachmaninoff kick of late, both the piano music and the symphonies. The Russian composer's gifts for melodic invention and rich orchestration continue to astound me. Iván Fischer's 2004 traversal of Symphony 2, with the Budapest Festival Orchestra (DSD64 files, Channel Classics 21604), has been in constant rotation on the big rig, but with the PonoPlayer's new firmware offering DSD playback, I loaded the files onto its internal memory. The silky sweet caress of the violins in the first movement; in the second movement, the soft brush of the cymbals contrasting with what the late J. Gordon Holt used to call the "brassy blattiness" of the trumpets and horns; at the start of the Adagio, the halo of ambience surrounding the solo clarinet; the Tchaikovsky-esque scoring of the brass choir at the start of the final movement—it was all about as good as I have experienced from headphone listening.
In his review of the PonoPlayer on our sister site, AudioStream.com, Michel Lavorgna wrote that he found balanced mode "to sound much smoother, richer, and more natural as compared to running single-ended." This was my experience also. As I write these words, I'm listening to a 24/192 needle drop of Peter Skellern singing "About a Quarter to Nine," a song made famous by Al Jolson, from Skellern's 1982 album, String of Pearls (UK LP, Mercury). Skellern accompanies himself on piano, as well as providing a deliciously multitracked choir of multiple Skellerns. In balanced mode, the Pono kept all the musical threads more separate than they had been in single-ended mode. And while the hi-rez master for my recording of the Portland State Chamber Choir performing Eriks Esenvalds's inspired arrangement of "Amazing Grace," from Into Unknown Worlds (24/88.2 WAV file), sounded natural, clean, and detailed in single-ended mode, it became transcendent when I switched to balanced mode. Yes, that's the word to describe the sound of this $399 player in balanced mode: transcendent.
Final thoughts
As I wrote in May, I was puzzled by the very negative reaction the PonoPlayer had received from the mainstream media. And the negativity didn't come only from general-technology writers apparently out of their depth when faced with something they didn't comprehend. One person (apparently not a reader of Stereophile) posted "Don't buy into this snake oil" on Stereophile's Facebook page, adding, "Don't waste your money on a damn Pono" and asking, "How large a check did Pono cut John Atkinson to write this 'review'?" On AudioStream.com, Michael Lavorgna collected a selection of similar quotes, referring not only to Pono but to audiophiles in general.
In his commentary, ML deliciously quoted the Italian film director Vittorio De Sica (Bicycle Thieves): "Moral indignation in most cases is, 2% moral, 48% indignation, and 50% envy." That sounds about right. But envy aside, I don't understand why so much anger is directed toward audiophiles. It's not as if we're advocating armed overthrow of the Republic or promoting cruel animal sports. All we wish for is to enjoy our recorded music with as high a quality of sound as possible, and it seems to me that the PonoPlayer is one of the things that lets us do so. And unlike the typical high-end audio product, it offers legitimately great sound quality for less than many audiophiles are willing pay for a pair of interconnects. Hook it up to a pair of inexpensive, high-quality powered speakers, such as the Audioengine A2+ or Emotiva Pro Airmotiv 4s (both also reviewed in our April issue), and you have a true high-end, high-resolution audio system for a total cost of $650–$700. And with balanced headphones, you have the best-sounding music on the move that I have experienced. What's not to like?
There are two legitimate criticisms of Pono. The first is that it is locked into the paradigm of people owning music collections, and thus ignores the emergence of streaming as a legitimate source of high-end music playback. Since its first issue, in 1962, Stereophile's ethos has been based on music being purchased and enjoyed in album format, first as LPs, then as CDs, and finally as downloads. But as John Marks mentions in this issue's "As We See It," CD sales in the US have steadily decreased for more than a decade, to less than a quarter of what they were in 2004. And while I have an enormous collection of recorded music, worth much more than the cost of my audio system, since subscribing to Tidal I have become well aware of how much more music there is that I like for me to stream in true CD quality. I still purchase music, as well as stream it; the debate of possession vs subscribing will be settled only as time passes.
The second criticism of Pono is that it could have been more than it is. When I first started hearing about the Pono project, I understood that Meridian's Bob Stuart was deeply involved in its development, and at the 2014 Consumer Electronics Show, he played me some files that he described as being encoded in a new format. Although Stuart didn't say so, it wasn't hard to put two and two together and infer that the new format had been developed for Pono. However, I learned after CES that Stuart and Meridian were no longer connected with Pono, and when Neil Young launched the project at the 2014 SXSW convention, in March 2014, the format to be used for the player and the associated download site was lossless FLAC files.
There's nothing wrong with FLAC—it offers up to a 60% reduction in file size while preserving the original data. But when I attended a demonstration last November of Meridian's codec, now called MQA, I was knocked off my feet by what I heard. Yes, MQA offers an even greater reduction in file size than FLAC; more significant, it offers the opportunity to fully correct errors in the original A/D conversion, with a corresponding increase in sonic transparency to the original master (for analog recordings) or microphone feed (for all-digital recordings). Bob Stuart claims that the MQA encoder and decoder together have been "designed to have a transient response of the same form and order as that of the temporal sensitivity of the ear-brain"—something that, having heard some of my own recordings mastered with MQA, I readily believe.
As great as the PonoPlayer sounds—and indeed it does sound great—Pono with Ayre-designed hardware and MQA might well have been the total game changer that Neil Young and Pono's promotional material claim it to be. And perhaps it could still be, given that MQA decoding is something that can be addressed in firmware, and that the recent DSD upgrade reveals the PonoPlayer's flexibility in this regard (footnote 2).
Hey, I can dream, can't I?—John Atkinson
---
Footnote 1: See www.surfcables.com. The company also offers adapters for Audeze and Sennheiser headphones and Ultimate Ears IEMs.
Footnote 2: Since writing this Follow-Up, I was struck by the thought that MQA decoding would require a power-hungry FPGA chip, which, while not a problem for an AC powered device, might dramatically reduce battery life. Dedicated silicon would solve that problem for a portable player, but that may well not be a viable solution for a relatively small manufacturer like Pono.