NAD 5425 CD player Measurements
Sidebar 3: Measurements
Unlike those of the other players reviewed in this issue, the NAD's measurements give us something to talk about—but not much. In fig.1 the left channel (solid line) shows a very small HF rolloff—down about 0.4dB at 20kHz. The right channel is a bit flatter, and there's a small (0.25dB) difference between the channels. Fig.2 plots a de-emphasis response which shows a slight rolloff at the top end (slightly more pronounced in the left channel, consistent with the overall top-end rolloff of the machine shown in fig.1). The squarewave response (fig.3) is virtually the same as those given by the other players here—again, the ubiquitous linear-phase digital filter. And the separation, while slightly different left to right (top curve in fig.4) and right to left (bottom), is outstanding, nonetheless.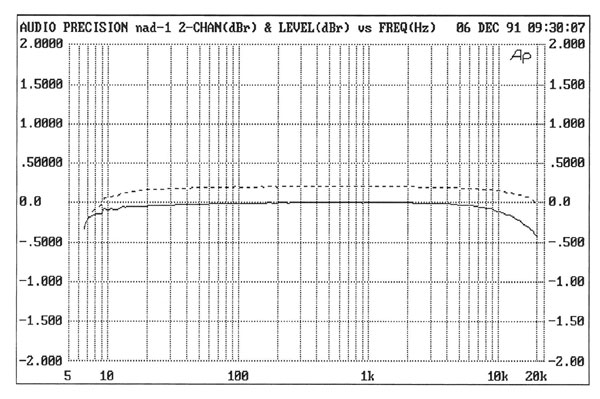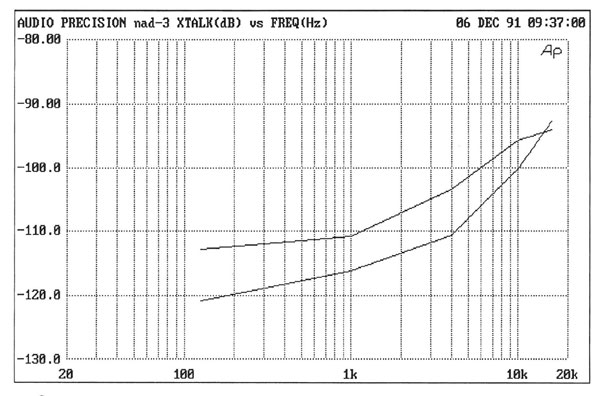 The NAD's response to a –90.31dB, dithered 1kHz signal (fig.5) is nearly as impeccable as the best of the other machines here, with only a minor 180Hz left-channel blip, most likely due to very low-level power-supply noise. Linearity (fig.6) is also excellent. The noise spectrum analysis relative to an infinity-zero test-disc signal (fig.7) again shows the small amount of power-supply noise at 180Hz—still below –120dB. And while the HF noise of this 1-bit machine begins to rise much like that of the other 1-bit players, that rise is abruptly tamed at 30kHz—possibly from more vigorous ultrasonic filtration than is used in the other players.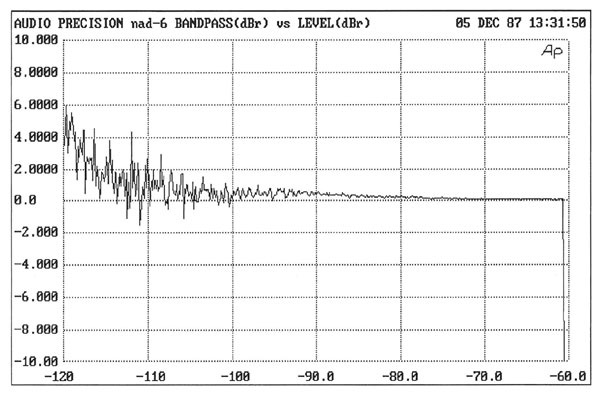 Auditioning the fade-to-noise with dither track from the CBS CD-1 test disc at first seemed to indicate a high-frequency whistle riding with the signal. Rechecking the audible output by playing the blank (infinity-zero) track revealed that a high-frequency whistle, estimated at ca 10kHz, was consistently present. It was well down in level, however—it can be see to lie at –106dB in fig.7—and was inaudible with program material. Ignoring that artifact, the fade-to-noise test was audibly clean.
Fig.8, the waveform of a –90.31dB, 1kHz undithered tone, while perhaps a bit noisier than some of the other players, still shows a recognizable stairstep response. And the 19+20kHz (at 0dB) intermodulation spectrum in fig.9 was as good as that of the JVC player also reviewed in this issue.
The NAD had a non-inverting output with zero DC offset in the left channel, 0.1mV in the right. Its output impedance was 112 ohms in both channels. Its output in response to a 0dB, 1kHz signal was 2.2V (left channel) and 2.25V (right), equivalent to 0.83dB and 1.02dB above the standard playback level.—Thomas J. Norton