Music in the Round #21 Recordings In The Round
Sidebar: Recordings In The Round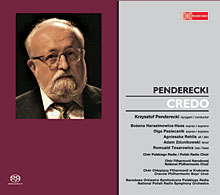 PENDERECKI: Credo
Harasimowicz-Haas, Pasiecznik, sopranos; Rehlis, alto; Zdunikowski, tenor; Tesarowicz, bass; Polish Radio & National Philharmonic Choirs, Cracow Philharmonic Boys Choir, National Polish Radio Symphony; Krzysztof Penderecki, conductor
Polskie Radio PR SACD 1 (SACD). Available from www.lipinskirecords.com.
This is a major recent work composed and conducted by a living master. Krzysztof Penderecki's music is dramatic, engaging, and accomplished with a mix of tonalities and melody that is both modern yet immediately comprehensible. Capturing these forces as they perform in a large, reverberant space is a challenge, but recording director Andrew Lipinski has done it in a recording that would have been impossible only a few years ago. The work's sheer size and weight, as well as its exquisitely detailed complexity, have been captured and delivered in 5.1 channels. It is a phenomenal demo, both on its own and as proof of how, without any gimmicks, multichannel can improve on two-channel stereo. A great audio and a great musical experience.
STRAUSS: Elektra/
Deborah Polaski, Elektra; Felicity Palmer, Klytemnestra; Anne Schwanewilms, Chrysothemis; Graham Clark, Aegisthus; Franz Grundheber, Orest; Köln West German Radio Orchestra & Chorus, Semyon Bychkov
Profil PH05022 (2 SACDs)
Opera is an expensive business, and aside from DVDs, few as yet have appeared in multichannel. Still fewer have been worth having, but this one is. In her second recording of the title role, Deborah Polaski's performance lies somewhere between the glorious sounds of Nilsson (on Decca with Solti) and the dramatic commitment of Varnay (on Naxos with Reiner). Touching neither pole but singing with strength and intensity, Polaski triumphs over the difficulties, at times with gleaming abandon. All the other principals are excellent, and conductor Bychkov clearly has this musical melodrama in hand, although somewhat less forcefully than Solti's relentless surge. There are only a few surround effects, including one right at the beginning, but they don't distract from the excellent presentation of singers and orchestra with power and transparency.
KHACHATURIAN: Gayne Ballet Suite
Anatole Fistoulari, London Symphony Orchestra
Classic HDAD 2016 (DVD-Audio)
SHOSTAKOVICH: Symphony 9
PROKOFIEV: Lieutenant Kijé Suite
Malcolm Sargent, London Symphony Orchestra
Classic HDAD 2018 (DVD-Audio)
DE FALLA: The Three-Cornered Hat
Enrique Jordá, London Symphony Orchestra
Classic HDAD 2019 (DVD-Audio)
Another series of audiophile blasts from the past, this time classic performances recorded by Bert Whyte for Everest Records in the late 1950s and early '60s, but now—like the recent Mercury Living Presence and RCA Living Stereo SACDs—released in the original three-channel mixes. Classic Records' HDADs, however, come in sets that include a two-channel CD and a two-sided DVD-Audio disc. One side of the latter is playable only in DVD-A machines and has stereo 24-bit/192kHz and three-channel 24/96 programs; the other side, playable on any DVD-Video player, has stereo 24/96 and three-channel Dolby Digital programs—in all, each set includes five different versions of the music.
These first three in the series are all first-rate performances, and although one might easily find their equal or better these days, individual portions are breathtaking. I've never gotten over the opening of the De Falla since I first heard it, decades ago, on LP, and it hasn't lost its punch. The Shostakovich Symphony 9 has great rhythmic force, and the performance of the Gayne is truly balletic. The only fly in the ointment on these discs is a rare, brief sag in tone that lasts less than a second and suggests tape stretch. How that can happen with sprocket-driven 35mm tape beats me.
The three-channel DVD-A tracks are wondrously evocative of the original LPs, but with even more openness and detail. Whyte was a wizard with the microphones, giving us the entire spatial and ambient context while also preserving instrumental detail and presence. The bass is remarkably tuneful, and the brasses have great edge and projection while remaining in the acoustic framework. The harmonic presentation is true to the originals, and more like the Mercury Living Presence recordings done in Detroit than like the RCAs recordings done in Chicago. Overall, these are marvelous experiences, and an opportunity to commune with some musical and technical geniuses of the past.
The Ultimate Multichannel Demo SACD
STS Digital 611163 (SACD). Available from www.vkmusic.ca.
Dunno if it's "The Ultimate," but this is one of the most wide-ranging and fascinating demo discs around, and no mere sampler of other releases. The first track is one of the best-sounding jazz ensemble recordings I've heard, and the rest of the 11 musical tracks are nearly as good and equally as interesting. After that come sound demos that include drums, hand-claps, motorcycles, drag races, a steam locomotive, and a small library of roaring aircraft sounds. The feature common to all tracks, whether musical or mechanical, is the natural ambience in which each sound exists, which adds an element of reality beyond the immediacy of the main event. It all ends peacefully with bird sounds. A guilty pleasure in 5.0 channels.—Kalman Rubinson