Munich High End 2014: Day 3
High End 2014 drew over 18,000 audio enthusiasts and record lovers to the historic city of Munich, a corner of whose Marienplatz district is seen in the photo above. It presented the wares of 452 exhibitors, representing over 900 distinct brands. I was in attendance every minute of its first three days; I went home on its fourth and final day, bringing with me the certainty that High End 2014 was, in almost every meaningful way, the finest audio show of my experience. This wasn't a show about old men dodging furtively in and out of over-dark, over-loud rooms in a down-on-its-luck hotel: High End 2014 was about seeing the audio world's most important people and products in a single setting, the beauty and spaciousness and size of which reflected very well indeed on our industry.
I am not much of a traveler—an understatement, as most of my friends know—yet I'm very glad I made the trip. Where else could I have a chance to shake hands with the legendary designer Atasushi Miura, or see a brand-new sample of his beautiful Air Tight ATM-2 amplifier (below)?
Where else could I enjoy the (wholly unexpected) pleasure of bumping into Jonathan Monks (below), heir to the Keith Monks Record-Cleaning Machine empire?
And where else could I not only see the debut product—an exquisitely made $12,500 passive preamp (below)—of a new British firm called the Bespoke Audio Company...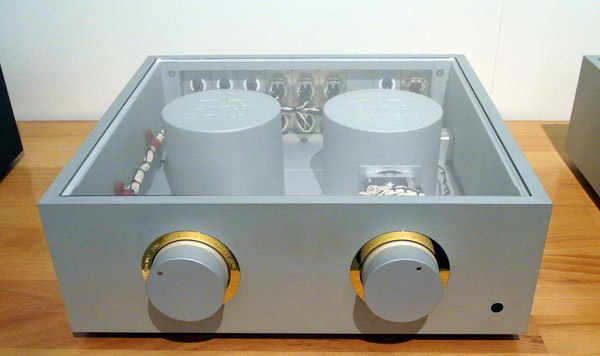 . . . but also watch as a technician winds coils for its transformers (below)?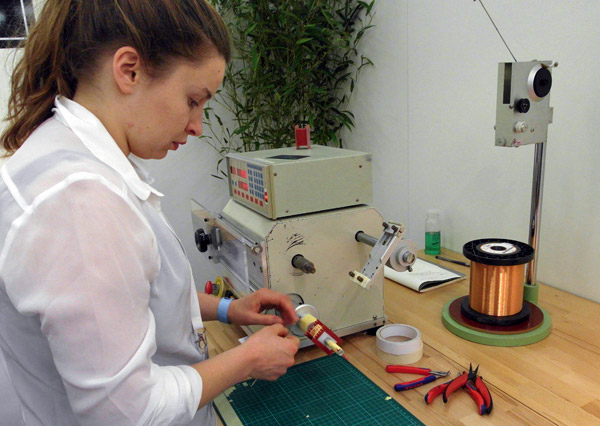 Now that I think of it, the Bespoke Audio Co. wasn't the only coil-winding exhibitor at High End 2014: A technician from the British cartridge-maker Goldring (below) was also on hand, delicately making coils with the cool of a mohel on a moving bus.
And there was big news from big names—like Audio Research Corporation, who chose High End 2014 for the unveiling of their new G series electronics, the styling of which harkens, happily, to a less sculpted era. I thought ARC's new GS150 amplifier (below) was especially beautiful.
And for the delight of those who might have seen in the GS150 a bit of D-79 DNA, Audio Research brought to Munich a sample of that classic amp, too, and displayed it alongside a similarly mint sample of the company's very first preamp (below).
No less surprising was the news of Naim Audio's Muso (below), an all-in-one wireless music system that appears poised to challenge—or at least sneak up behind and say Ahem to—such established products as the B&W Zeppelin. The Muso, which is projected to sell for $1300 and predicted to ship in September, employs class-D amplification, AirPlay streaming, Ethernet and USB connectivity, and fully six internal loudspeaker drivers. It will be the first Naim product to be manufactured not in Salisbury, UK—where it was, of course, designed—but in China.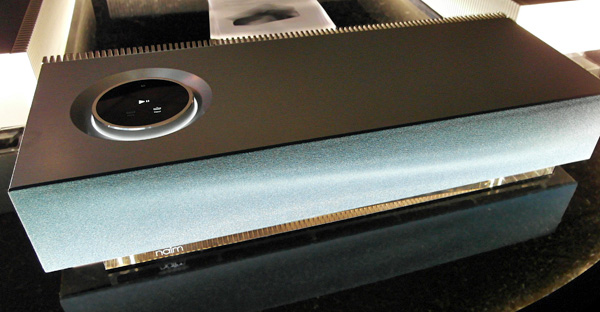 High End 2014 was the scene of even more new-product introductions. Prior to leaving for Munich, I received word about Brinkmann's forthcoming Spyder turntable; at the time when I visited their exhibit, no one was available to walk me through the design, but I did find a hand-labeled (twice!) and semi-disassembled Spyder sample (below) near the front of the room.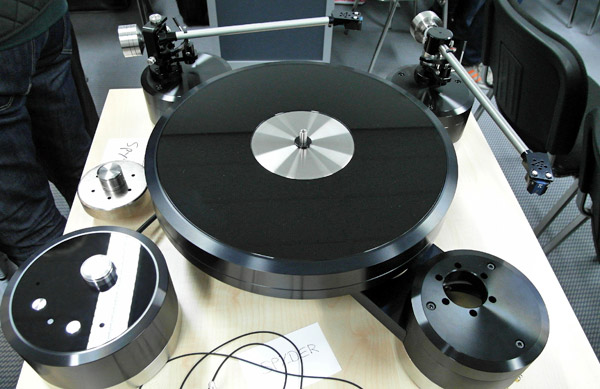 Nordost rounded-out their Heimdall 2 line with a brand new headphone cable, priced at $799.99 for 2 meters. Cables are troublesome things to photograph—but far less so when displayed, Vanna White-like, by an attractive young woman.
MartinLogan unveiled their stunning big new flagship loudspeaker, the hybrid electrostatic/dynamic Neolith (price to be determined), and demonstrated it with Simaudio Moon electronics (below).
A.M.G. introduced a very nice-looking 9" tonearm—so nice looking that I shamelessly begged for a review loaner. The as-yet unnamed arm (below) incorporates A.M.G.'s patented twin-pivot bearing, and in set to sell for $3500.
Here's a product that's so new it doesn't yet exist—but I'll be counting the days until its release: Thomas Schick, whose superb transcription-length tonearms I own and use—is working on an original idler-drive turntable, a prototype of which is seen below. Schick, who is surprisingly young, says he recently bought a house with a barn that he hopes to adapt to a higher calling: the manufacturing of phonograph components.