Munich High End 2014: Day 2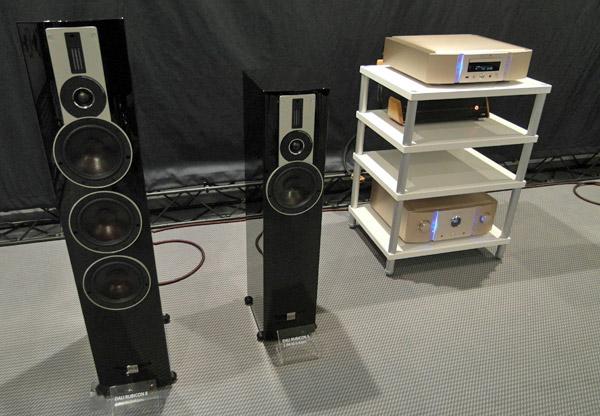 I began my Friday with a direct assault upon one of the MOC's three
atria
: expansive, beautifully lit spaces, each resembling a boulevard of swanky shops, with café seating at the center and rows of glass-fronted listening rooms on the farthest side. Again, the effect is not unlike an audio-centric Champs Elysée on an especially pleasant day. Times three.
First stop was Dali Acoustics, where the sound of a mandolin—it was Steve Strauss's "Jennie Mae"—led me toward Dali's floorstanding Rubicon 8 (€2399/pair, seen on the far left in the photo above). Driven by Marantz electronics, the Dalis were pleasant and impressively tuneful, if less than abundantly colorful or textured; then again, notwithstanding the liberal use of fabric and fiber wall surfaces, this and most of the other listening spaces at the show had at least one full wall made of glass. . .
So it also was at the room sponsored by German manufacturer B.M.C., whose distinctive steampunk-meets-Fritz Lang styling I admire. B.M.C. displayed their PureDAC digital converter, which seemed to get on well with their CS2 integrated amplifier (below, top and bottom, respectively) and their PureVox balanced loudspeakers, so called because their sport the same driver set on their front baffle as their (45°) angled top-rear baffle.
Given that fully four of the seven or so phono pickups I own are from the German company EMT, I looked forward to visiting their exhibit and to meeting, for the first time, company CEO Jules Limon. The experience was among the highlights of the show for me, with audio pleasures both old and new—the latter including a look at EMT's forthcoming JSD 6 Platinum phono cartridge (below), which will be the newest entry in their Jubilee series.
More in keeping with the company's 74-year heritage was a ca.-1956 sample of the classic EMT 930 record player (below): Never has a hammertone finish graced a more desirable—and powerful—phonograph. Also during my visit to EMT, I watched as Jules Limon examined and cleaned an older, Bakelite-bodied OFD 25 pickup head for loudspeaker designer John DeVore, pronouncing it fit for duty: not bad for a tondose that has been in production for 55 years.
It was clearly time to take a record-shopping break, for which High End 2014 presented a number of opportunities, mostly in halle number 4 (below). There were hundreds of new and used LPs available, the latter including new and back-catalog releases from Mobile Fidelity, Speakers Corner, Classic Records, Analogue Productions, Impex Records, and several others.
Brisk business was underway when I got there; for that reason, and owing to the very narrow aisles between the bins, I put off my shopping spree and went across the row to MHW Audio, makers of the especially nice-looking Hannl plattenwaschmaschinen. I was especially drawn to a sample, in white, of the Hannl Mera ELB Eco 24V (below), which features twin rotating cleaning brushes and automatic fluid dispensing. This nearly-top-of-the-line Hannl sells for approximately €3099, with less expensive models also available.
Despite living in upstate New York, I've somehow managed to never meet fellow upstater Peter Ledermann (below), the sound smithy behind Soundsmith, whose strain-gauge phono-cartridge systems (prices start at around $8500) have mightily impressed Our Mikey. While Ledermann was happy to tell me about his audio products—"Cartridge design came to a halt 35 years ago, and I'd like to move it forward"—he was even more enthused to tell me about his favorite cause, the struggle to eliminate child slavery, as encapsulated in the 2005 film Stolen Childhoods.
The greatest thing about Jeff Joseph, proprietor of Joseph Audio, is that he always plays real music at shows—in which case he stood in surprising contrast to the majority of exhibitors at High End 2014: a point to which I'll return. The second greatest thing about Jeff Joseph is that, if you hand him a pen and a piece of paper and ask him to name all the products in his demonstration system, he will! So it is with confidence that I report that the fine-sounding system in this exhibit (seen below) comprised a Brinkmann Audio Bardo turntable with Brinkmann 10.5 tonearm; a Rowland Audio Continuum integrated amplifier with Rowland Aeris DAC; Cardas Clear cabling; and, of course, Joseph Audio Pulsar loudspeakers ($7700/pair).
I would no more submit a show report without a photo of Roy Hall pouring whisky (below) than I would allow politics to creep into a story on hi-fi: unthinkable!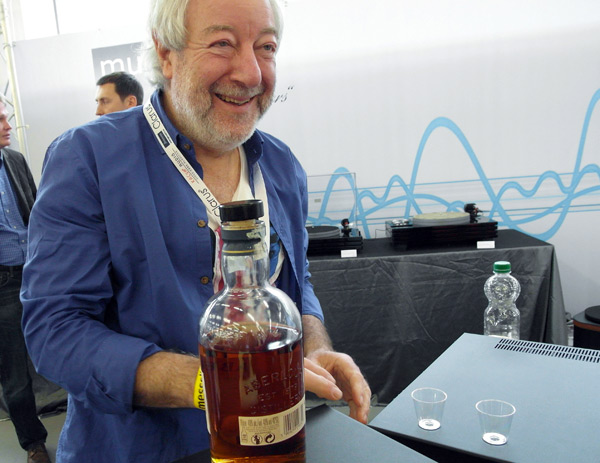 . . . And because there is more to life than uisge beatha—if only slightly—here's a look at the especially fetching Music Hall ikura record player. In Europe, the ikura is bundled with an aluminum-alloy tonearm and an Ortofon 2M Blue phono cartridge for €1299.