Munich High End 2014: Day 1 Wrap-Up
I had the opportunity to review, in our June 2012 issue, the sweet-sounding
Allnic A-5000 DHT amplifier
. Yet it wasn't until the Munich show that I had the chance to meet its very genial designer, Kang Su Park, seen here with David Beetles, the international distributor for Allnic Audio Arts. For High End 2014, Park and Beetles built a fine-sounding system around a pair of custom horn loudspeakers from Germany's Blumenhofer Acoustics (below), driven by Allnic's new A10000 mono amplifiers ($89,000/pair). The A10000 is a single-ended design that uses a parallel pair of Kron 1610 directly heated triodes to produce 100 watts.
In addition to the interesting Pluto turntable and tonearm from the Netherlands, Allnic's choice for source component was their own D5000 DHT digital-to-analog converter ($11,900), which uses NOS tubes and transformer coupling (below).
Vertere's Touraj Moghaddam, the founder of Roksan Engineering and inventor of the groundbreaking Xerxes turntable, brought to Munich a sample of his newest tonearm design, the Vertere SG-1, seen here on the beautiful Vertere Reference Groove turntable (below). Although the shape of its bearing housing suggests a unipivot, the SG-1 uses Tri-Point Articulated bearings, which are said to provide frictionless performance while preventing the sorts of unwanted movement and "chatter" that can swamp fine details.
The price has yet to be determined, although it is suggested that the SG-1 will sell for considerably less than its five-figure stablemate, the Vertere Reference tonearm.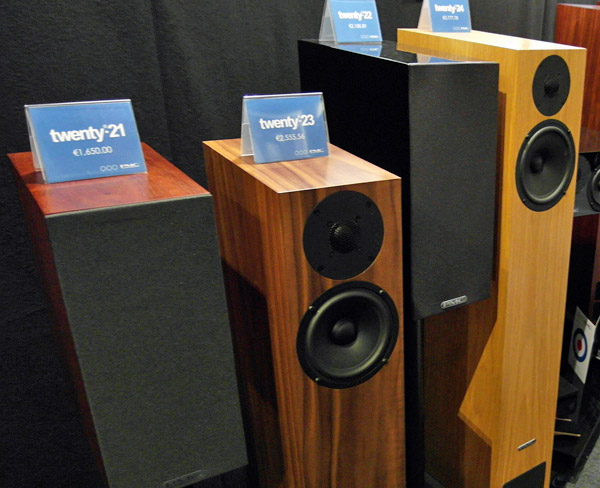 Although I arrived too late in the day for listening, I was impressed by the appearance of the recent Twenty-series loudspeakers from Britain's PMC, an Oscar-winning company—literally—whose work in film and television puts them on a par with those firms whose BBC-commissioned monitors remain popular among today's audiophiles. Seen above are, left to right, PMC's Twenty-21, Twenty-23, Twenty-22, and Twenty-24.