Munich High End 2014: Day 2, Part 2
Pressed to guess which manufacturer had the greatest number of products on display at High End 2014, I'd name Pro-Ject Audio Systems, who apparently brought with them a different record player for every day of the month: different styles, different prices, different colors, different (apparent) points of view. More tightly focused was Britain's Funk Firm, whose chief designer, the genial Arthur Khoubesserian—a person I've wanted to meet for ages—showed me his new Vector 4 turntable (below), which features the Funk Firm's
Strata
platter design. The Vector 4 is projected to sell for £1400 without arm.
I've also been keen to meet Leif Johannsen, the head of technology for Ortofon—surely the oldest continually operating audio manufacturer on the planet—and I was glad to have that opportunity in Munich. Johannsen showed me a pre-production sample of the company's forthcoming addition to their evergreen SPU line, the SPU A95, named in honor of their 95th anniversary and projected to sell for approximately $2500. The internal frame of the SPU A95—seen below alongside the pickup itself—was made using Ortofon's selective laser melting (SLM) process.
Also new from Ortofon is their Quintet series of affordable MC cartridges, with features designed specifically for the vinyl newbie—including a body shape intended to make tracking-angle alignment as easy as possible. Prices start at €250, and the range even includes a true mono cartridge for €400; a denuded sample of a stereo Quintet is seen below.
Following the considerable internet buzz surrounding PS Audio's very new PW DirectStream DAC—which upsamples everydarnthing to 10x DSD—two things happened in fairly rapid succession: I got to see and hear the converter (seen below) in Munich; and, the day after my return home, I received a review sample for myself. I love how these things work!
Not only was High End 2014 my first chance in ages to visit with PS Audio's CEO (and expert blogger) Paul McGowan, it was my first chance ever to meet his son Scott McGowan (right, seen with dad, below).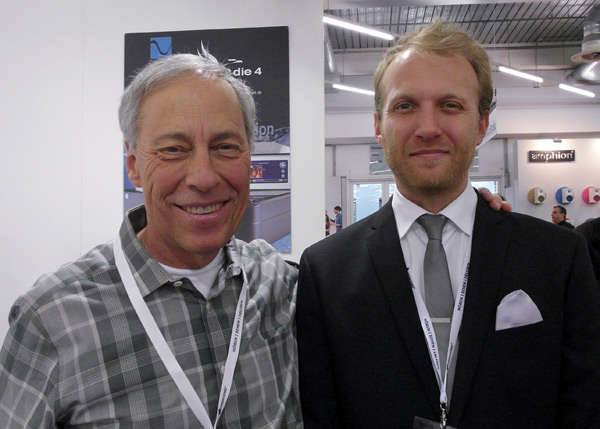 In addition to their own intriguing loudspeaker and amplifier designs, Swissonor is known for one thing in particular: honoring classic Thorens turntables in the same manner that Germany's Bear Family Records has honored the Bill Monroe catalog—with equal measures of engineering talent and reverence for the past. This beautiful Thorens TD 160 (below) shows that the classic TD 124 is not the sole object of Swissonor's affection!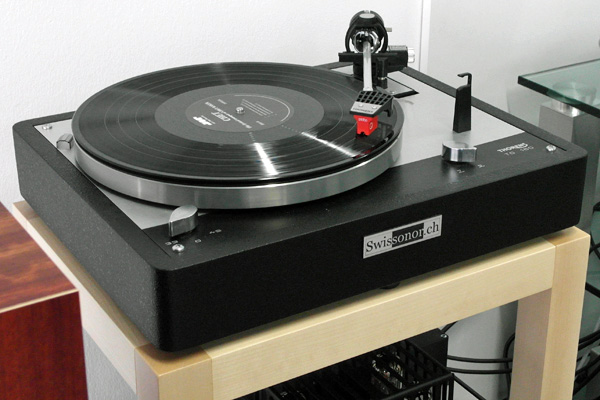 The US-made Passion amplifier from the multinational company Absolare (European prices start at €29,500/pair) is a single-ended mono design that uses two 845 triodes in parallel for a stated output of 52 watts in class-A. It was only when I came within a few inches of the very attractive Passion (below) that I realized: It was covered in leather—and nice leather, at that. It was only when I returned home and looked closely at my photos that I realized the turntable in the Absolare room was covered in leather, too. Well!
Tragedy befell the exhibition room shared by Nagra Audio and Verity Loudspeakers: Just moments before I arrived, half of the power outlets in the room went dead, making it impossible to demonstrate the system—which included prototype amps from Nagra and the new Parsifal Anniversary loudspeaker from Verity; just as sadly, I did not find time to return later in the show. (Again, it was a case of 1 man vs. 452 exhibitors.) But here's a nice pic of the Nagra Seven digital recorder (left, below) and the Nagra CDP CD player. The CDP sells for €12,500; a price for the Seven—actually a product from Nagra's pro-audio line—was not available.
I was pleased to have a hand in naming the superb Voxativ Ampeggio Loudspeaker as Stereophile's 2011 Product of the Year, and even more pleased to finally meet its designer, the gifted engineer Ines Adler. While visiting the Voxativ display at High End 2014, I learned of Voxativ's new AC-4X driver, which uses an all-wooden cone with a very thin coating of synthetic resin. The AC-4X has now been added to Voxativ's Pi loudspeaker ($13,900/pair)—which, bless its flawless gloss-black paint, is the very devil to photograph, as you can see below. (That's a reflection of another Voxativ model situated behind the Pi, and not an auxiliary side-mounted driver.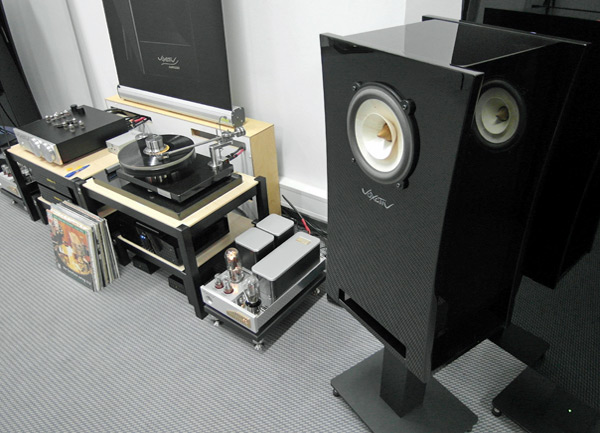 My last stop on Friday was a post-show drink with Philip O'Hanlon of On a Higher Note and Bruno Putzeys (below), the gifted chief designer for the Dutch electronics firm Mola Mola and onlie begetter of the well-regarded Hypex class-D modules. Putzeys' current project is an "archival-grade" phono preamp that will offer a very wide variety of EQ curves and settings for gain and loading—all of which will be both switchable—at the unit—and software-addressable, from the iPad or iPhone of the user's choice.