Jason's First Day at RMAF
The Rocky Mountain Audio Fest decided to give press a head start this time around by inviting us in two hours before the show's official noon opening on Friday. While not all manufacturers got on board—several of the rooms I tried to visit on the 2nd floor of the Marriott Denver Tech Center's Tower were locked—digital audio pioneer dCS leaped into the breach by staging a 10am press conference for the official release of the dCS Rossini CD player. The company's Martin Reynolds (above) flew over from the UK to do the presentation.
dCS's Rossini system, a "greatly updated successor to the company's most popular product," the dCS Puccini CD/SACD player, consists of, first and foremost, either the Rossini USB/Ethernet Streaming DAC ($23,999) or the slightly taller Rossini CD player ($28,499). These are essentially the same unit, complete with a built-in network streamer, save for the addition of a CD playback mechanism in the CD player. Both units are capable of playing back files up to 24/384 and DSD128. Both also have a "USB on the go" receptacle on their front panels to accept USB sticks, as well as USB ports on the rear.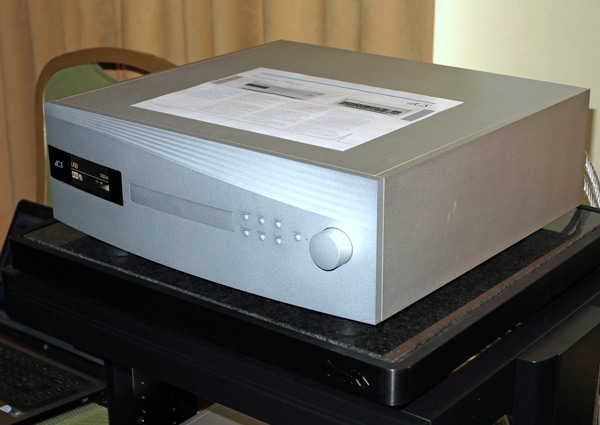 According to Reynolds, the Rossini's digital filter is very similar to that in the once top-of-the-line Scarlatti DAC. First it automatically oversamples a CD's 16/44.1 to 24/176.4. From there it goes through several stages as it upsamples first to DXD (24/384), and then to DSD. I hope I've got that right.
I couldn't write fast enough to get everything down, but I learned that the Rossini, which is beginning to ship, contains the same Ring DAC as in the state-of-the-art dCS Vivaldi. "It's really a network streaming DAC with an optional CD player," Reynolds explained. He also said that the forthcoming Rossini Clock ($7499), which contains two crystal oscillators, is "completely unlike" the Puccini U Clock, which it replaces, and operates far more like a master clock. Since the Rossini Master Clock is just beginning production, we heard one of the only two Rossini clocks in existence.
Expected soon is a downloadable Rossini app for use on phones, tablets, and the like. The app promises "complete control" over Rossini streaming functions. Spotify, Roon, and Tidal integration are also promised within a few months. Although it was not mentioned at the press conference, I believe Meridian MQA is in the cards.
The Rossini made its appearance in an anything but shabby system that included VTL's MB-185 Series III 230Wpc, EL34-based Signature monoblock amplifiers ($17,500/pair), Wilson Audio Sabrina loudspeakers ($15,900/pair), a complete complement of Nordost Odin 2 cabling, and Harmonic Resolution Systems RXR and SXR Audio Stands. It should have sounded fabulous. But due to a series of mishaps, Reynolds had no choice but to play music blind, as it were, from a borrowed external drive whose contents and provenance were a mystery.
The first selection, a movement from Mussorgsky's too-frequently encountered Pictures at an Exhibition, was drawn from what may be the most ponderous and compressed version of Pictures ever released. Given the quality of the recording, the sound was so disappointing that several members of the press began to fidget, mutter, and then leave. Several subsequent tracks could not right the initial impression that something was off.
None of this made, sense, I might add. I have the dCS Puccini in my reference system, and it's a superb player. I've heard the Sabrina at several shows, and it is a tremendously impressive loudspeaker. Ditto for VTL's electronics, which consistently produce some of the most musical sounds on the planet. And, as you'll read in subsequent blogs, Odin 2 performed superbly in all the other systems I heard it in at RMAF, and sounds wonderful in my reference system. This should have been a superb sounding system. Chalk up its deficiencies to a combination of opening morning un-readiness and Mercury in retrograde.
Sasha Matson is returning to this room on the final day of the show. Not only will he have an opportunity to hear the Rossini, but he'll also be able to audition the estimable vinyl portion of the system (Brinkmann Spyder turntable, Lyra Etna cartridge, and VTL's TP-6.5 Signature phono stage and TL-6.5 Series II Signature linestage). If I finish all my rooms in time, perhaps I'll join him. Otherwise, I'll be auditioning the Rossini in my reference system in a few weeks. Please stay tuned.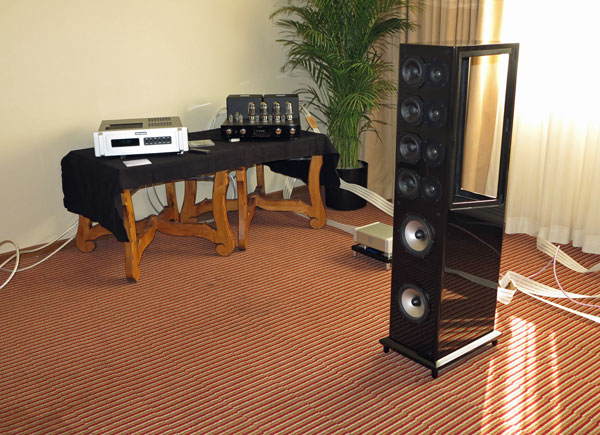 Nola has now completed the upgrading of its Boxer line with the release of the Nola KO 2 open-baffle loudspeaker ($12,000/pair). With a response of 30Hz–28kHz, a sensitivity of 90dB, and an 8 ohm average impedance (4 ohms minimum), the speaker employs eight new woven carbon-fiber midrange drivers with edge-wound Kapton voice-coils and cast-aluminum frames. Nordost internal monofilament silver wire is utilized in critical locations, low frequency chambers have been retuned, and all crossover boards are upgraded.
In a system that also included a VACi se 160 amplifier ($16,000), Audio Research CD8 disc player ($9000), and Nordost Odin 1 cabling, the system produced beautiful sound. The Mercury Living Presence CD issue of the scherzo from Dorati's Tchaikovsky Symphony 4 sounded especially smooth and fine, with lovely strings. There was a bit of bass boom, but the sound was very open, and dynamic range was impressively wide. Definitely a thumbs-up system.
Instrument Quality of Blue Ridge, GA introduced their Numerical Analog Converter (NAC) ($4999), which is said to generate "two separate 100% guaranteed infinite continuous numerical analog output signals created with analog computers featuring no rails, infinite bit resolution and no compression." A fiber-optic link from USB 3.0 connects all mainstream music formats via digital input, with input quality all the up to 32/384 or DSD512. It includes two separate internal and external volume controls.
How much more the NAC would cost were it housed in a beautiful, custom-made aluminum chassis, I do not know. But I'll bet it would be quite a tarnished penny. As it is, if appearances are not a priority, DIY is your thing, and you're pretty sure your cat won't jump on it and start pawing away . . .
Legendary designer Jeff Rowland chose RMAF for the North-American premiere of his all-in-one Daemon Super Integrated amplifier ($39,000). First heard at Munich in the Nordost cable comparison system, this 1500Wpc into 8 ohms (2500Wpc into 4), class-D baby, complete with Bluetooth remote, has a touchscreen display so sophisticated and fun to use as to make smart-phone navigation look clunky by comparison. It also contains an isolated headphone amplifier and output jack, and digital inputs accepting up to 192kHz PCM and DSD.
The Daemon has dual loudspeaker outputs, and offers optional plug-in modules for HDMI, WiFi streaming, and MC/MM phono. Digital inputs include RCA, BNC, AES/EBU, USB/DSD, and Toslink, and there are ample RCA and XLR balanced analog inputs.
Paired with an Oracle 2000 Mk III CD transport ($8800), Bergman turntable ($28,000), YG Acoustics Sonja 1.2 loudspeakers ($73,000/pair), and Nordost Odin 2 cabling, the system sounded very grounded, neutral and smooth, without any trace of sizzle when playing the CD layer of the Channel Classics hybrid SACD of Iván Fischer's Mahler Symphony 9. Control was excellent.
However, the sound was a bit dry and lacking the last bit of bass extension and natural room ambience. Hence, Elly Ameling's radiant soprano sounded just lovely, but the bass notes of her piano accompaniment sounded a bit choked, and the ample spaciousness of the recording venue was not fully communicated. On his recording of Handel and Scarlatti keyboard sonatas, Murray Perahia's pianism also seemed a little dry and lacking in natural resonance (which is definitely on the excellent recording). I'll bet this system sounded 10 times better on the second day of the show.