More from Mr. Matson on Day 2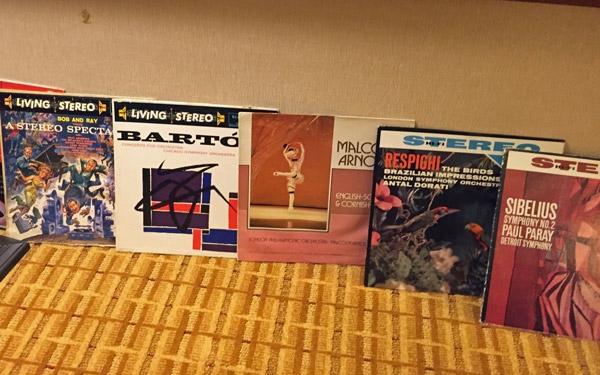 There are rooms at hi-fi shows, and then there are
rooms
. Kubotek/Haniwa were hosting the "Harry Pearson Memorial Concert" in Room 1122 of the Denver Marriott. I had seen information in advance, but it took me a moment to realize that I had walked into a unique event. It was a bit like viewing hours at a funeral parlor, but instead of a casket, arranged around the room were a selection of the legendary Harry Pearson's actual 3000-LP collection, which he bequeathed complete to Dr. Tetsuo Kubo, designer and president/CEO of the Kubotek Corporation, based in Osaka, Japan. As if this weren't enough, Dr. Kubo was here to present his company's products marketed under the Haniwa brandname.
Using his own hardware designs, Dr. Kubo provided digital playback of several of the actual LPs from Harry Pearson's collection. (I don't care for the term "ripped", as it reminds me too much of digital thievery.) Haniwa offers an all-in system, starting with their own phono cartridge, the Haniwa HCTR01 ($5000), and the Haniwa Phono Equalizer Amplifier HEQAO2 ($5000). This analog signal, or digital ones, can be routed into the Haniwa HDCA01 Digital Control Amplifier and HSP1CO6 loudspeakers ($14,000/system for both amp and loudspeakers). The speakers are smallish sealed cubes featuring 5.5" magnesium-alloy cones.
I was asked to pick a recording from those arrayed around the room, and heard digital playback of a direct transfer of an LP from Pearson's collection. I was handed the very LP jacket. I chose to hear the opening of the Living Stereo Heifetz/Sibelius Violin Concerto. That glistening shimmering start wafted around the smallish hotel room in perfect proportion, courtesy of what Haniwa calls their "Real 3D Audio" approach. And I call it musical magic. This was indeed a fitting tribute to one of high-end audio's Founding Fathers. Thanks for this, Dr. Tetsuo Kubo.
Continuing my Hall Monitor patrol of the eleventh floor at the Denver Marriott, I came upon another fine three-way in progress in Room 1121, involving Mojo Audio, Linear Tube Audio, and Atomic Audio Labs. But instead of handing out detention time, they get a gold star. Actually, several gold stars, and one of them is for having a handy list with pricing of the gear that was up and running in the system. Note to exhibitors: after spending so much time, effort, and budget to get to a show, surely a stop at Kinkos is in order? Simple clear pricing sheets not only benefit the harried press members, but the many visiting listeners who really might be motivated to make a purchase now or later, if they too can recall what they heard and where and how much it costs (footnote 1).
Having received this information when I walked into Room 1121, I can confidently tell anyone reading this that Mojo Audio were offering a fine bunch of hardware at very fair prices. At the source end of the street we had a Mojo Audio CAT Server HTPC computer ($3999), a Mojo Audio Joule v5.0 power supply ($999) which was used both for digital and the preamp stage. Also in place, the Mojo Audio Mystique v2.0 DAC ($2499). Power cables were Mojo Audio Enigma CFC and SE ($1299/length not specified), and for interconnects the Mojo Audio Lucent CFC and SE ($999/length not specified). Linear Tube Audio was providing amplification, their Linear Tube Audio microZOTL2 headphone/preamp ($1100), and Linear Tube Audio ZOTL40 EL34 amplifier ($4500). The gear was sitting on a handsome and sturdy looking rack, the Atomic Audio Labs Ultimate Reference Series ($Custom). Listening was via a pair of modified Magnepan MG1.7s. These speakers weren't included on the price list, so I guess we can't have them. Stevie Ray Vaughan was sounding his chesty soulful best, doing "Tin Pan Alley." Deans Honors List for all.
Continuing my second day beat of the eleventh floor at RMAF, patrolman Matson searched the Resonessence Labs room. On the door of Room 1104 it read: "Our products are designed and manufactured in Canada." Unfortunately, when I asked to see their price list papers I came up empty. What I gathered from interviewing those in the room is that Resonessence Labs is a manufacturer of high-end audio components with a primary focus on digital/analog converters. Resonessence offers a wide range of function and budget, starting with the iPhone or Android compatible Herus and Herus+ models ($350 and $425). Brand-new at this year's RMAF is the Verita model ($2850), and moving up the range is the Invicta ($4995). The Resonessence Invicta includes some serious digital firepower: dual 32-bit Sabre DACs that can handle DSD128; "7 custom upsampling filters"; and a stated figure of 0.00032% total harmonic distortion. The Invicta also includes an HDMI output for external display. I was not provided source information while inspecting the room, but was told that the amplification was also from Resonessence, their Projecta model ($20,000). No information is currently available on the Resonessence website regarding this piece.
Clarity Cables, whom I first met and heard at this year's T.H.E. Show in Newport, was also present and accounted for. Clarity Cables were featuring models from their Natural Series, including the Natural Speaker ($3500), and the Natural XLR ($2,400). Also in the system were Clarity Vortex power cords ($750). No lengths were given for the cabling listed. Loudspeakers utilized were from Magnepan, their Mini Maggie system, which includes genuine 3-way ribbon/planar magnetic drivers. These were supplemented by two Magneplanar Bass Panels ($2800/system). I am certainly not the first, nor will I be the last, to note the fine value-for-$ ratio from Magnepan, and in terms of bang for the buck all the elements in this system were well matched. Turning on my patrolman webcam in order that any disputes about the upper-mids could immediately be broadcast on the networks, I asked for and was provided with musical playback. Buena Vista Social Club was all in order, and Ry Cooder hanging out in Cuba, prior to current easing of travel restrictions, was rum-like and real. Case closed.
I was having a nice discussion with someone at RMAF about form and function, as it particularly relates to high-end audio gear. Yup, that's the kind of conversation you hear at an event like RMAF, along with people bitching about the price of copper in China, or expressing very frank views about their peers. I suppose this would also be the case at a national car show? My colleague made the case that something that looks good may be likely to sound good. Does this make sense?
Actually, I think it does. It has to do with pride in craftsmanship. This analogy works with music as well; Stravinsky's scores look really good, and his music doesn't sound too bad either!
A fine example of all this, illustrated in a striking manner, awaited when I visited the CAS Audio room. CAS is a Japan-based company; CAS is short for "Ceramic Art Speakers." That is quite succinct; they are ceramic, they are art, and they are speakers. You cannot really use the term "cabinet" here, as "hand-made pottery" is more accurate I think. CAS Audio describes what they offer this way: "Ceramic speaker systems allow a high degree of freedom in the curvature of the various edges and surface of the enclosures. In addition to superior acoustic qualities, this results in an aesthetic design that blends in elegantly with the interior design of any living space." As I said, form and function.
Two models were on display, the two-way stand-mounted CAS Optimista Muse (approximately $13,000–$14,000/pair), and the larger three-way floorstanding Yagura (approximately $34,000–$37,000/pair). The model that was up and running during my visit was the smaller Optimista Muse model. As I hope you can tell from my photo, this is a simply beautiful work of ceramic art. It literally could be placed on a shelf with other artworks, and no one would think there was any reason for this not to be a part of someone's fine art collection. Then you could turn on the power!
The Optimista Muse literally embeds in its lovely green-decorated ceramic structure a fine RAAL 140-15D ribbon tweeter, and an 18cm Audio Technology C-Quenze driver for the mids and lows. The larger Yagura ups that, to include two detached ceramic cabinets; the upper though different in shape than the Optimista Muse, contains the same two drivers, and under that there is a separate ceramic enclosure that contains a 23cm Wavecor subwoofer and a passive radiator. Time did not permit extensive listening I am afraid, but I did get to hear the Optimista Muse re-creating in front of me a lovely, delicate performance of a Chopin Nocturne. Unique and fascinating work from CAS.
Diving down to the fifth floor of the Marriott I sought out the dynamic duo of MSB Technology and Analysis Plus Cables, augmented by other fine brands, in an extremely fine-sounding musical room. Northern California-based MSB Technology has been at it since 1986, and has received many an accolade in that time. The Golden Road to Unlimited Devotion started with the MSB Universal Media Transport V ($6995). This features a "bit-perfect" memory player, plays all disc formats, and includes network streaming. It fed the MSB Diamond DAC V ($40,000, including the Diamond Power Base, which is an outboard linear power supply). The Diamond DAC V was described to me as "Ladder DAC technology with a Femto 33 Clock" and includes full DSD capability.
As if this weren't enough tech excellence, the signal then ran on into the MSB Platinum Stereo S201 amplifier ($17,500), which fed via Analysis Plus cables a new iteration of what by now is be well-established high-end audio technology, the Quad ESL-2912 electrostatic loudspeakers ($14,000/pair).
For listening I was offered the very same tune another reviewer mentioned in their evaluation of MSB hardware, Harry Connick doing "A Nightingale Sang in Berkeley Square." Which Connick pronounces as "Bark-lee Square." I know, fussy. But pointed out to me as I listened. And listen I did, being urged to try move the middle front row chair I was sitting in even a little closer, from its already close distance to the front of the imposing Quads. Jeepers! I almost felt like I had fallen right into the soundstage; I could hear every breath the musicians were taking, and not just Harry Connick either. Really stunning stuff, and I do have a bit of show-based envy now for people who are fortunate enough to have music playback of this quality in their lives!
There was quite a laundry list posted outside Room 1130, with no less than seven companies on the roster. Most of this fine gear was assembled and being presented by Dynamic Sounds Associates, based in Florida. It was getting late in the afternoon of Day 2 of RMAF, and after a full day of prowling the halls I needed a musical pick-me-up. Turned out I came to the right place, as David Sckolnik of Dynamic Sounds Associates was part way through his "The Beatles in Mono" presentation. Yeah baby! Yeah yeah yeah! It really was the musical energy drink my body craved.
The playback chain started with the entire mono re-mastering for LP of the entire White Album. Starting with an appropriate Miyajima Laboratories Zero-Mono cartridge ($1995), mounted on a JMW 12" 3D Printed tonearm, fitted to a VPI Industries Avenger Magnetic-Drive turntable ($30,000 including the "3D" tonearm). This analog signal was routed into a Dynamic Sounds Associates Phono II phono stage ($13,500), and in turn into a Dynamic Sounds Associates Pre I linestage preamp ($16,500). For power the Beatles were rocked by the Parasound Halo JC 1 monoblocks ($9000/pair). A mix of fine cabling was involved, including Luminous Audio Mega Power Lynx ($669/1.5m. Yes, length specified!), and Synchestra Silver Reference interconnects ($699/1m pair). Equipment racking was from Kanso Audio Furniture, a five-space unit ($10,804), with Kanso Heavy-duty amp stands ($1,700/pair).
And wrapping up this very Beatles-worthy system were a pair of Joseph Audio Pearl 3 floorstanding loudspeakers ($31,500/pair). I had spent quality time with the slightly smaller Joseph Audio Perspectives the day before, so it was fortuitous that I was able to hear the Pearl 3s, the larger sibling in the Joseph Audio lineup. From my spot, lying flat on my back on the floor in front of the speakers as every seat in the house was taken, the sublime mono version of "Long Long Long" just gave me warm chills. This one track alone makes buying the mono box set an adventure, as it is a track that is most different from its better known stereo version. George! Beautiful!
When David Sckolnik flipped to Side 4 and on came "Revolution", well, I had to get up and hide behind a pillar in this medium-sized room and dance a bit. People were thanking David for his presentation, and well they should. This is what it's all about!
---
Footnote 1: I can qualify my little lecture by saying that space in these show reports does not always allow for complete listings of every single item in often complex systems; cabling information in particular can be voluminous, and the actual retail pricing is often dependent on particular length/price ratios.