Gold and More at the End of Jason's First Day
Voxativ may be one of the only companies in the high-end whose equipment list is designed as a flow chart. The visual presentation seems entirely apt, given how beautifully music flowed through the eye-catching and soul-pleasing Voxativ 9.87 system loudspeakers with its AC-4d wideband driver and bass extension ($34,900/pair).
This truly superior system excelled in communicating the life and beating heart behind the notes. Listening to Agnes Obel via Tidal, I heard beautiful sonorities distinguished by open highs, a superb midrange, and deep bass. Nor did the voice of Cassandra Wilson on "Strange Fruit" possess anything other than a special and wondrous beauty. Switching to analog, a fabulous recording of the Tsuyoshi Yamamoto Trio's Live at the Misty excelled in its percussive impact. I wouldn't call this system totally neutral—it had a special shine to it, as would a jewel that had been buffed and polished to perfection—but it was supremely musical and drop-dead seductive.
Doing the rest of the honors: the world premieres of Voxativ's 845 tube monoblocks ($17,500/pair) and PA-01 preamp with MC phono ($9900); totaldac's D1 music server ($5000) and D1 tube DAC ($10,000); and, for the analog front end, the dps-2 turntable ($4400) with ViV Lab Rigid Float 7/CB tonearm ($6400) and Shun Mook Reference 2 cartridge ($6000).
Nate Mansfield of Kimber Kable assembled a system that looked not much different than a basic component system from 30 years ago. It also included, in addition to excellent Kimber Kables that were far lower priced than many on the market, one major brand, Sony, whose name many would recognize. But what was decidedly different was the system's emotional impact.
Using the Sony server, Nate played some really sweet music, Glen Hansard and Eddie Vedder's "Drive all Night." The sound was quite lovely and grounded, with an excellent midrange and good bass control. Most importantly, the heartfelt manner in which Nate shared music that truly touches his soul is something I shall treasure for a long, long time. At a show where too many exhibitors approach music as if by rote, the opportunity to connect with a person's inner longings through a system whose sound easily conveyed music's emotional core was a special honor.
Kimber Kable provided the foundation for this fine system via its Monocle XL speaker cable ($1762/8' pair), TAK AG turntable cable ($1064/1.5m), Silver Streak balanced and single-ended interconnects (respectively $735/1.5m pair and $429/1m pair), and highly praised Palladian PK14 ($1340/6') and PK10 powercords ($1500/6' and $3208/10'). The sources were Sony's HAP-Z1ES server ($2000) and WTL's Amadeus turntable ($5000) with Dynavector cartridge ($1350). For the rest, a Sony A1-ES integrated amp ($2000) and SS-NA2ES loudspeakers ($9998/pair) were paired with a MartinLogan Balanced Force 210 subwoofer ($5990), Russ Andrews X8 Power Block Enthusiast ($1878), and Sanus Cadenza 61 rack ($1699). There were also Quest Acoustics panels to tame some unwanted nodes and resonances.
As I write this, I sit in shock at the fact that I somehow managed to miss Ray Kimber's oft-spectacular IsoMike exhibit in the Evergreen ballroom on the lobby level, which used four MartinLogan Neolith electrostatic speakers driven by EMM Labs electronics. After calling Ray Kimber and apologizing profusely, I also extend my apologies to readers who were hoping to hear how great the room sounded.
I quite enjoyed my brief time in the Audio Skies/Aurender room. As I recall, it was pretty full, and there was no way to take more than a brief listen. Anchored by the Aurender N10 Caching Network Music Player with 4TB storage ($7,999), the system included Larsen's Model 8 Ortho-Acoustic loudspeakers ($6995/pair); Aesthetix's Pandora DAC with volume control and Atlas Signature power amplifier; Shunyata's Anaconda and Sigma cabling, as well as their Hydra DPC-6 digital power conditioner, and oft-seen Dark Field Suspension system; and Atomic Audio Labs' our-Shelf Ultimate Reference Series rack.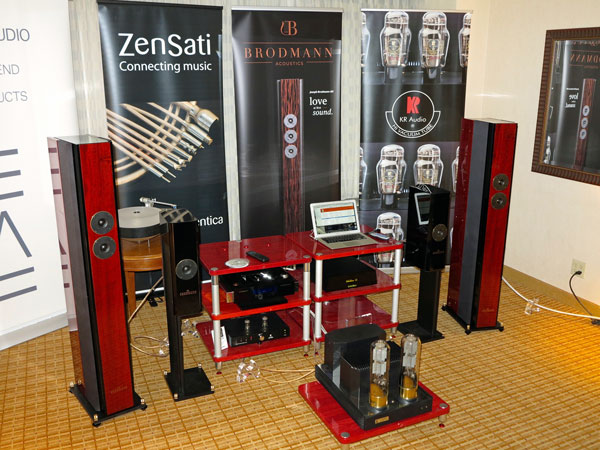 Brodmann Acoustics' Bernd Gruhn played a truly fabulous selection of music in the visually striking room he shared with KR Audio, ZenSati cabling, and others. From music by Astor Piazzolla to mezzo-soprano Anne Sofie von Otter singing "Voi che sapete" from Mozart's Le nozze di Figaro to Klezmer Reloaded, his exemplary showroom shuffle highlighted what the musical aspect of the high-end show experience should be all about.
The sound was also extremely fine. I especially admired how the components beautifully framed the sound of the bass clarinet in the klezmer selection. The components included the Brodmann FS loudspeakers ($4500/pair with stands), KR Audio Kronzilla amplifier ($23,000) and KR preamplifier ($5600), Audiomeca CD drive and Totaldac 1 DAC, ZenSati Seraphim cabling, and a Gregitec rack.
If Herb Reichert has already given his particularly poetic RockyFest Award to Audio Note UK and cellist Vincent Bélanger, I want to give my own Most Remarkable Sonic Transformation at Any Show Award to High Fidelity Cables. A demo system that, at this year's California Audio Show less two months back, sounded poor at best, this time sounded a world apart. Not as in simply better, or even much better. As in so much better that it's hard to find words adequate to describe the difference.
Frankly, I entered the room with more than a bit of trepidation. I wasn't scared that they'd shoot me—hey, if I survived 10 years in an area of East Oakland affectionately known as "Murder Dubs," I can make it through some mean looks and invitations to leave immediately—but rather that my ears would have to endure another sonic assault. Instead, I discovered a fine-sounding system that helped clarify why several key members of the San Francisco Audiophile Society now use High Fidelity Cables as a reference.
Almost everything in the system, which was just a bit different from what I heard at CAS, showcased Rick Schultz's unique magnetic conduction technology. Both the Grand Accentus loudspeakers and Luminance KST-150 amp had all conventional wiring replaced by the company's magnetic conductors. This time around, however, the speakers had additional magnets added to their drivers to produce more push and pull, stronger magnetic conductors for the wiring, and new brass footers. Only the Wadia 861 source/preamp, which I also heard at CAS, retained its entire internal wiring and topology.
Cable wise, we're talking, for power cables, High Fidelity Cables CT-1 Ultimate Reference ($10,900/1m), CT-1 Ultimate Reference Helix ($12,900/1m), and Pro Series Helix Conditioning cables ($20,900/1m). Power conditioners were Ultimate Reference ($14,900/4 outlets). The signal connect was Pro Series helix ($18,900/1m pair), and speaker cables CT-1 Ultimate Reference Helix ($20,900/1m). Given that High Fidelity Cables take a full week to settle in, their ability to sound so good on the first day of the show is particularly noteworthy. Even the smallest of dynamic shifts were easily audible. There was a touch of brittleness, but that may have been due as much to the lack of settle in time as to the speaker's Heil ESS AMT dual-ribbon tweeter, which in some frequencies can be less than polite. As can I when I'm in pain.
Grace Design, a John Marks favorite, received this year's RMAF Al Stiefel Legacy Award. The award grants gratis an exhibit room to a deserving Colorado-based company, and helps round up other components from fellow exhibitors for use in the room.
A towering Michael Grace, whose height disparity from his featured components was so great that the only way I could fit him into the photo without making everything else look like it was designed for munchkins was to ask him to sit, is shown holding the Grace Design m920 USB DAC/linestage ($1995). The unit delivers up to 32/384 PCM and double-DSD. Around him, in most humble fashion, are assembled Vivid Audio V-1.5 loudspeakers ($8000/pair), Luxman MQ-88 amplifier ($8000), Parasound CD-1 transport ($4500), Delta H Design ZR SR acoustical panels ($928/each), and cables from Esperanto Audio, Cardas Audio, and Shunyata.
What you can't see is the look on my face when Michael played not one but two selections by Frank Zappa. The system conveyed all the fabulousness of The Dog Breath Variations' gamelan meets big band meets circus meets bubble gum music, and the wonders of "Pink Napkins" from Shut Up and Play Your Guitar. Images seemed holographic, even without chemical enhancement. I closed my eyes, traveled back in time, and had a really great time.
If you were at the show, I'd love to know what music the Grace boys played you, and if your time was as enjoyable as mine. Definitely equipment to explore, no matter what state you're in.
The way this system honed onto instruments and soloists was extraordinary. Alison Krauss's voice hovered in the air, like a Siren calling to me, as I enjoyed the familiar pairing of Wavelength Audio and Vaughn loudspeakers. A recording of solo violin sounded equally wonderful. Equally lovely was Lyle Lovett's "She's Already Made Up her Mind." There was something very haunting about this system's sound that drew me in.
Doing the honors were the combination of Vaughn Plasma II Limited Edition loudspeakers ($20,000/pair) with Fostex dipole midrange and powered subwoofers, AudioQuest cabling, either Wavelength's Crimson+Q1 FPGA DoP/PCM DAC module ($9000) or Cosecant+Quotient FPGA DoP/PCM DAC module ($4000), Wavelength's Europa preamplifier ($7500), and one of three possible Wavelength monoblock amplifier pairings: the limited-edition, all-silver Napoleon Ag Silver ($35,000/pair), Corona V2 VT52 Silver ($20,000/pair), or Cardinal Classic ($5000/pair). In answer to the question, why didn't you ask which of those was playing while you were in the room, the answer is that I didn't know to ask what was playing. The system component list was on a USB stick that I couldn't view in the room. Thus, I had no way of knowing what I needed to know. All that occupied my mind was the music.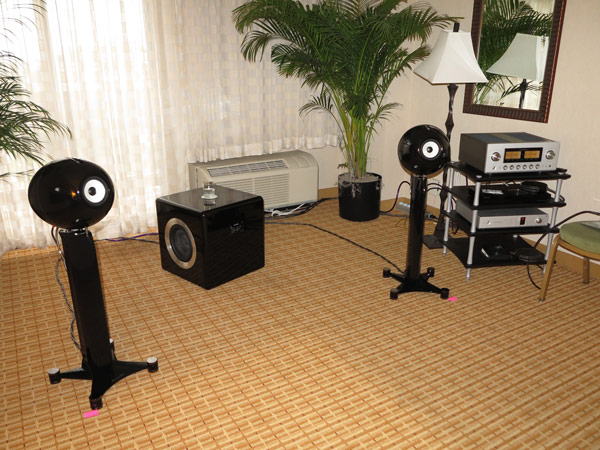 In my second encounter with Fujitsu Ten's Eclipse loudspeakers, in this case Eclipse TD712ZMK2 loudspeakers ($10,600/pair) and Eclipse TD724SWMK2 subwoofer ($6400), their pairing with a Luxman L-590AX Mk.II class-A integrated amplifier ($9990), Luxman DA-06 DSD DAC ($4990), and cabling from the Chord Company exhibited good depth, nice bass, and excellent imaging. The strings, I confess, were a little wiry. But so was my consciousness after seven solid hours of pounding the metaphorical pavement.
Eclipse's goal, I was told, is accurate sound. To paraphrase: "We believe all the art is in the recording. The goal of a speaker is to ensure that what is input is what is output. To avoid issues with phase and timing, we use a single 12cm fiberglass driver that is mounted on a special zinc anchor to stabilize the driver and negate unwanted vibrations."
"Why is this Benchmark Media Systems exhibit different from any other Benchmark exhibit?" I asked of a system I dareth not pass over, even though my eyes had already glazed over at day's end. "Because it's mounted on the short wall," was the reply from a Higher Authority, who in this case was Benchmark's very tall Rory Rall.
It was no surprise that Junior Wells sounded mighty fine on this $7501 all-Benchmark system. After all, it included Benchmark's DAC2 HGC DAC ($1995); their AHB2 high-power, high-resolution, "breakthrough in every way" amplifier ($2995, just reviewed in the November issue by Kal Rubinson); Benchmark SA51 speakers ($2650/pair) and Studio Quality cabling ($400–$500); and unidentified speaker stands ($240). It was also no surprise that, feeling I was about to fall into a very deep well of critical incapacity, I called it a day.