Day 2 from Sasha Matson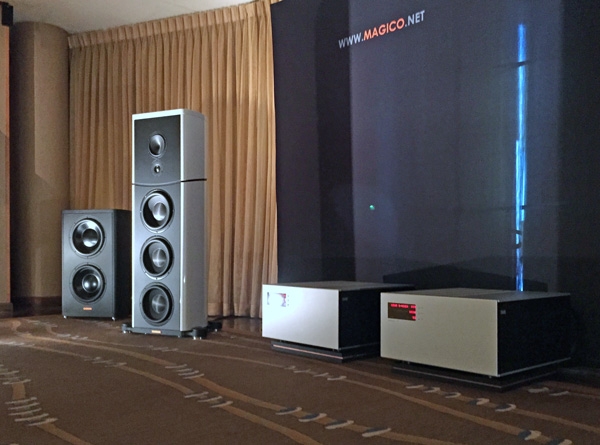 By the time I went to book a room for this year's RMAF there was no room at the Denver Marriott inn. Perhaps the same thing happened to Magico, as we both ended up one long suburban block away at the Hyatt Regency Denver Tech. Which was nice for me, in that it allowed me to get a breath of fresh air between listening bouts.
When I first took the elevator up to the Presidential Suite it was still early. I could hear Dire Straits doing "Money for Nothing" loud and clear down the hall. So loud and clear that when I knocked no one could hear me. I tried again an hour later and this time was admitted. There was nothing vice-presidential going on inside: a large room with a large audio system deployed along the long wall. One would have to be deaf and blind to have missed the most impressive Magico S-Series S-7 loudspeakers ($58,000–$64,000/pair, depending on finish), and a brand new pair of Magico S-Series S-Sub subwoofers ($15,000 to $17,600 each, depending on finish). The S-7 model has been available since July, and the S-Sub was taking its debutante bow right here at RMAF, with a shipping date to be announced.
Rounding out the system were other members of audio high-society; a humongous pair of Soulution 701 mono amplifiers ($150,000/pair) that I was told put out a tidy 700Wpc, and two pieces of excellent hardware that I were told are not currently available, a Pacific Microsonics DAC, and a Baetis Reference Media Server.
The Magico S-7 is described as a full range, three-way design, with a new tweeter, mid, and bass driver designs, all derived from the Magico M-Project loudspeakers. The S-7 includes three 10" bass drivers, a 6" midrange driver, and a 1" tweeter featuring a diamond-coated beryllium diaphragm. Published frequency range is 20Hz–50kHz. The new S-Sub features the same impressive solid curved-aluminum paneling as the S-7, and includes dual 12" Magico bass drivers. The S-Subs can produce sound levels of up to 120dB with less than 1% total distortion at 20Hz. That would be loud my friends!
I heard the "Money for Nothing" track again once I was actually in the room, and it proceeded to open up and actually pummel me with that clever build at the top of the tune. I also heard an unidentified Patricia Barber track, but there was nothing unidentifiable about that dark smoke-colored voice of hers. And I heard a portion of Bob Dylan's theme song he has often opened his shows with: Copland's Fanfare for the Common Man. There was nothing common here about those bass-drum whacks and blasting brass, and this system will not be for the common man budget-wise either. In fact, this system announced its presence with authority in every aspect. It was a real treat to hear music reproduction at this very high level.
One of the pleasures, and IMO a reason to attend a hi-fi show, is to hear the results of different companies involved in high-end audio getting together in genuine collaboration. "Collaboration" is a word that I think is used too often in our culture these days. In reality, collaboration can often be hard and tricky to pull off successfully. When it does succeed at these audio shows it is most often the result of a lot of hours put in by people under the gun, facing unpredictable circumstances varying from gear not delivered in time, to the innate audio challenges of hotel rooms, to personalities, you name it. There are a lot of factors involved that a casual visitor may not stop to think about, nor is there any reason really that they should; this stuff is not their responsibility.
But enough philosophy. When I walked into the room on the eleventh floor where PS Audio was using speakers from fellow Colorado company YG Acoustics, my first reaction wasn't about sound, it was about light. The room was long, and had a full length of windows on one side. It sure felt good visually; many exhibitors choose to close curtains in these hotel rooms, or in many cases add additional black theatrical cloth, along with whatever other acoustical treatments some also install.
Starting downstream, I heard, and was also visually knocked out by, the imposing YG Acoustics Sonja 1.3 loudspeakers ($106,800/pair, reviewed by John Atkinson in July 2013). I would describe these as beyond floor-standing to something more like floor-supporting; I think I could have parked my car on top of them with no problem, assembled as they are from CNC-machined aluminum. The point 1, 2 & 3 designation from YG Acoustics basically refers to the flexibility of including, or not, three physically detached modules designed to stack one upon the other. The Sonja 1.3 model maxes out this configuration with two cabinets designated by YG as "bass modules" with the 1.1 model designation referring to a two-way unit that can be purchased all by its lonesome with a dedicated stand optional. Simple concept really, and a fine way to address different space needs and budgets.
Working upstream, all cabling I heard was from MG Audio Design (no pricing available at the time). Electronic sources and amplification were all from PS Audio. Delivering the power, in spades, were the PS Audio BHK monoblocks ($14,998/pair). These babies deliver 600W watts into a 4 ohm speaker like the Sonja. We also had the new for RMAF, PS Audio BHK Signature preamplifier, which will be available to lucky purchasers starting in the second quarter of 2016. PS Audio CEO Paul McGowan told me that the projected retail pricing for his new preamp will be approximately $6000. Something to look forward to!
Hold on, there's more: like the PS Audio Direct Stream DAC ($6000), and the PS Audio Perfect Wave Memory Player CD transport ($4000), all being supplied clean AC by several PS Audio P-10 Power Plants, ($5000 each).
For music, Paul McGowan was kind enough to ask me what I would like to hear, and like a fool confronted with so much audio firepower I responded "Mahler." And that's what I got, the opening of Mahler's 3rd, with Michael Tilson Thomas and the SF Symphony. A recording I know well and admire much. Kabloohie! The super-rich dark low brass of the opening of the first movement declaimed in purple tones, accompanied by those snarling trumpet figures, IMO one of the scariest bits of writing in all classical music. But here's the rub. This was one room where the aforementioned collaborative elements did not all click for me.
I do not know exactly why; I am not going to try and do an imitation of Benedict Cumberbatch in Sherlock. To do anything approaching a significant A/B comparison of all possible variables would involve many hours that are not available under show conditions. I heard speakers from YG Acoustics in another room at RMAF sounding fantastic, but there seemed something lacking in what I heard from this PS Audio/YG Acoustics system, a kind of thin quality up high and down low, as well as in the varied registers where Mahler puts so much differing musical emphasis.
A few doors further down the road, on the eleventh floor of the Denver Marriott, I found a real sexy ménage a trois in progress. The protagonists of this lusty affair were Border Patrol Audio Electronics, Triode Wire Labs, and Volti Audio. Starting this time at the top of the (non-LP) food chain, I heard the CEC TL3N belt-drive CD transport ($2250), and I quote from the handout: "Streaming might be the future but it is still easier to put a disc in a transport and press Play." I agree.
This Japanese transport was chosen to pair with the Border Patrol Audio Electronics DAC1. For those who want their digital straight up and neat, there is no oversampling and digital filtering going on here, and there is an 6SN7-tube output stage at work. Do I sense a certain audio-type persuasion? You bet. I observed a certain purity and minimalist approach at work also in the Border Patrol S20 EXD monoblock amplifiers ($16,750/pair), with a version designated the S20 EXS ($25,750/pair) with upgraded internals that include the EXS power supplies. Cabling here was all from Triode Wire Labs, featuring their "Ten Plus" power cables, "American Speaker Cables", and "Spirit" interconnects (varied pricing).
For actual sound-makers, the system featured the well-received Volti Audio Vittora System ($25,000/five-piece set, and a finalist for Stereophile's Loudspeaker of the Year in 2013). Want horns? Volti's got 'em for you. These handsome large cabinets contain three horn components, and there is an additional single Extended Low Frequency cabinet, this latter's amplifier made by Marchand Electronics. Not sure how this all adds up to five, but you can check the math later. Volti claims "full-range horn speaker performance down to 25Hz." Built by hand in Benton, Maine, and sold direct. I heard a recording of Copland's Appalachian Spring. That magical opening was just that, a gorgeous series of harmonics unfolding in slow motion. Greg Roberts of Volti described my reaction well: "Like peanut butter and jelly!" Plus I think the bust of Beethoven placed on top of one of the Volti cabinets was providing some really subtle resonance control.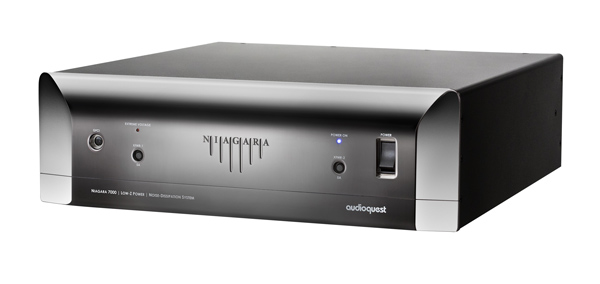 I made a point to attend a presentation by designer Garth Powell of AudioQuest. Garth presented a detailed and entertaining demo of the brand-spanking-new AudioQuest Niagara 7000 Low-Z Power Noise-Dissipation System ($7995), which will begin shipping in November. Garth explained some of his deep background thinking about where we are in 2015, how we got here, and what to do about it, pointing out: "Our power is only going to get worse. AC is an old technology." Two primary factors in Garth's design approach are current delivery and noise dissipation. To try and reduce, or even eliminate the masking of important sonic information located in the low amplitude ranges, the kind of content that creates the aspects we desire in the re-creation of musical performance. Garth commented that: "It's the bottom third of the dynamic range that has all the magic, and that bottom third is gone without proper power management."
Some of the technology contained in the Niagara is new and patented: Ground-Noise Dissipation, Ulta-Linear Noise-Dissipation, Low-Z Power inlets and outlets, non-sacrificial surge protection. The Niagara 7000 can deliver up to 90 amp peaks within 25 milliseconds. The sonic benefits of this kind of kick-starting are at the core of the benefits claimed, aiding the components downstream in the realistic reproduction of the transient demands of fine musical recordings.
The proof of the pudding is in the eating: to a standing-room only crowd, the AQ team performed A/B comparisons with two Niagara units removed and then reinserted into the system in the Audio Alternative Room, covered elsewhere in detail by my colleagues. Suffice it to say that this was a supremely high quality rig in the first place! One A/B comparison was at the power amp end of the chain, and then a second set of comparisons were done with the Niagara in and out of a rack of high-quality source components. The reaction from those in the room was most enthusiastic, with comments about improved detail, air, clarity and impact in the lows, etc.
I should mention that the Niagara 7000 power conditioner was also active in the room I had visited earlier also hosted by Audio Alternative, featuring gear from Audio Research and Vandersteen, and may well have been a big part of why that particular system sounded so fine to my ears. And though I did not audition it, I would like to point out that AudioQuest intends to offer a version of this technology scaled-down in size and budget, the Niagara 1000 ($995).
Credits were getting as long as an Oscar-nominated film in Room 1100. An Aurender N100 Caching Network Stream ($2499), into an Exogal Comet Plus DAC ($3499), through a full batch of James Romeyn Music custom cable products, and including his custom modified Pioneer 912 preamp ($325 for the mod, the customer supplies the amp), into an Electra-Fidelity EL34 SET tube stereo power amp ($4500), to a final stop at a pair of AudioKinesis Planetarium Sigma loudspeaker system ($11,200 complete). I need to elucidate: the Sigma system includes stand-mounted main modules, the Swarm subwoofer, and a pair of Space Generators. These latter small cabinets may have been the most unique feature, "designed to make home listening rooms sound bigger and home stereos sound better." I'm all in favor of that, and this aspect is addressed in part by working with the differences between first arrival of sound waves from a primary speaker, related to later-arriving reflected waves.
Duke LeJeune of AudioKinesis tried to explain to me some aspects of their speaker design. The heavily toed-in Planetarium Sigmas, (firing in a criss-crossed pattern which neither of us could remember the proper audio term for), each contain two 8" woofers described as a "wave style guide" type horn design, featuring beryllium-diaphragm compression drivers. If this kind of system and these price points are starting to sound down and funky to you, you should have heard Terry Evans rockin' hard on "Get Your Lies Straight" and Don Fagen gettin' real LA on "Babylon Sisters." An excellent and creative system, which I liked a lot.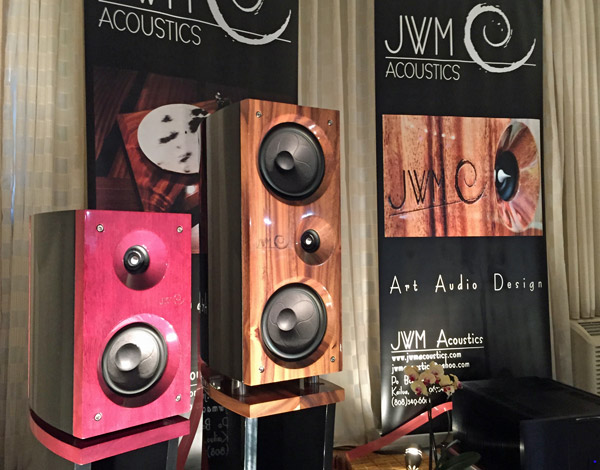 I had a Shanti-like good reaction to my first experience of JWM Acoustics of Kailua, Hawaii when I encountered them at T.H.E. Show in Newport this past spring. JWM would stand for owner/designer Joshua W. Miles, who made it further east this time to Denver. Handsome Josh has several products named after the ladies; the Jane and Alyson Loudspeakers, and Karen Turntables. Are there more to come? Actually I gave Joshua a productive marketing concept; when Obama retires to Hawaii JWM has to be ready with a "Barry" speaker model.
But until then I am here to tell you these are some of the prettiest speaker gals you are likely to come across, with beautiful hand-crafted made-in-Hawaii cabinets that sound great, and look awesome! I heard from the Alyson AML Large Monitor ($5400/pair) a lovely, stand-mounted, two-way ticket to ride including dedicated stands. The Alyson moniker turns out to refer to the designer's sister, who Joshua describes as "a small woman with a powerful influence on me . . .Not a single piece in this system is over or under built. It is just as it should be. Like my sister."
JWM also offers the slimmer Net-1 minimonitor ($4012/pair). Turns out that Net is not some web-based acronym, but a nickname for JWM's wife, as in Jeanette. In between speakers and source JWM was running some fine electronics from Balanced Audio Technology, including their BAT REX preamp ($19,000), BAT VK-P12SE Superpack phono stage ($12,000), and BAT VK655SE power amp ($16,500). Paddling our board upstream gets us to the lovely looking JWM Karen Turntables, models 3, 6, and 12. Catchin' the wave gets you many a night with the Karen 12 Turntable and Karen Control ($4500). Turns out that Karen is the name of Joshua's oldest sister, and that during the design of the turntable he was searching for a sound that was "Warm and rich but clear and concise. Just like the sound of my sister's voice." And pretty Karen 12 was wearing an Ortofon Windfeld MC Cartridge for our date ($2500).
What can possibly do justice to this high-end family listening-wise? I heard, as Karen and I were getting to know one another, a recent 45rpm Analogue reissue of "Dream With Dean" and the standard "Fools Rush In." The smooth-breaking sound-wave sets were as tubular and rich as a good Mai Tai or Zombie served on the beach. "Mahalo" JWM Acoustics.