Jason's Adventures Continue on Day 2
Ah yes. Through the audio jungle I thrashed, through sound both thrilling and threadbare, until, having totally exhausted the alliteration resources of my thoroughly thumbed thesaurus, I alighted upon the thoroughfare of Thrax. Once there, I threw all literary pretense aside, and thrillingly cried, "Thanks be to Thrax!"
And with this borderline hysterical paragraph behind me, I solemnly pledge to never again abandon critical impartiality in order to indulge in the mad plunge into holographic hyperbole!
Over it I may be. But what I'm not over is how good this room, assembled by HiFi Imports, sounded. Perhaps in part due to canny speaker positioning, the Thrax Lira 77lb. loudspeakers ($20,000/pair) threw an astoundingly large soundstage that was far larger than any two-way stand mount of this size has any right to create. The presentation had lots of atmosphere, with a beautiful midrange. Equally important, the system could perfectly spotlight instrumental solos in a most musical manner. (Note: When I first encountered these speakers in Newport Beach last June, they were not broken in. The set-up sounded considerably better this time around.)
First up, on LP, were the very space music "Intro" and "Numb" tracks from Sam Brookes' Kairos. Everything sounded just as it should, which means perfectly musical and all-enveloping. I had never heard the music before, but it sounded so fine that it felt like just what the artist hoped we would hear.
Then came "St. James Infirmary," with cymbals and horns sounding drop-dead gorgeous. And I wasn't the only one who marveled. Two dealers who had chosen to sit RMAF out this time around were seated behind me, enjoying the music just as much as I did.
Playing while I was present, in addition to the loudspeakers: Thrax Dionysos linestage preamplifier ($21,500); Thrax Orpheus phono preamplifier with LCR RIAA equalizer ($21,500); Thrax Teres Hybrid power amplifier ($30,000); Dohmann Helix 1 turntable with new Schroder CB tonearm ($40,000 for the package) plus Transfiguration Orpheus cartridge ($5500); and Enklein David cabling. Leaving with regret: yours truly.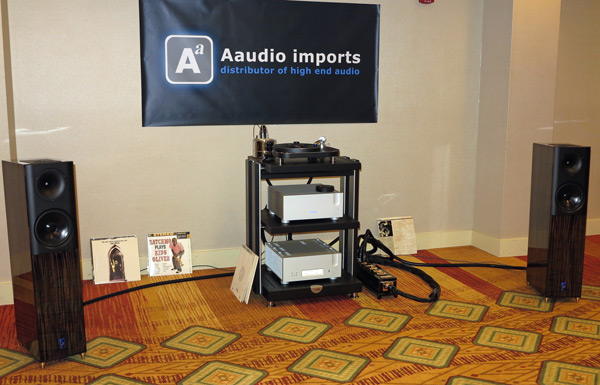 It was the Old Faithful LP Hour in the Aaudio Imports room on the lobby level, as Ella Fitzgerald singing "Black Coffee" and "Angel Eyes" gave way to a track from Ray Brown and John Clayton's Super Boss. The latter was played in response to my request for music that had some complexity and slam to it. The sound was a little dry but quite lovely and non-fatiguing, with an excellent bottom end. Heard were Lansche No.3.1 plasma ion-tweeter loudspeakers ($36,000/pair), Ypsilon's Phaethon integrated amp, VPS-100 valve phono stage ($26,000) and new MC26L step up transformer, Thales' TTT Compact turntable ($13,200), Simplicity II tonearm ($9200), line cable ($2200) and speaker cable ($3200); Ikeda KAI MC cartridge ($8500); Stage III phono cables and power cables; HB Cable Design PowerSlave Marble power distributor ($9900); and Finite Elemente Pagode APS rack ($8970).
One of the truly great things about live music at this year's RMAF is that none of it was formulaic, as in "Let's invite the exact same artists who perform at audiophile shows time after time." While I did manage to catch a bit of Eleanor McEvoy's marvelous performance (see my previous blog), I was forced to sit out concerts by pianist FanYa Lin and singers Lillian Boutté and Tanya Ellsworth. Imagine my delight, then, to discover FanYa Lin, whose performance was sponsored by Kimber Kable, holding forth in the Atrium Lobby on Saturday. Truth be told, the sound of her piano was rather lost in the lobby's huge expanse, whose height rises at least five floors. But at least I could snap a photo, and console myself with the thought that her pianism can be savored on a 4-channel Isomike hybrid SACD.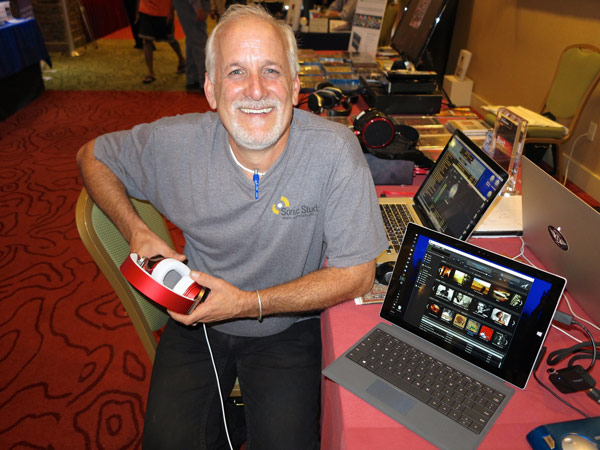 Jon Reichbach of Sonic Studio has been working night and day on the new Windows version of "Amarra for Tidal" music playback software. (I currently use the Mac version of Amarra for Tidal on my desktop.) Due out in a few weeks, and available now in limited use beta form through the company's Facebook page, it showcases the new face of Amarra.
"From now on, all our programs with be cross-platform," Reichbach explained. "To make that possible, we've rewritten all of software from the bottom to the top. In our new versions, artwork will be visible. But the sound will remain the same."
Early 2016 should bring the first Windows-compatible version Amarra. An iOS version of Amarra for Tidal will come sooner. I expect that Michael Lavorgna will be evaluating these new versions of Amarra on AudioStream.com once they're available.
At last, after delivering more presentations, seminars, and classes on hi-res audio than there are bits on a Blu-ray, Mark "Dr. AIX" Waldrep, as he now brands himself, has begun a Kickstarter campaign to fund his new tome, Music and Audio: A User Guide to Better Sound. Billed as "a comprehensive new book on improving your listening experience . . . with Blu-ray!" the guide promises numerous insights peppered with, perhaps, some questionable punctuation. Hopefully, Mark is going to greet this little blurb with the same smile that he's been sharing at shows of late, and get that book to the printer before the sun itself begins to shine blue.
Rising up in the world, yours truly headed to Mezzanine Peak in the Tower. First, I entered the Musical Surroundings/Apex Audio Denver room to discover an LP of Rhiannon Giddens singing a very strange arrangement of "Waterboy." The man next to me was waxing ecstatic about her LP, Tomorrow is my Turn, but I thought it best to keep my mind on the midrange-rich presentation rather than focusing on what struck me as a very questionable take on a black prison work song.
For a change of pace, next came Chabrier's España. The presentation was exceedingly colorful, with superb highs and wonderful engaging life. Lows, however, were a bit boxed in and muffled. The system, starting with Focal Sopra No2 loudspeakers ($13,995/pair) and Nordost Valhalla V2 cabling and AC power treatment (Qx4 conditioner, $2700; QB8 Mk.II Star grounded strip, $1600; Qv2 line harmonizers, $350 each; and Qk1 resonating coils, $250 each), also included Aesthetix's Calypso Eclipse linestage ($10,000), Rhea Eclipse phono stage ($10,000), the world premier Atlas Saturn Eclipse stereo amplifier ($15,000), and other Aesthetix and Aurender products I didn't audition; AMG's Giro turntable with 9W2 tonearm ($10,000), Teatro cartridge ($2750), and Reference tonearm cable ($1500); and Critical Mass Sotto Voce 4-level rack ($4500) with Black Platinum filters ($1895 each), Black Sapphire filters ($995 each), and RiZE! footers ($249 each).
Oh my, but the system in Apex Audio's Blanca Peak room sure looked imposing. Headlined by Focal Stella Utopia EM loudspeakers ($97,500/pair), the system introduced three world premieres: Soulution 760 DAC ($72,000), Soulution 755 Phono Pre ($55,000), and Air Tight Magnum Opus cartridge ($15,000).
Add in Soulution's 711 Stereo amp ($65,000); Accuphase's A-70 stereo amp ($27,000), C-2820 preamp ($31,500), and DP-720 CD/SACD player ($27,000); and Air Tight's ATM-2001 stereo amp ($65,000) and ATE-2001 preamp ($28,000), and you have a small fortune's worth of equipment. And that's just the start of it. Let me also mention the hardly insubstantial Transrotor Tourbillon turntable ($55,000), Graham Phantom Elite tonearm ($12,000), Critical Mass System QXK rack system (up to $4900/level plus RiZE! loudspeaker footers at $225 each), and a treasure trove of Tara Labs Zero, Omega Evolution, and Cobalt cabling (with the top level reserved for the Soulution gear) plus two Tara Labs conditioners, the AD6 and RM2.
In short, there were three possible electronics/cable combinations to choose from. What was in use at the time I entered was not indicated, but a post-show call to Apex Audio in Denver confirmed that, given the time of my visit, I most likely heard the entire Soulution electronics chain, connected by Tara Labs Zero Evolution interconnects ($18,000/pair) and Tara Labs Omega Evolution speaker cables ($32,000/pair), driven by a Macbook Pro running JRiver. Music was from a pre-determined play list assembled by Joseph Lavrencik of Critical Mass Systems.
All I know is that a blues track was playing when I entered, and that it was followed by a tedious, quasi-Gregorian chant track. Neither made me want to stay longer. In addition, the room was huge, and the lights low. In order to determine what was what, I would have had to walk in front of everyone listening and potentially disrupt their experience. So I chose to remain in the dark, both literally and metaphorically.
This system should have sounded spectacular. But I'm afraid I hit it at the wrong time, when the wrong music (for me) was playing. Most important, bass was markedly out of proportion to the rest of the range. When I chatted with Kevin Hayes of VAC and asked about the out-of-proportion bass in the adjacent Apex/Focal/VAC etc. room that will begin my next composite show report, he told me that it was because the room had been tuned with the door opened, and that the door had been subsequently closed due to frequent loud noise in the hallway. Closing the door, he said, had over-pressurized the room, resulting in too much bass.
This is a phenomenon I know well, because it's something I've learned to cope with in my own listening room by finding the right size opening for the space's sliding inner doors to the entrance hallway. However, a post-show call to Apex confirmed that this room, at least, was tuned with the door closed. Which leaves me wondering why the bass imbalance was left as it was.
Frankly, in retrospect, I wish I could give this room a second hearing. If only that were possible, and I could just walk around the corner and take another listen.
Philip O'Hanlon of On a Higher Note once again demonstrated that, as far as he's concerned, music reigns supreme in the High End. Playing superbly musical non-mainstream selections, he also proved beyond a doubt that On a Higher Note distributes some of the most musical equipment out there.
First up, the Anthony Wilson Trio doing "Luck Be a Lady Tonight" from the LP Our Guy. The sound through the Luxman PD-171AL turntable ($6,200) with Schroeder "Alto" tonearm, manufactured for Frank Schroeder in the USA by SoundSmith ($TBD), and a SoundSmith "Hyperion" cartridge ($7500), was superb. Tonalities were right on, and bass was excellent. Credit, of course, is equally due to the Mola Mola internal phono stage ($2,500), Mola Mola Makua preamp ($13,450) Mola Mola Kaluga power amp ($18,000), Vivid Giya G3 loudspeakers ($40,000/pair), Shunyata Research Triton line conditioner and cabling, Artesiana Exoteryc 4-level rack ($6900), and Artesiana Krion turntable stand ($3390).
Next came two digital stereo selections, Suzanne Vega doing "Small Blue Thing" from Live in Montreux in 24/48, and Avi Avital doing "Hen Ferchetan" from Between Worlds in 24/96. The presentations were supremely musical, with Vega's guitar strings having the absolutely right leading edge, and the body of the tone equally right on in timbre. Even sitting way off center, as I was, the size of the soundstage was quite impressive. Here we must credit the prototype Mola Mola internal DAC ($TBD), which received its signal from a Macbook Pro running Audirvana.
Finally, a rare treat: calling the Merging Technologies multi-channel NADAC ($11,500) and rear channel Vivid Oval V1.5 loudspeakers ($7990/pair) into play for a four-channel demo of the Telarc recording of Ladysmith Black Mambazo singing "Diamonds on the Souls of Her Shoes." Heard via a PC running Merging's Emotion software, the sound was thoroughly delightful. Low harmonies were fleshed out much better than I remember hearing them years ago on my older two-channel reference system, which included a Theta Gen. VIII DAC and multi-upgraded Talon Khorus X loudspeakers. In fact, the presentation was so superb in every respect that I felt as though I was hearing the track for the first time. (Certainly I had never heard the ensemble's voices so perfectly delineated, yet not in the least bit etched.)
Need I add that O'Hanlon is also a perfect master of volume, choosing just right level for each cut? Bravo and YUMMY!!!