The Reichert RMAF Report, Part 4
Jeffrey Catalano is from Buffalo and I am from Chicago. His father was a plumber and mine was a steamfitter. We are both world-class wrench twirlers. We both studied painting. We have both sawed a lot of boards and pounded too many nails. We're rust-belt dudes with a taste for art, blues and roots music with some high-a-fluten European Classical tucked in on the side. Oh yeah, and World Music. And strange electronica. And Memphis Soul. And John Cage, Schoenberg and (my beloved) Alban Maria Johannes Berg.
Me and Jeffrey been playing black discs together for almost four decades. When I met him he had 10,000 records by now he has at least 30,000. When I met him he used an AR-XA turntable, a Fisher 500C amp, and a pair of AR-1 loudspeakers. Nowadays, he always has a world-class super system. I love listening to records with Jeffrey and I always feel bad that my show reporting only lets me stay a short while in his High Water Sound room at a show.
I will keep it simple because all you readers need to know is: Jeffrey doesn't cotton to bad sound and his taste in audio gear is almost as good as his taste in music—which is near peerless. His room always plays Music.
Today we listened to Steve Cropper's With a Little Help From My Friend (Volt LP 6006) and I was bopping and crying at the same time. To make me jump and cry, Jeffrey employed a TW-Acustic Black Knight turntable ($40,000), with two TW 10.5 tonearms ($5500 each) sporting a Miyajima Labs Mandake ($5995) and Zero Mono cartridges. This venerable assembly was wired to a TW-Acustic RPS 100 phono stage ($17,000), and TW 300B SE monoblocks ($18,000/pair). There was a Tron-Electric, Syren II GT line-level preamplifier ($55,000) tucked in there too. All of this tickled a pair of Cessaro Horn Acoustics, "Wagner" speakers ($65,000). Damn . . . that set-up is really a long way from that Fisher/AR system he started out with.
At audio festivals, all a blogger like me, can hope for are a few scattered moments of sonic emersion. By the grace of some audio gods, I found some of those moments in the Alta Audio room. At first I was caught off guard. The music coming out of the rosewood Alta Audio Rhea loudspeakers ($4495/pair) seemed almost too good to be true. Not that Alta loudspeakers don't always play nicely, but what I was hearing seemed extra-ordinary. Then I noticed the (made in Italy) Aqua Acoustic Quality LaScala MKII DAC ($5600) and the Aqua Acoustic LaDiva CD transport (8500) and the Nuprime REF20 monoblocks ($7600) and thought—wow, maybe they are what's making the music shiny, smooth and grainless. Then I closed my eyes and listened some more.
When I lifted my lids I saw what I was missing. I spotted the $44,795 high-pedigree analog front end. There was a Monaco vi.5 turntable ($23,500), with a $9800 Tri-Planar Ultimate 12" arm (not a limp slacker by anybody's call) sporting a Lyra Skala MC cartridge (are you starting to see what I mean?), and a Tom Evans Groove+ phono stage ($7500). No wonder. When I first sat down they were playing a CD and the sound was liquid silver. When the Lyra Skala hit the first black disc, rainbows came out. I kept looking at the ordinary looking $4500 speakers and thinking, what the . . .
But clearly Ivor Tiefenbrun (Linn Products) was right—great sound starts at the front end. With both CD and LP sources, the Altas played like they cost $50k. The Aqua Acoustic Quality—who thinks of these crazy names???—digital front-end sang like a Diva at Milan's Teatro alla Scala. The Monaco disc spinner danced with the grace of a princess. Meanwhile, the Antipodes DX Server ($6500+) just sat and listened (but it probably enjoyed the royal party as much as I did). The Waveform Fidelity cables slept through the whole fête.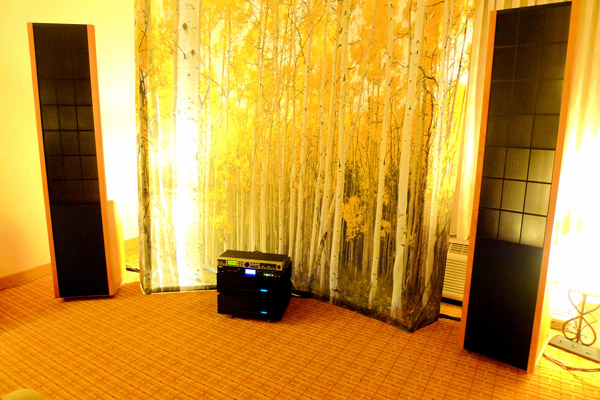 Just saying that name makes me lisp . . . but I had to shut up and listened when Roger Sanders played Aaron Copland's Appalachian Spring. It played with a colorful presence and a clear April–May light.
Once, when I was in college, I got to sit behind Maestro Copland as he watched the orchestra perform his Symphony 3. I could feel his raw creative powers right through the back of his seat. I watched him and his reactions as much as the musicians. Here now, in the Sanders room, the biamped Sander's 10d electrostatic hybrid loudspeakers ($15,000/pair plus $5500 for a second stereo Magtech amp and digital crossover) were doing their absolute best to honor this unique American master.
Powered by your smartphone, tablet, or desktop computer, Devialet claims the radical-looking polycarbonate, ABS, and aluminum-cored Phantom Silver loudspeakers can play your favorite tunes at 105dB (at 1m)—when driven by their internal 3000W amplifier!!! They claim the Silver Phantom will play 16Hz bass. (Statements like this make me feel like I fell asleep under a tree for 100 years and missed all the progress in audio engineering.)
They sell the $2390 (each) Devialet Silver Phantom "Implosive Sound Center" loudspeaker at the Museum of Modern Art Design Store.
I remember writing about Naim Audio's classically beautiful (and un-British looking) Mu-so wireless system. I loved the Dynaudio Focus XDs and the Swiss-made Stenheim wireless speakers. I read Steve Guttenberg's description of the Teutonically handsome German made Raumfeld "Stereo M" wireless bookshelf speakers. But this new extremely stylish Devialet loudspeaker is made in France has a totally different vibe. That pun is intended because the Phantom loudspeaker's "ultra-dense sound" comes from the matching, wing-like side panels that act as the woofers. It is fun to watch them vibrate and the pair I listened to played music in a surprisingly clean, alive, and open manner.
The Devialet room was double-ended and the good-looking, well-suited room keepers alternated between dazzling visitors with a pair of vibrating Silver Phantoms or stunning them with their own reflections in a $29,995 pair of chrome Devialet 800 monoblock amplifiers which were wired to a set of Bowers & Wilkins 802 Diamond loudspeakers. The sound was smooth and strong.
Attending all these audio shows is good for discovering design talent and equipment that represents high value. The smart designer guys and exceptional-value components pretty much can't stop themselves from jumping out of the audio show Tarot deck and asserting themselves conspicuously: Dan Wright and his ModWright Instruments components are outstanding examples of this phenomenon.
At CAF, Dan showed a fancy shiny chrome and wood, "Ambrose" (10Wpc) single-ended EL-34 stereo tube amp ($10,000, above) and a captivating SWL 9.0 Anniversary Edition tube preamp (<$3000, below). Together, they played with an easy transparent confidence. Now, at RMAF Dan premiered his newer and bigger (32W) "Concept" 845 DS SET tube monoblocks ($50,000/pair) driving the Daedalus Poseidon V.2 loudspeakers ($21,450/pair) These amps showed everybody what a few more "Dan Wright" audio watts could do.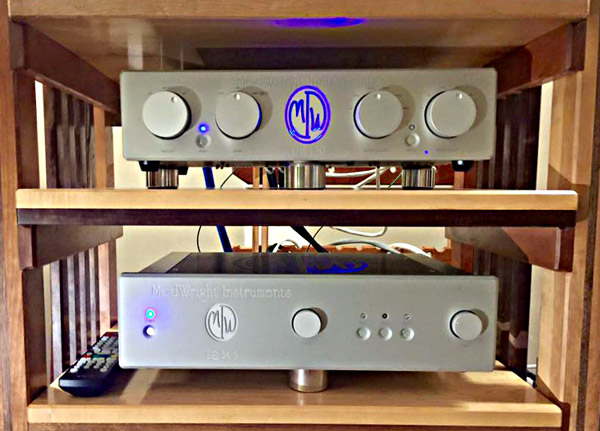 When I walked into the ModWright room, it was already filled with smiling members of the audio press and grooving audio show cognoscenti. It took me a while to settle in, stop chattering and listen, but when my mind relaxed, the music flowed right (Wright?) in. What attracted me to Dan's designs at CAF was their luminous invisibility. I liked how they generated weighty musical presences but stayed out of the ebb and flow. I especially liked their unprocessed, un-mechanical way with musical program. I felt the same way today.
The words "Astell" and "Kern" are German and Korean for "Reach for the Stars" So? Who among you does not want to reach for and own the new Astell&Kern AK380 portable (8.11oz) hi-rez digital audio player? I know I do because it looks amazing and sounds even better than amazing. To me, the AK380 ($3499) seems more attractive and exciting than a fancy new car or trip to the stars (the AK380 supports virtually every audio format but my geezerism and acrophobia do not support fast driving or space travel.)
The two systems Astell&Kern showcased at RMAF were more earth- and room-bound than the portables. One, the $3800 AK-T1 all-in-one sound system, was even affordable. The other was new-school exotic. It featured the impressive-looking Astell&Kern AK 500N network audio player ($12,000 for server with 1TB storage or $20,000 for server with class-A/B amp and power supply) driving the equally impressive looking two-way stand mounted "Caster" speakers ($25,000/pair). These handsome race-car sexy little boxes were introduced almost two years ago but still grab me with their high-tech carbon fiber+aluminum enclosure, diamond tweeter and ceramic woofer charisma. The sound was out of this world.