Starting Off Saturday at RMAF Right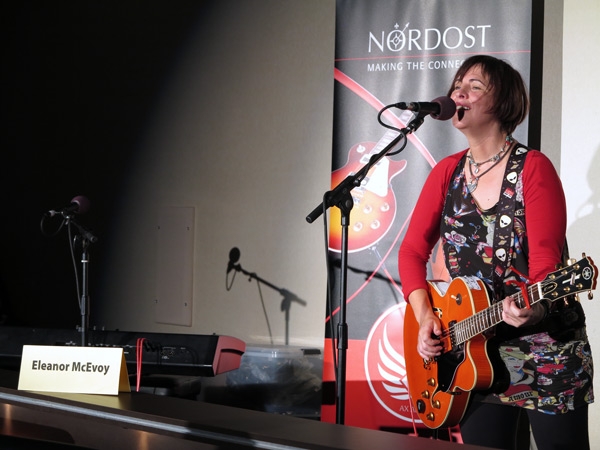 When there are over 150 exhibits to cover at an audio show, as there were at RMAF, I usually have no choice but to skip entertainment. But when Joe Reynolds of Nordost told me that I "must" hear Irish songstress and songwriter Eleanor McEvoy, whose initial work as a symphonic violinist segued into work as a session musician for U2 and Sinead O'Connor before she concentrated on songwriting and performing, I vowed to briefly stick my head into the Aspen Amphitheatre, grab a photo, and stay for part of a song.
Then I heard McEvoy, the composer of the title track of A Woman's Heart, the six-artist compilation that became Ireland's all-time best-selling CD, begin to sing her own music. With her guitar and keyboard abetted by Nordost's Pro Audio Ax Angel instrument cables and power cables, and the sound system distortion-free and pitched at an appropriate volume level—major kudos to the sound person—McEvoy's voice was so clear and emotionally potent that I quickly grabbed a seat close to the stage, put down my camera, and allowed myself to indulge in two or three songs. (The great white Judaeo-Christian Father in me is sure I will be punished for this sometime, somewhere, somehow . . .)
In the middle of McEvoy's powerful rendition of "Eve of Destruction," complete with updated lyrics to reflect the magnitude of the Syrian refugee crisis, I realized that I was willing to drop everything and be her go-to slave for the rest of my life. (Sorry, John Atkinson, but there you have it.) But when she then sang "Only a Woman's Heart," I realized that I might not prove either worthy of or eligible for the task. Instead, I headed to the table where McEvoy was selling/autographing her recordings, and pledged my lifelong devotion. Those who have heard this passionate artist know of what I speak.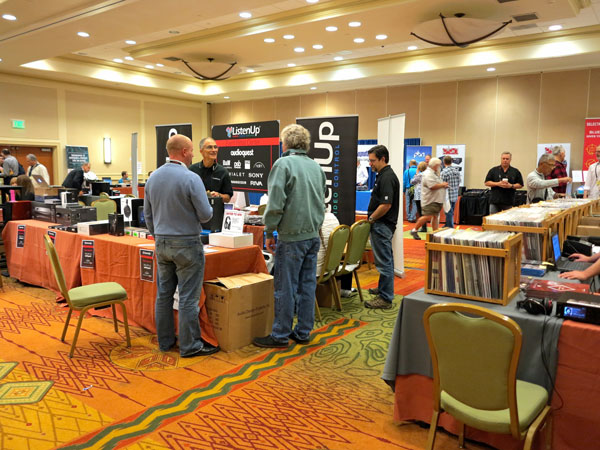 I took a brief poke into the large, expansive Marketplace to see what was on display, and what for sale. As much as I was tempted to check out all the goodies, I didn't linger very long at all, because music called.
I began my listening in the partitioned portion of the huge Evergreen ballroom that showcased three systems from Legacy Audio. Alas, perhaps because the hour was early, Legacy founder and President Bill Dudleston was chatting with visitors, and Patricia Barber was playing at very low volume. Not wanting to interrupt, I wasn't able to take a good listen to the Legacy V System loudspeakers in Rosewood finish with the new Wavelet processor/preamp ($51,500/pair), two Coda 15.5 amplifiers ($10,000 each), and a Metronome CD transport.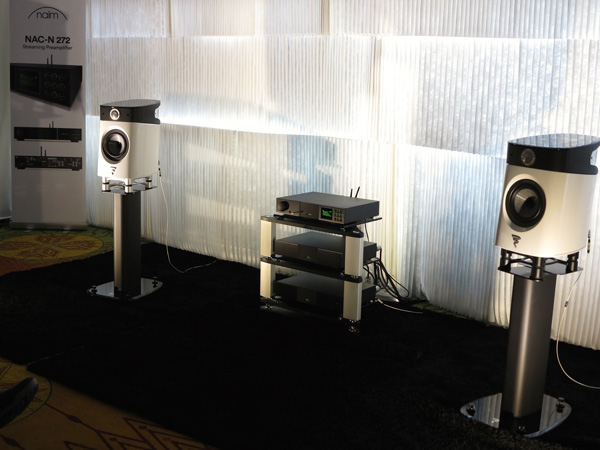 Mitch Bernatchez, Art Director at Audio Plus Services, certainly knows the power of a good visual presentation. Due to the décor, his attention-grabbing room on the lobby level was packed, with my seat way over to the side. It was also extremely quiet, with the room's feng shui helping to induce a state of hallowed awe.
Although my seat did not afford a good perspective for critical listening, a track from the hi-rez version of what has rightfully become an audiophile classic, M•A Recordings' Sera una Noche, sounded excellent, especially in the speed and clarity department. Doing the honors: Focal Sopra No1 loudspeakers ($8,999/pair with stands), Naim NAC-N 272 streamer/analog preamp ($5,995), Naim NAP 250-DR amplifier ($6,995), Naim XPS-DR optional power supply for NAC-N 272 ($6,595), and IsoAcoustics Aperta isolation stands ($239.99).
Although there was a touch of dryness to the sound, which was common to many of the subdivided ballroom exhibits on the lobby level, the distortion-free cleanliness of the presentation, as well as its beauty, immediately declared that this Constellation/Wilson /Nordost system would be among the finest I would encounter at RMAF 2015.
"The mids are to die for" is the first thing I scribbled in in my barely decipherable notes. Immediately overwhelmed by the beauty of what I was hearing, I never was fully able to get over the miracle of this system's wonderful, perfectly proportioned and estimably smooth midrange. But while the midrange was extraordinary in and of itself, it never once overpowered the system's equally wonderful high and low extension.
But that's not all. I was also seized by the wonderful colors and ideally realized percussion in a marvelous recording of Stravinsky's The Soldier's Tale. And "Kicho," a cut from the Blue Chamber Quartet's recording, First Impressions, confirmed that the system's lower -bass extension was indeed superb. If my schedule had afforded more time for indulgence, I would have lingered for at least an hour. Or a day. Of all the systems I evaluated at RMAF, for clarity, control, and color, this system's only rival was the Wilson/D'Agostino/Brinkmann/Lyra/dCS/AudioQuest/HRS set-up in the Marriott's Tower.
Doing the honors, speaker-wise, were Wilson Audio's Alexias ($52,000/pair). From Constellation Audio, we heard the Virgo III preamplifier ($30,000) with separate DC supply ($5000), Cygnus Media Server/DAC ($36,000) with separate DC supply ($5000), Centaur II 500W monoblock amplifiers ($80,000/pair), a complete complement of Nordost Odin 2 cabling plus a QB8 star ground power distributor ($lots), Artesiana equipment racks, and a whole bunch of Stillpoints Aperture acoustic treatment panels ($650/each).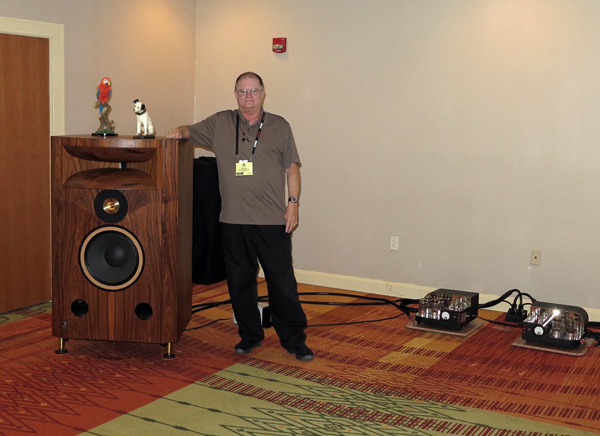 It's a shame that Jim Aud of Purist Audio Design cabling looks so dwarfed in this photo, because there was nothing at all small about the presentation. It was a delight to encounter, rather than yet another reprise of "The Dance of the Tumblers" or "Hotel California," music by Zebra Sommerwind. Equally delightful was system's really lovely midrange. True, in file playback of the rumbling start of Richard Strauss' 2001 classic, Also Sprach Zarathustra, the lowest octave was barely audible, the highs a bit ringy, and the percussion a bit washed out, but the midrange was, well, so classic through Classic Audio loudspeakers ($72,950/pair), that I decided to stay for yet one more track.
That track, from Wynton Marsalis, showcased perfect drums and gorgeous piano. Vocals were a bit edgy, but I kept returning to the beauty of the midrange. Also doing the honors: Purist Audio Design new Neptune series cabling and AC extension boxes ($38,700), Stahl-tek DAC (discontinued), Windows PC using JRiver, Atma-Sphere Novacron monoblock amplifiers ($19,200/pair) and MP-1 Mark 3.3 preamplifier ($16,200 with option installed), Kuzma Reference turntable ($8900) with Tri-Planar Ultimate 12 tonearm ($9800) and van den Hul GrassHopper Gold cartridge (discontinued). Listening: To be continued at the next show, perhaps with some updated components.