Jason's First Day Continues
Andy Carr, Marketing Director of the UK's Cambridge Audio, introduced two of the company's systems: a CX series system that included Cambridge Audio Aeromax 2 bookshelf speakers ($649/pair), and an 851 series that used Aeromax 6 floorstanders ($1299/pair). Both speaker models incorporate Cambridge Audio's BMR (Balanced Mode Radiator) drivers and dedicated subwoofers.
Playing a FLAC file of Eric Bibb's "Rocking Chair" through, I believe, the CXN upsampling network music player ($999), the lower priced system ($2700 total + XLO cabling) produced really nice, smooth sound that felt just right for grabbing a beer, settling down, and mellowing out . . .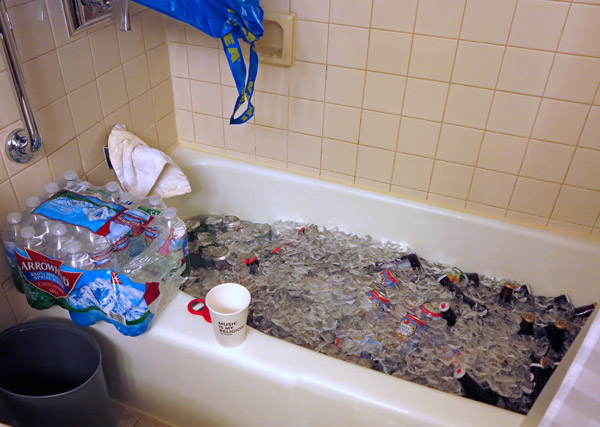 . . . which, having enlisted their bathtub as a giant cooling chest, is exactly what Cambridge Audio was prepared to invite you to do. Once having done so, you would have discovered that switching to more expensive components, including the Azur 851N flagship network player ($1799) and the larger speakers, delivered a more expansive soundstage along with greater life, clarity, and detail. All in all, these were two very nice, easy-to-listen-to systems, with the more expensive set-up conveying a greater sense of what the high-end is all about.
After 10 years partnering with Kimber Kable to produce a cable line that excels in rejection of EMI and RFI, the 30-year old Russ Andrews company from the UK chose the Rocky Mountain Audio Fest as the site for the official launch of Russ Andrews USA. Their game plan was to gather up a few older pieces of gear off eBay, including Focal bookshelf loudspeakers and a 20-year old CD player, and show the difference that a switch from generic cabling to $1072 worth of Russ Andrews and Kimber cables would make. Hence, two Russ Andrews RA-100 powerkords ($410/1m), one pair Kimber Timbre interconnects ($126/.5m), and 1 pair Kimber 4PR speaker cable ($126/2.5m) was called into play.
As conceptually solid as the idea may have been, there was one slight hang up. While Eric Clapton's Unplugged most certainly sounded small and tidy, emotionally and viscerally uninvolving, and distinctly one-timbre colorless through the stock cables, and had far more body, three-dimensionality and life through the Russ Andrews cables, the better cables also let us hear just how inferior and outdated the other components were. Which is another way of saying that the better cables conveyed more of the components' bright, etched, and distinctly unmusical digital edge. Oops . . .
As a service to fledgling and budget-minded audiophiles, RMAF sponsored three entry-level rooms at different price points. "Personed" by relatives, friends, and friends of relatives and friends of show organizer Marjorie Baumert, the three rooms housed systems whose total cost was roughly $500, $1000, and $1500.
Each room offered a choice of analog via loudspeakers, digital via loudspeakers, or digital via headphones. I skipped the headphone set-ups, whose coverage we intentionally left to Tyll Hertsens of our sister publication, InnerFidelity.com, and simply listened to whatever was playing at the time.
In the $500 system, the digital sound conveyed by Emotiva Airmotiv3B loudspeakers ($200/pair), an AudioQuest Dragonfly ($150), and a little Macbook Air equipped with Tidal ($220/year) was so harsh and brittle that I beat a hasty retreat without even listening to the analog set-up, the same speakers connected to a Music Hall USB-1 turntable ($250).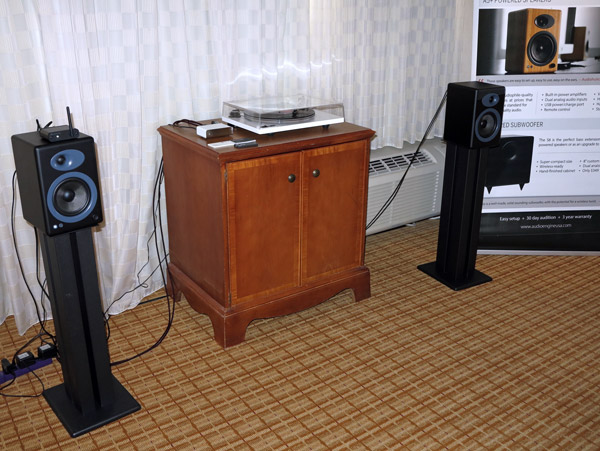 I discovered the $1000 system sounding so much warmer and inviting than what had come before as to make a convincing case for entry-level listeners to do anything necessary short of robbery or bodily harm to secure sufficient funds for purchase. Speakers were the excellent Audioengine A5+ babies ($400/pair), phono preamp U-Turn Audio Pluto ($89), and turntable U-Turn Audio Orbit Plus ($310). For people on a tight budget, the fact that the total cost of this digital set-up was $799 meant there was money left over for a cable upgrade from the stock cabling that came with the components.
If, perchance, we listened to digital music, the speakers and streaming service were the same, but Bluetooth receiver was the Audioengine B1 ($189) and DAC Audioengine's D1 ($169).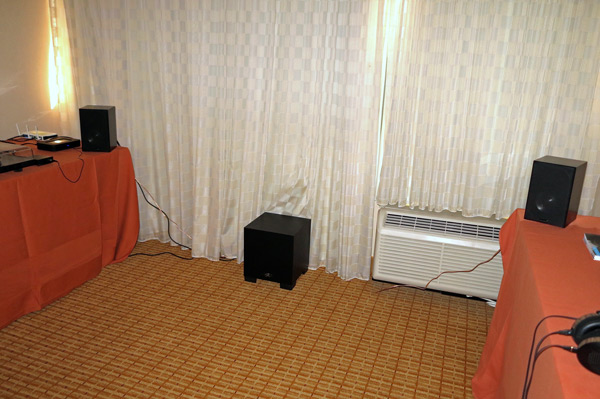 The $1500 system's set-up may have smacked of posh jail cell décor, but it also delivered very smooth and listenable sound . . .save for the subwoofer, whose output was so out of proportion to everything else as to suggest that the set-up person was more concerned with gonad stimulation than the big picture. Called into play, for analog, were Vanatoo Transparent One loudspeakers ($500/pair), MartinLogan Dynamo 300 sub ($299), Pro-Ject Head Box S preamp ($149), Pro-Ject Debut Carbon DC USB turntable ($549), and Tweak Studio 24" speaker stands ($50). The digital version of the $1500 system used the Blue Sound Node 2 hi-res wireless streaming music player ($499) and TIDAL, and ditched the analog front end.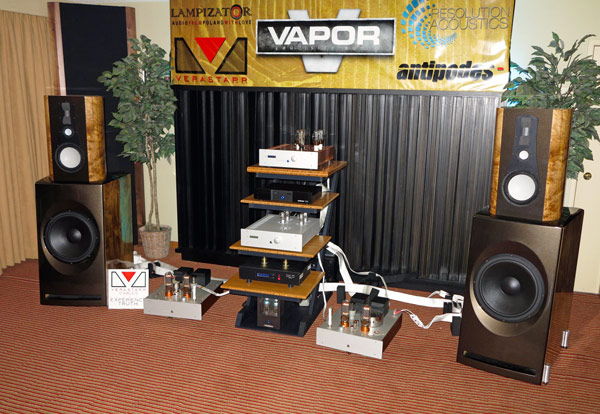 Backed by mood lighting that continually changed color, albeit not in synch with musical content, LampizatOr North America partnered with a number of other companies to present a most imposing system. Thanks to room treatment from Resolution Acoustics, whose proprietor, Bart Andeer, specializes in custom-made acoustic panels tailored to unique listening environments, the system graced recordings by Frank Sinatra, Gillian Welch, and Beck with a beautifully even gorgeous midrange and lovely warmth.
Doing the honors were, when I listened, were Vapor Audio's Perfect Storm White loudspeakers ($45,000/pair), which were debuting in final form after shipping snafus at AXPONA), and Vapor Audio's Forge Aluminum rack ($5999); LampizatOr's Golden Gate Balanced DAC ($19,800), which made its world premiere, and LampizatOr's 211 Balanced mono tube amplifiers ($11,000/pair); a complete complement of Verastarr Grand Illusion cabling plus their Nemesis USB; VH Audio Plasmatron 3-tube power conditioner ($3999); Zen Wave Audio SurgeX SEQ power conditioner ($1999); and Resolution Acoustics room treatment (approx. $43,000 total). Note that Andeer is poised to relaunch Resolution Acoustics with exceedingly lower cost treatment that will make his services far more available to audiophiles who find the best of equipment and intentions sabotaged by nasty nodes of one sort or another.
Later in the show, the LamizatOr tube monoblocks were replaced by a big Jeff Rowland solid-state stereo amp. Alas, there were too many rooms I had to cover to allow a return visit.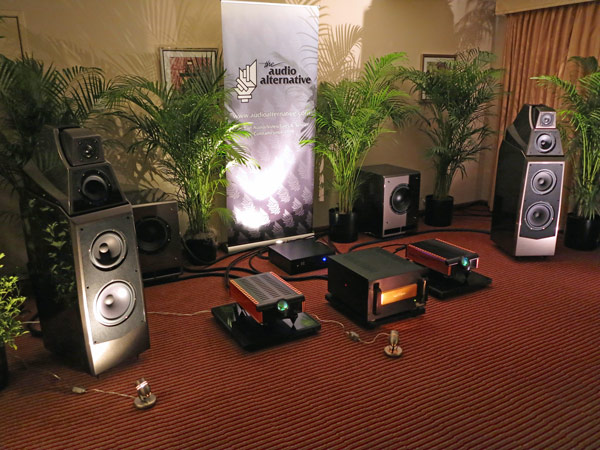 First, let me extend my apologies to anyone who was driven out of the Audio Alternative/Wilson/D'Agostino/Brinkmann/Lyra/dCS/AudioQuest/HRS room on the 9th floor of the Marriott Tower when Wilson's Peter McGrath, knowing that I had just submitted a huge piece on composer Henri Dutilleux to Listen magazine, played his own hi-res recording of the Escher Quartet performing the first movement of Dutilleux's stunning string quartet, Ainsi la nuit. This complex music, written for the Juilliard String Quartet, was composed under the spell of painter Vincent van Gogh's Starry Night, and attempts to achieve something similar to the painting's visual impact in sound alone.
Easy listening Ainsi la nuit is not. But once one is under its spell, it's hard to conclude anything other that Dutilleux was a visionary genius whose seductive mastery of color harks back to the music of Debussy and Ravel.
Because it is so highly dependent upon minute shifts in color and timbre to achieve its effects, Dutilleux's music demands a system that can convey everything it has to offer. Thus, I can state without equivocation that this anything but inexpensive system, whose product sheet from The Audio Alternative lamentably does not include prices, fleshed out colors and timbres in a most remarkable manner. Honestly conveying what was recorded without attempting to sweeten or prettify, and nailing every minute shift in shading and attack in breathtaking fashion, it ranks as one of the finest systems I've heard at an audio show.
Doing the honors were Dan D'Agostino Master Audio Systems' Momentum preamplifier, monoblock amplifiers, phono amplifier, and classic stereo amplifier; Wilson Audio's Alexia loudspeakers, Watchdog subwoofers (2), and subwoofer controller (2); Brinkmann's Balance turntable with 12.1 tonearm and RöNt II tube power supply, mated to a Lyra Atlas MC cartridge (none of which was auditioned); dCS's Vivaldi DAC and Vivaldi CD/SACD transport, AudioQuest's Diamond, Wild Blue Yonder, Wild Wood, and NRG-1000 cabling, as well as their Niagara 7000 Low-Z Power Noise-Dissipation System (2); and Harmonic Resolution Systems bases and stands (14 total).
At the end of the demo, McGrath switched the subwoofers in and out while playing a piano recording of a Haydn piano sonata. Although the recording had no lower bass information whatsoever, the addition of the subwoofer added so much more air and three-dimensionality to the presentation as to blow what was left of my mind.