The 2015 RMAF: Postscript
After I thought I had finished posting our coverage of the Rocky Mountain Audio Fest, I realized I still had a number of photos taken by Herb Reichert for which we had no accompanying text. So here are some brief notes from Herb to accompany those pictures.—
John Atkinson
There was a strong buzz in the Marriott halls about the sound of Ryan's four-way (made in California) Tempus III loudspeakers ($15,995/pair, above). They played Sara Bareilles singing "Sitting on the Dock of the Bay" while I scribbled "grainless, super-microdynamics, high detail, and piano sound A+++++."
Eva Cassidy's "Time After Time" filled the room in a most beguiling way thanks to the elegant Cabasse Pacific 3 loudspeakers ($16,000/pair) and the Esoteric K-03X CD player ($12,000) and Esoteric I-03 integrated amplifier ($9000).
Auralic's Aries wireless bridge, shown here with a pair of Audioengine speakers, was the winner of an International press award at RMAF, but the big news from this company was the launch of the Aries Mini, which costs $549 including a year's subscription to Tidal. Click here to read Michael Lavorgna's reaction. (He thought it was one of the stars of the show.)
I am thinking Blade Runner now. I know the Metronome Calypso Signature CD transport ($36,540) is not made of flesh and blood but it sure was sexy-looking, played music beautifully—and it is made in France!
What is not to like about the Audio Tekne 845 monoblock? It is handcrafted in Japan, populated by an orgy of iron, and can be converted to 211 tubes with the flip of a switch ($60,000/pair).
And check out those reclaimed maple, home-style friendly, stand-mounted DC10 Berlin R horn loudspeakers (made in Santa Fe, New Mexico).
If you are converting your LPs to high quality digital files, Channel D is the company to see. Their Pure Vinyl v.4 software ($299) sounded like a very happening scheme. Channel D also released Pure Music Version 3 at RMAF.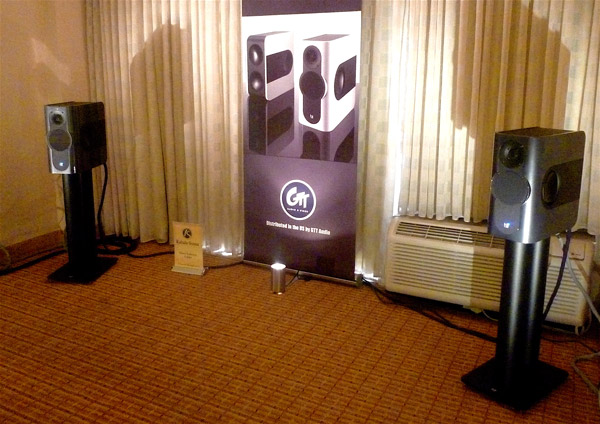 Looking all gun-metal great, the Kii Three, DSP-corrected, powered loudspeaker system ($13,900/pair) which was designed by class-D amplifier maven Bruno Putzeys and is made in the Netherlands wasn't just European, smart, and good looking, it played music with the best at the show. They played one of the Prokofiev symphonies and was back in old Russia wearing furs.
I am always a fan of Vanatoo speakers (I like saying their name, too). Vanatoo delivers value like few others. I fell in love with their new Transparent One powered speakers at RMAF ($499/pair). Bass was deep and low too!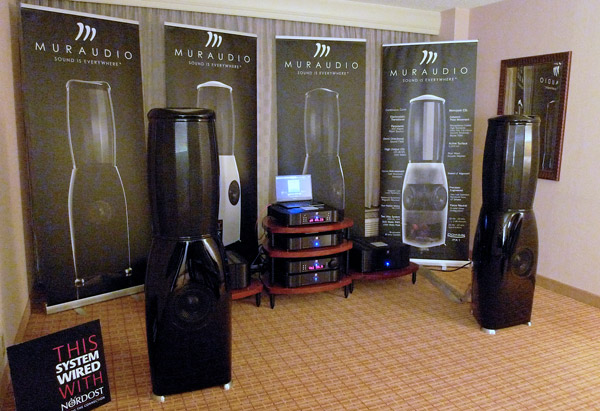 Bi-amped Muraudio electrostatic speakers ($63,000/pair) + supple power from Moon by Simaudio = amazing, lively, and hyper-transparent sound.
Well-Rounded Sound founder, Jerry Cmehil played Nikolai Rimsky-Korsakov's The Snow Maiden and made one of the most enjoyable demonstrations at the show. The WRS EXP SE hand-crafted speakers ($4999/pair) were driven by the mad-cool metal Block amplifier ($5999).
Michael Vamos (Audio Skies) had two rooms. Both played black discs on Pear Audio turntables and both featured Gamut speakers and amplification. Both were making arguably—maybe even absolutely—the best sound at RMAF. Shown in the RS7 speaker that JA very favorably reviewed in the September issue.
And last but not least, Andrew Jones, responsible for superb speaker designs for TAD at the top of the price spectrum and for Pioneer at the bottom and now working for ELAC, introduced the new F5 floorstanding speaker speaker at RMAF, to be priced at a very competitive $550/pair!