Gryphon Ethos CD player-D/A processor Page 2
Many audiophiles use computers for file playback and streaming, but I have yet to encounter a non-dedicated computer with a noise floor as low as a good quality music server/streamer. This was certainly the case with my Macbook Pro, which I also use for show coverage, email, etc. While I easily affirmed that, using Roon, I could play DXD and DSD128 files via USB—Roon's playback limit is DSD128—the same pervasive grayness I experience when I run signal via USB from my computer to my reference dCS Rossini setup impacted my enjoyment.
Because I wanted to hear the Ethos at its best, I opted for Roon Nucleus+ into the dCS Network Bridge via Ethernet into the Ethos via AES/EBU for the remainder of my listening.
As I write this, Gryphon is not yet an official Roon partner endpoint, but the Ethos recognizes Roon software and impressed me as taking full advantage of Roon's sound and metadata (footnote 1). (Among the many documents available for download on the Ethos webpage is one that addresses USB Roon Core Setup.)
Once connected, I can't imagine that anyone would have difficulty using the Ethos. The letters on the display that indicate when unsampling is engaged are small but visible from 12' away, and choices between filters and PCM or DSD upsampling are indicated in big print at the time of engagement. You will have a harder time seeing track numbers and other information from afar. Downloadable USB drivers are required for Windows users, but that's the case with virtually all DACs I've reviewed.
Being wowed
I started out with my CD of Patricia Barber's Jim Anderson–engineered Higher (CD, ArtistShare AS0171), our September 2019 Record of the Month, and compared its sound to Red Book FLAC files of the recording. Both ways, the sound was drop-dead gorgeous. With the REF 6 adding just a wee bit of extra warmth, glow, and air, I loved the natural fullness of the midrange and the guitar's spot-on tonality.
Sticking with CD, I turned to an old reference standby, "Insensatez" from Entre Amigos, by bossa nova singer Rosa Passos and double bassist Ron Carter (CD, Chesky JD247). The sound's ivory-tinged core was beautiful, and bass depth and control were excellent. Listening to Murray Perahia's performance, on piano, of Handel's Harpsichord Suite in E, HWV 430, from Murray Perahia Plays Handel and Scarlatti (CD, Sony Classical 62785), was a total joy.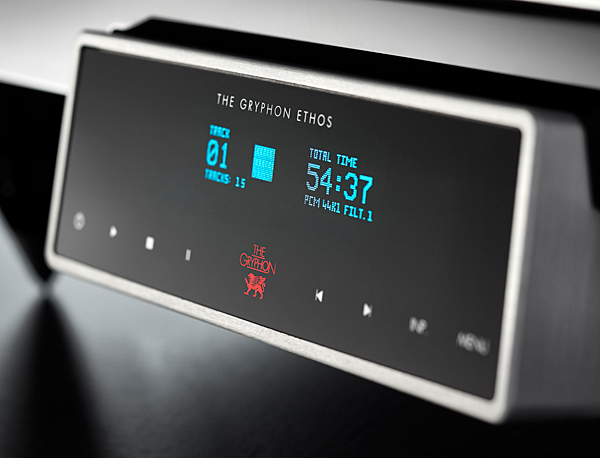 Going back and forth among 10 filters (7 PCM AND 3 DSD) can be a recipe for madness, so I spent only a short amount of time comparing them. For PCM, each of the seven choices had strengths in one area or the other, but for my tastes, default Filter 4 offered the best overall combination of extended highs, full midrange, well-defined lows, and soundstage width and depth. As for DSD, I failed to discern a difference between the three filters, which differ only in their choice of ultra-high passband frequency.
Midway through my time with the Ethos, I was delighted that Gryphon's US distributor, Philip O'Hanlon of On a Higher Note, paid a visit to Port Townsend. In his bag was a huge stash of reference discs, many of them hybrid SACDs. Although, per Stereophile's review policy, I didn't share my listening impressions with O'Hanlon, I could not hide the smile in my eyes when he played the CD layer of his Tony Faulkner–recorded hybrid SACD of the Florestan Trio performing the second movement of Debussy's Piano Trio, on their recording of Debussy, Fauré and Ravel Piano Trios (Hyperion SACDA67114). Depth was exemplary, and the piano's glow all one could ask for.
Or was it? This seemed the perfect time to experiment with the Ethos's upsampling feature. Once upsampled to DSD128, I felt that all barriers between me and the music fell away. While DSD upsampling certainly seemed most appropriate for the Red Book layer of a hybrid SACD—at least inasmuch as I would inevitably compare the experience to the sound of the disc's DSD layer—upsampling to either DSD or 24/384 PCM enhanced listening with additional air and depth. There was a far greater sense of believable acoustic space around the musicians, as well as additional texture and overtones. I liked the upsampling feature a lot.
Next, O'Hanlon chose the Red Book layer of a hybrid SACD of Vladimir Ashkenazy leading the Sydney Symphony Orchestra in Prokofiev's Lt. Kije Suite (Exton EXCL-00049). Prokofiev's music no longer draws me as much as it did in my childhood, when I played 78s of Peter and the Wolf many times, but I loved what I was hearing. In the second movement, baritone Andrei Laptev's voice especially impressed with its strength and beauty. We also auditioned hi-rez files of the Soundmirror-engineered version of the Lt. Kije Suite, from Thierry Fisher and the Utah Symphony Orchestra, due out soon on the Reference Recordings Fresh! imprint—it excels in sonics rather than conducting—and discovered that the Ethos conveyed pounding percussion with aplomb. Further confirmation that the Ethos can rock out came when I played tracks from Yello's Toy (24/48 WAV, Polydor 4782160/HDtracks) and, courtesy of Roon Radio, went flying on a pop music magical mystery tour.
Taking my lead from O'Hanlon's choice of Debussy, I cued up files of two recordings of Debussy's haunting Trois Chansons de Bilitis: one by mezzo-soprano Marianne Crebassa and pianist Fazil Say from Secrets (24/96 WAV, Erato 564483), and the other from one of Debussy's favorite interpreters, soprano Maggie Teyte, with Alfred Cortot, from Maggie Teyte: A Vocal Portrait (16/44.1 WAV, Naxos Historical 8110757-58). The Ethos conveyed their artistry with such clarity and beauty that for several days after, the cycle's second song kept playing in my head. With upsampling engaged, I felt that I could hear every slight nuance and breath of Crebassa's performance, and I was moved as never before by the intentional absence of vibrato as she deepened her voice in the final song to simulate a man saying, with great profundity, "Les satyres sont morts/Les satyres et les nymphes aussi." No one I've heard does a better job with these lines than Teyte, who liberally infuses singing of exquisite delicacy and unsurpassed intimacy with an idiosyncratic downward portamento that makes me feel as though she's experiencing any number of little deaths. (She has no equal in this regard.) As many times as I've heard these women's performances, I still found myself sitting in rapt attention, as though hearing them for the first time.
When we compared DSD to PCM upsampling on 24/96 WAV files of two different recordings of Debussy's Sonata for Flute, Viola and Harp—the period instrument Claude Debussy: Les Trois Sonates/The Late Works (Harmonia Mundi HMM902303) and modern instrument Debussy Sonatas & Trios (Erato 565142)—I preferred PCM upsampling with native PCM material. Even though upsampling to DSD128 enhanced the depiction of recording venue dimensions and distance from microphones, its ultrasmoothness got under my skin. It worked fine with native DSD material, but upsampling PCM to PCM 384 transmitted more of the natural leading edge of instruments and voices, and felt more open, organic, and credible.
After O'Hanlon left, I headed to Tidal and Qobuz for two 16/44.1 tracks he'd played from disc: Bob Walsh's "Ain't No Sunshine When She's Gone" and Anette Askvik's "Liberty." I loved the sound of both but was especially seized by the additional attention-getting clarity and bass that came with PCM upsampling.
When I switched to my reference dCS Rossini DAC/transport/clock gear, I went back and forth more times than a dog turns in circles before sitting. I felt that the circa $60,000 Rossini combo set images farther back in the soundstage, surrounded by even more air. It let me hear the back of the hall in ways I did not experience with the Ethos. On Rosa Passos and Ron Carter's "Insensatez," the Rossini upsampling transport conveyed more vibrant highs, more of the bass's bottom octaves, and sounded a mite warmer and smoother. On Ashkenazy's Prokofiev, the airier Rossini better conveyed the third movement's humor and scamper.
I had hoped to hold onto the Ethos long enough to audition it with the D'Agostino Momentum HD preamp that arrives next for review, which would have afforded yet another window into the Ethos's sound. Timing is everything, however, and the Ethos had to move on to the Capital Audio Fest. If you ever hear the two together, count me eager to hear your report.
Conclusion
God, Serinus, are you about to file yet another rave review? Have you been bought off by manufacturers, or are you listening through rose-colored glasses?
Lest I come across as a perpetually smiling Girl Scout cookie salesperson, whose innate optimism could convince a diehard nutritionist that sugar and white flour are health foods, rest assured that the antiglare tint on my plastic lenses is yellow rather than rose. Regardless, my response to the sound of the Gryphon Ethos CD player and digital-to-analog converter requires more smileys and flowery GIFs than this space can reproduce. The Ethos is one open, marvelously detailed, and fresh-sounding unit that makes listening to music an absolute joy.
---
Footnote 1: Perhaps by the time you read this, Roon will have issued a major software update that adequately addresses the software's difficulty recognizing classical files that include diacritics and other indicators that, in Roon, render the files invisible.