Gary Clark Jr.: Up From The Blues
Playing the blues gets old fast. Since this most fundamental American popular music, stopped being the African-American party music of choice, and became a traditional music, celebrated as the precursor of rock'n'roll, blues players face a stark choice: change, or be content with playing small clubs and bars.
Perhaps the best example is Robert Cray, whose moment in the sun was in 1986, when his album Strong Persuader was released, and who, ever since, has been stymied in his search for new momentum in a new direction. A more recent example, from Austin, TX, is Black Joe Lewis. Once signed to now-defunct Lost Highways Records, Lewis was the quintessential young blues star who was "going to break through," but he's fallen off the radar, despite a bitterly titled Electric Slave, released in 2013 by the indie label Vagrant.
Because the blues are so well known, and can quickly become a series of musical clichés—particularly when you're talking about guitar players—young, ambitious musicians like Gary Clark Jr., who want to make more than a modest living from music, have to figure out a way to somehow build on the blues to create their own music. This undoubtedly means a hipper blend of influences that include hip-hop and EDM, and that will appeal more to a younger crowd than to aging blues nerds—music that will sell out arenas and sheds, and raise a musician's profile to star-level pay and adoration.
That's exactly what Clark has attempted with The Story of Sonny Boy Slim, his third self-produced album for Warner Bros. He's grown from being a blues-kid teen phenom sitting in with adults in his hometown of Austin, through a period in his mid-20s when his psychedelic string-bending solos evoked cries of "the next Jimi Hendrix!," to this non–guitar-centric, non-blues-centric record in which he plays nearly all the instruments himself and tries to refine his ideas into his own new music. Reached in New York City on the eve of a European tour, to be followed by a summer US tour opening for the Foo Fighters, Clark said that making Sonny Boy was a long slog.
"I'd be on the road, jump in for a couple weeks at a time, lay down the ideas that I had, and then sit back and listen while I was on a plane or bus. We cut about 28 ideas, then narrowed it down to 13. There is some stuff that didn't quite work out, but I'll go back to it.
"The process was, I was there in a room. I had some bare ideas—things that I collected, things I sang and played into my phone—and I'd just set up all the instruments, and the guys in my band just sat back and let me figure out. I put it together. It took a little while—I wrote a lot of new things while we were in the studio. I got to go into the room and just play and experiment, and be free and open like a 12-year-old kid. I was a kid in a candy store. I had a bunch of toys and they let me just let loose. They're very patient. They had some moments where they raised their eyebrows, like, 'What the hell is this guy doing?'—but it finally made sense to everybody."
Decidedly unbluesy, The Story of Sonny Boy Slim is Clark's soul record. Clark, who's gifted with the kind of strong voice that will ultimately save his career, took the late Curtis Mayfield as his model in the three tunes that are the heart of the album. The first track, "Hold On," opens with a sample meant to mimic a scratchy LP, and is probably the best-crafted tune on a record that also includes short song fragments ("BYOB") and tracks that bear the marks of having too much time spent on them ("Star"). Clark's Mayfield-like singing, and his guitar crying behind the chorus, are satisfying. His Mayfield-like falsetto returns in the next track, "Cold-Blooded," as does a horn chart from the trio Hard Proof Horns.
Another new direction on Sonny Boy Slim is the album's most composed number, "Can't Sleep." It has a bouncy, steady dance rhythm, bravura singing from Clark, and its at-a-party narrative borrows a bit of inspiration from Marvin Gaye's "What's Going On." However, as in most of Clark's love songs, hints of menace and insecurity creep in: "Now you're the reason I can't sleep at night / And I can't go home, I know it ain't right, / I gotta leave you alone." Most telling of Clark's departure from guitar blues, in this tune Clark's guitar is heard only in brief squeals behind his voice.
"Of course, I like blues, I respect the art form—but you know, I'm a child of the '80s and '90s," said Clark, who has also mastered a subdued but hip fashion-forward look. "I grew up with all kinds of things: Prince, OutKast, Nirvana, Biggie, Tupac, the whole West Coast movement, Too $hort, the Houston rap scene, DJ Screw, Lil' Keke, and guys like that. I soaked it all up. So I'm influenced by all those things. And I'm influenced by my parents and what they listened to: funk and soul, Parliament, Funkadelic, Lamont Dozier, Diana Ross and the Supremes, Smokey Robinson and the Miracles, Stevie Wonder.
"I feel like I've always been my own producer. Before I made Blak and Blu [2012], there was just me and the engineer and the band, so I was always very hands-on about how I wanted things to sound and how I wanted to improve the instrumentation, the arrangements. So with this record, I kinda feel like I'm bringing it back home, right in my comfort zone. It felt very natural and organic."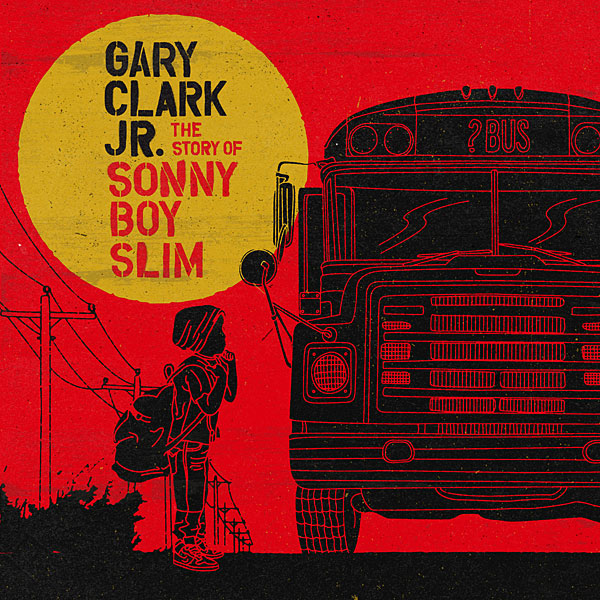 Because only an MP3 stream of Sonny Boy Slim was available as this issue went to press, I couldn't really assess its sound quality. Clark said that while most of the album was recorded straight to Pro Tools, he also "beefed it up, warmed it up with some tape."
A protégé of the late Clifford Antone, the legendary Austin club owner, Clark has enjoyed a rapidly ascending career. After playing, in his teens, with every notable Austin musician, he went on to make successful festival appearances: at Crossroads (2010), Bonnaroo (2011), and, at the White House, the Red, White and Blues Festival (2012). He's since been a frequent guest of and/or opening act for the Rolling Stones, and constantly tours as an opening or headlining act. The Story of Sonny Boy Slim has also freed Clark from being his own band's guitar-hero frontman, blazing away on solos night after night on the Epiphone guitar model named for him. For Sonny Boy, Clark concentrated on playing rhythm as well as lead.
"I love Nile Rodgers, Matt 'Guitar' Murphy . . . I remember all the guys down on Sixth Street would say, 'Yeah, any guitar player can play a solo, but when it's not solo time, you got to be part of the band and play the song.' It's not all about playing lead. I really wanted to play rhythm guitar and have colors, different tones and textures in all the music, so I was really excited about being able to play rhythm and work out parts and structure—lining up and playing in the pocket, playing in the groove to help enhance the song, and not distract. And when that feeling's there, there's nothing like it. That's the kind of stuff that makes you close your eyes and bob your head to it. I'm all about that. Curtis Mayfield and Marvin Gaye? The rhythm guitar on all of that is really beautiful."
Possibly, Sonny Boy Slim's best tune—or at least the most fun to listen to—is "Shake," a '60s-style garage-rock rave-up that recalls everyone from the Sonics to Lonnie Mack. When I mention it, Clark gives a little laugh. "This guy that I know makes, like, cigar-box guitars, and there was this one that was a Quaker oatmeal can. It had three strings, and I just kind of picked it up and was kind of playing around with it. I came up with that riff, and I thought, 'We gotta cut this.' So I called up my buddy [drummer] Jay Moeller, who I've known for years. I kinda grew up with him, and he taught me everything I know, and I was, like, 'Man, you would be perfect on this. It's kind of a Hound Dog Taylor crazy thing.' We grabbed it in one take. We kind of made it up as we went."
Although Clark, who's mastered a subdued but hip fashion forward look, recently moved to Los Angeles with his wife, Australian supermodel Nicole Trunfio, and their child, one-year-old Zion Rain Clark, ("In making this record, I had a lot to draw from," he said of fatherhood), he says he'll always be connected to Austin and the long tradition of great Texan blues-guitar players. "I definitely do feel connected to that Austin tradition, because that crew and that family kind of raised me in this music world. While I was going off and doing other things, and listening to hip-hop and rock'n'roll, punk, or whatever, my main musical source in education came from that, and those guys really gave me a chance and let me figure it out on my own. In the blues, I love T-Bone Walker, Freddie King, Albert Collins. Of all the Texas guys, though, Freddie King was the most intense and powerful. He was really bluesy, but he had that funk aggressiveness, that big, heavy groove, that I can really relate to."
Connected to the blues, Clark is determined to create a new music shot through with the past, yet filled with enough modern references to attract a younger, non-blues audience. The Story of Sonny Boy Slim is the first step in that journey.
"I also don't want to spend my life and my musical career trying to re-create B.B. King's Live at the Regal. As much as I love that record, it's been done. And while I have respect for it—Stevie Ray Vaughan's Live at Carnegie Hall, too—they did that, and laid the foundation to where you have to grow from there. The blues police may not like me, but that's okay. I'm still me, and I'm comfortable with that.
"This record is something personal to me about where I come from and where I am now, as a man and as a musician. I took a lot of time to sit back and reflect. In my family, my mom called me Sonny Boy, and the guys around the smoky blues bars in Austin, when I'd walk up they'd say, 'Hey, Slim.' So all those things kind of got me to where I am now, so I just put them together into Sonny Boy Slim. That's the story."