The Entry Level #42 Page 2
The a15.3 measures the same as the c-dac15.3, weighs about three pounds more, and comes with the same robust AC cord and attractive remote control. (Both models can be controlled with a
single
one of these remotes.) Inputs can be selected either from the remote control or by pressing one of the buttons, clearly labeled "one" through "five" and "phono," on the front panel. Both amp and CD player have handsome faceplates of brushed aluminum, available in any color you want, as long as it's black.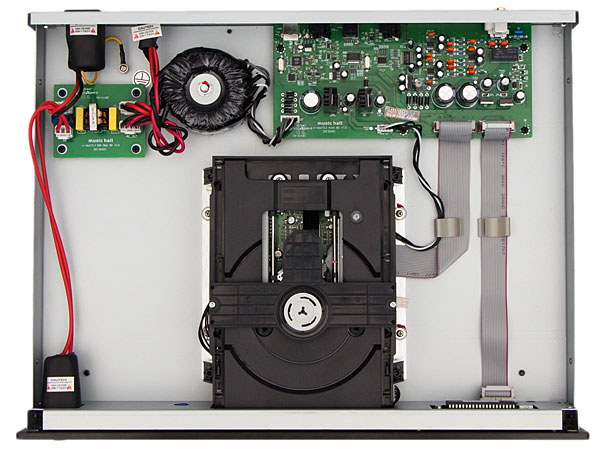 The Music Halls replaced my Arcam's A19 integrated amplifier ($999). Speakers were KEF's LS50. Cables and interconnects were AudioQuest Rocket 33 and Big Sur. Like the c-dac15.3, the a15.3 performed flawlessly while it was in my system. Both products exhibit a high level of fit and finish, with a solid overall look and feel that belie their relatively modest price.
"Music Hall is known for great-value-for-money products," Hall told me. "This is a blessing for the end user and a curse for us. It makes it really hard to make a decent margin."
Music Hall electronics are designed in the US and manufactured in China. The company has longstanding relationships with overseas vendors who understand its needs and budget.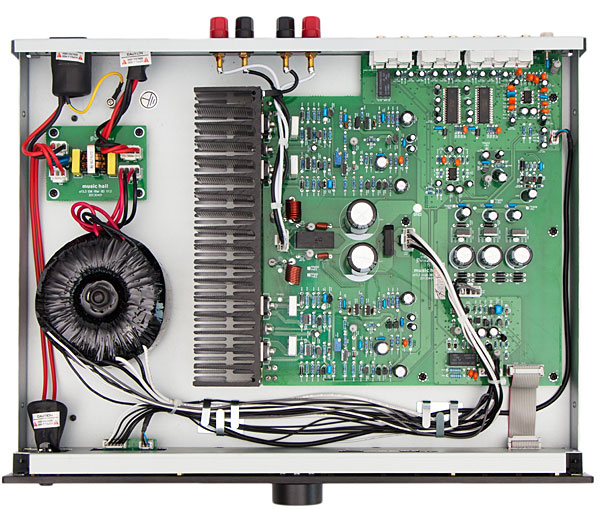 "There is far too much overpriced equipment on the market," Hall continued. "Most of it sounds like crap. I just love to fuck the competition."
Business, for Hall, is "flying." The high-end audio industry in general is in good shape, thanks in large part to increased interest among young people and first-time shoppers looking to improve the sound of their portable devices. "The iPod brought musical convenience to the world, but also ignited a craving for better sound. Thank you, Steve Jobs."
Neil Young's PonoMusic
At the recent South by Southwest Music Conference and Festival, held March 7–16 in Austin, Texas, Neil Young gave his best Jobs impersonation, discussing the official launch of PonoMusic, which he and Silicon Valley entrepreneur John Hamm founded in 2012—a three-tiered "ecosystem" comprising a webstore offering high-resolution downloads, a file-management application, and a high-resolution portable music player.
Measuring 5" L by 2" W by 1" D, with a total storage capacity of 128GB (64GB internal plus optional 64GB SD card), and with audio circuitry designed by Ayre Acoustics' engineers, the PonoPlayer ($399) promises portability, convenience, and outstanding sound quality. Many audiophiles will be seduced by an Ayre-designed DAC that costs almost $3000 less than the Boulder, Colorado, company's highly regarded QB-9. But the computer-savvy hi-fi enthusiast might wonder whether PonoMusic has anything new to offer over existing software providers and audio sources. In other words: What's the point? We already have Acoustic Sounds, HDtracks, 2L, and others; we already have Astell&Kern, Calyx, HiFiMan, and others. Basically, PonoMusic offers nothing new, and Young says as much in an interview with AudioStream.com's Michael Lavorgna.
For most casual consumers, however, what we already have is far too complex. The general music lover who is interested in hi-rez audio files doesn't want to think about file formats, bit depths, sampling rates, software, or hardware. PonoMusic wants to eliminate most of those messy complications inherent to computer audio. It doesn't strive to answer basic questions so much as avoid them. You'll go to the Pono store, purchase your desired albums, download the files to your computer, manage those files with the PonoMusic app, and play the files with the PonoPlayer. You don't have to select among various file types—Pono decides for you. The Pono store doesn't sell different file formats; it sells only PonoMusic—FLAC files—but the device itself will also play AAC, AIFF, ALAC, MP3, and WAV files. You don't have to know about Amarra, Pure Music, or other specialized music-playback software: The PonoMusic app handles file management. You don't have to know about other DACs or accessories: The PonoPlayer is all.
This sounds a lot like Apple's iTunes, doesn't it? It should. People already know how to use iTunes. PonoMusic simply promises better sound. But why hasn't Apple done this already? Maybe the company has other priorities. In the fourth quarter of 2013, Apple sold 33.8 million iPhones, 14.1 million iPads, and 4.6 million Macs. PonoMusic is being launched through the Kickstarter crowdfunding website—not necessarily because Neil Young and his team need the money, but because, as we've seen with Light Harmonic's use of crowdfunding (footnote 2), Kickstarter provides a built-in audience of prospective buyers and enormous marketing potential. PonoMusic quickly reached its funding target of $800,000, and, as of March 18, with 28 days remaining in its campaign, had been pledged $4,104,260—equivalent to about 10,286 PonoPlayers. Not bad, but a far cry from Apple's 33.8 million iPhones. Everyone here in the Stereophile office is anxious to see how much support PonoMusic will gain by the end of its Kickstarter campaign. Perhaps Apple is, too.
Of course, there are also issues of storage capacity and processing speed. When I've stored too many iPhotos on my iPhone, processing becomes frustratingly slow. What sort of performance could I expect from my iPhone if I used it to store and play hi-rez audio files?
While I see great potential for PonoMusic, my biggest concern has to do with the music itself. According to PonoMusic's Kickstarter page, the company is supported by "all the major labels"; that's great, but what about independent labels? Each year, I spend about $5000 on music; maybe 5% of that goes toward major-label releases. If PonoMusic can secure relationships with independents—and not just Drag City, Matador, Sub Pop, and their excellent subsidiaries, but smaller independents like Burger Records, Modern Love, Room40, Type, and uncountable others—then even I might have to pono up.
Someone new to make fun of
Meanwhile, back in NYC, at Harman's impressive new flagship store—527 Madison Avenue, just blocks from Stereophile HQ—Harman's director of acoustic research, Sean Olive, presented his findings on the perception and measurement of headphone sound quality. Olive wants to determine the ideal frequency response for headphones—one that will prove faithful to the music, satisfy the most listeners, and generate the greatest sales. (You can read more about it at Tyll Hertsens's blog at InnerFidelity.com, or at Olive's own blog.)
Olive had many interesting things to say, but I was most impressed by the number of young people in attendance. I walked into Harman's main listening room to find three enormous college students squished into a small couch, absolutely blown away by the sound coming from a system comprising Revel loudspeakers, Mark Levinson electronics, and AudioQuest cables. Their ambitious beards could not conceal their bright young smiles. Pure joy practically burst from their chests and tore through their flannel shirts and hoodies. In the shop's street-level showroom, another 20 or so scruffy-looking youngsters displayed deep interest in Olive's work, asked intelligent questions about hi-fi, and spoke passionately about music and the future of audio.
Perhaps Roy Hall will someday have a chance to make fun of one of these guys, I thought.
The sound of Roy Hall
It should come as no surprise that hi-fi products, especially the most artisanal, to some extent reflect their designers' interests and values. But I've sometimes entertained the seemingly silly idea that hi-fi products actually sound like their designers. It's a fun game to play. DeVore Fidelity loudspeakers, like John DeVore, are warm, inviting, and seem to have a special appreciation for voices, percussion, and strings. Luke Manley's VTL amplifiers are ultimately respectful of the music, uniquely reliable, simultaneously professional and personal. Heinz Lichtenegger's Pro-Ject turntables are equally attractive to longtime hobbyists and beginners, have a well-balanced overall sound, and are just plain smart.
Roy Hall's products don't beat around the bush. They tend to sound direct, clear, and engaging. This was especially true for the combo of c-dac15.3 CD player–DAC and a15.3 integrated amplifier. Compared to the combination of my NAD C 515BEE CD player ($299) and C 316BEE integrated amplifier ($380), the Music Hall gear was more open and airy, and produced a wider, deeper soundstage with beautifully focused images. Highs were more extended and attack transients snappier, but the Music Hall combo lacked the NADs' intangible smoothness and musical flow. The NADs sound more seductive, drawing me steadily into the music, while the Music Halls brought that same music forward and enveloped me in brilliant sound.
"Slipped Dissolved and Loosed," from Lambchop's Oh (Ohio) (CD, Merge MRG335), was a joy. I've heard more body and guttural warmth in Kurt Wagner's voice, but rarely more detail: the soft parting of his lips, the shimmer of fingertips sliding across electric guitar strings, the beautifully articulated churn of a strummed acoustic guitar, and all of the dazzling spatial elements—musicians and voices tautly hung in the space between my speakers—were simply so much more fun to hear.
I had even more fun when streaming music from iTunes, through an AudioQuest Cinnamon USB cable ($79/1.5m), to the c-dac15.3's rear-panel USB input. I noted the same clarity and excellent spatial abilities, but was now made more aware of qualities specific to the recording: Dynamically compressed recordings, such as "I Stare at Floors," from Protomartyr's killer new release, Under Color of Official Right (320kbps MP3, Hardly Art HAR-081), sounded dynamically compressed—small, edgy, drained of potency. But dynamically free recordings, such as "Comfortably Numb," from David Gilmour in Concert (WAV ripped from CD, Capitol C9 4 92960 9), with Robert Wyatt taking the lead vocal, sounded fantastic, with a wealth of detail and a great sense of the recorded ambience.
The a15.3's front-panel headphone jack, feeding a set of B&W P3 on-ear 'phones ($199.95), fared less well: It produced a constant hum (John Atkinson would speculate that this was because it didn't know the words), and music, in general, sounded soft and less present. Nevertheless, the headphone jack is there if you need it. Most users, I suspect, will most likely not need it.
Far more fun was to be had with LPs. Music played through the Music Hall a15.3's phono stage sounded superb—quiet, dynamic, and emotionally compelling. I was glued to my seat while listening to MoFi's recent Silver Label reissue of the awesome Santana III (Columbia/Legacy/Mobile Fidelity Sound Lab MOFI1-039), with the young Neal Schon on electric guitar and Thomas "Coke" Escovedo playing fiery Latin percussion. The guitars were rich in detail and texture, the percussion fast and true, and the spatial effects—panning, swirling, phasing—seemed to reach into the listening room, wrap me up in colorful threads, and transport me into space. That crazy, psychedelic transition between "No One to Depend On" and "Taboo" was so especially thrilling and emotionally charged that, for a moment, I considered calling Ms. Little from the bedroom to listen with me. Instead, I turned the system down, lifted myself up, and joined her.
Roy Hall, I figured, would be okay with that.
P.S.
This is the 42nd and final installment of "The Entry Level." As John Atkinson mentions in this issue's "Industry Update," next month will see this space filled by Michael Lavorgna's "AudioStreams" column, which I cannot wait to read.
In August 2000, I was hired as Stereophile's editorial assistant. At the time, I knew nothing about high-end audio. Today, despite the joke I made earlier about my shifting priorities, hi-fi is one of my dearest passions. I wouldn't want to live without it. Far more important to me, however, are the many beautiful people I've met, and with whom I've corresponded, during my time with the magazine. It's comforting to know that we'll meet again—at hi-fi shows, dealer events, concerts, record stores, and listening rooms. Over the last few years, I've been living a dream: I've been a writer. What a gift—what a privilege—it has been to share my thoughts and experiences with you, Stereophile's readers. I'll never forget the time we've spent together. It's made me stronger, happier, and, I believe, better prepared for the future. Thank you.
---
Footnote 2: The LH Labs Geek Out USB DAC–headphone amp is now shipping.