The Entry Level #27 Page 2
The first thing I noticed about the CLs' sound was that it was
big
—full-bodied and present in the best possible way. Halle Berry! It had all the low-end impact of the Solo HDs, but added transparency and detail. About 25 seconds into "Money Trees," one of my favorite tracks on Kendrick Lamar's awesome new album,
good kid, m.A.A.d. city
(CD, Top Dawg/Aftermath Entertainment 1753602), the bass enters. Hard. It's supposed to make you move, screw up your face, squint your eyes, sway your head. It's funky, exaggerated, raw. The Harman/Kardon CLs got this right, and did so without muddying the midrange or losing their grip on the rhythm. The music flowed steadily and easily, never sounding confused, cluttered, or congested. Hallelujah: I'd found bass.
The same track through the B&W P3s sounded veiled, distant, too polite. They got the point across but missed the soul. Still, the B&Ws excelled at re-creating a sense of space: I heard greater separation between Lamar's lead and (overdubbed) backing vocals, and the B&Ws' smooth, airy highs were admirably sweet and delicate. But while I appreciated the P3s' delicacy, I was consistently drawn to the CLs' more forceful, authoritative, full-figured sound. Best of all, the H/Ks' careful balance of fine overall transparency and excellent low-end weight and impact not only benefited hip-hop and electronic music, it worked well with everything I played, from Ornette Coleman to Sonic Youth to Erik Satie. Ultimately, music through the CLs was more alive—which made them the headphones I reached for first.
If only the Harman/Kardon CLs were a tad smaller, sleeker, more luxurious. If only they looked and felt exactly like the B&W P3s. Maybe then I'd have everything.
Emotiva: Made with love
If there's an audio company that has it all, it's Jade Design, parent of Emotiva, Emotiva Pro, and Sherbourn. Before my visit to the company headquarters, in Franklin, Tennessee, I had invariably seen in the company's founder, Dan Laufman, a special kind of contentment, an ease, a happiness. Or was he merely arrogant? I couldn't be sure. In the Emotiva room at the 2011 Rocky Mountain Audio Fest, with a slew of new Emotiva products on display, Laufman told me that he'd never been happier: "I spent so much of my life doing things I didn't want to do, now that I'm doing what I love, it feels like I'm living a dream."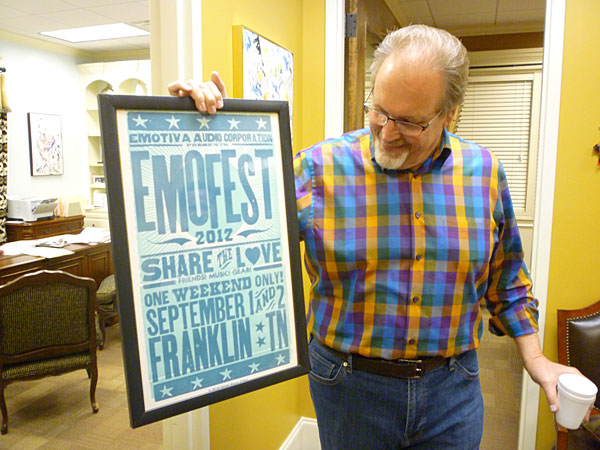 I smiled and looked around: Laufman's wife, Cathy, Emotiva's vice president, was also smiling; his daughter, Jessica, Emotiva's marketing director, was smiling; his longtime partner and friend, Lonnie Vaughn, Emotiva's VP of engineering, was smiling. What the hell was going on here? Could this be real? Was it a dream?
"We can't change the whole world," Dan Laufman continued, "but we can change the parts that we're involved in. We want to reinvigorate the hi-fi hobby by creating products that are actually accessible to people who want better sound."
In Franklin, Tennessee, the topic comes up again. Laufman explains that, after years of designing and manufacturing products for other brands, he'd become depressed with the inefficiencies of the typical model for a high-end audio business: from the prices of audio components—which, according to Laufman, were often unnecessarily high—to how those prices were determined. "As an OEM builder, you see everyone's company in the most revealing light. You see some great things from some guys, and you learn what not to do from others."
We're in the lobby of Jade Design. A tall Christmas tree stands before one wall and dresses the room in silver and blue light. On facing walls are hung oil paintings of famous singers and musicians—Jimi Hendrix, Janis Joplin, Jim Morrison, John Lee Hooker, Michael Jackson, Andrea Bocelli, Luciano Pavarotti, and more—all from the hand of California-based artist Bruni Sablan. Three small dogs come running into the room to greet us. The place is warm and welcoming—more like a comfortable home than a corporate office.
Laufman's father was an electrical engineer and audiophile, so when Laufman was very young, he learned how to solder and was soon tinkering with, breaking, and repairing household electronics. "I knew when I was a kid that I'd someday have my own audio company."
Through his teens and 20s, Laufman worked from his home in California, designing and manufacturing gear in his garage while forming relationships with some of the biggest hi-fi names of the time. He speaks fondly of his earliest encounters with Arnie Nudell and Cary Christie of Infinity Systems, the company with which he cut his teeth. Laufman's success at realizing his customers' goals would eventually take him from his modest garage to China's foremost manufacturing facilities—"a business decision," Laufman says, simply.
Laufman's dream of building his own brand, however, was put on hold. "I had always sacrificed the brand aspiration for the need to make money through the OEM." Though he'd turned his passion into his full-time job, the job was now killing his passion. He had to change that.
In 2003, Laufman founded Emotiva as a form of "therapy"—a way to have fun again, to make the things he wanted to make without burdening himself with expectations. Yet he couldn't have imagined Emotiva without first having endured the frustrations of the OEM business. After all, it was the financial success of the OEM that made it possible for Laufman to freely concentrate on Emotiva. That success, coupled with his existing partnerships and his keen insights into efficient design and manufacturing, allowed him to devise a new business model. He would develop and design products in the US, have them made in China, sell them direct over the Internet with a 30-day, money-back guarantee, and provide exceptional customer service.
"We've never been about making things cheaply," Laufman explains. "We're interested in offering high-value, high-performance audio that the regular person can afford. We're trying to give the high-end listening experience to guys who work for a living, who have kids, cars, mortgages."
This last statement seems especially salient. I wonder if it at least partly explains why Emotiva's products have never fully resounded with me. I may work for a living, but I don't have kids (thank god—the cats are enough); I take a crowded train to work; I'm an urban, apartment-dwelling guy; the idea of a mortgage freaks me the hell out. Emotiva gear, while mostly in my price range, has never seemed to fit my lifestyle. The ERC-2 CD player, for instance, which is representative of most Emotiva gear, offers outstanding build quality and sound, but I wish it were smaller, lighter, sleeker, without the bright blue lights and heavy, brick-like remote control. The thing is reminiscent of products from Electrocompaniet, Mark Levinson, McIntosh Labs—old-school, overly masculine, kinda stuffy. Maybe I'm not Emotiva's target customer. Maybe Emotiva's target customer is someone who, like Laufman himself, has become fed up with hi-fi but can't easily turn away from it.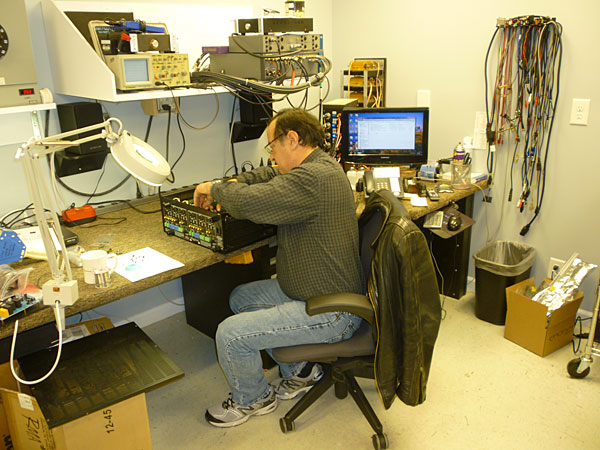 In any case, it's clear that Laufman has hit his target. Judging from our surroundings, Emotiva is doing very well indeed: We turn right through the Jade Design lobby to find a small digital recording studio, home to a growing line of Emotiva Pro powered loudspeakers. Laufman created the Emotiva Pro brand in 2011, bringing his proven business model to a new market while strengthening his presence in the greater music industry. "We want to design products that serve the musicians and engineers," he'd told me at the 2011 RMAF. "We want to be involved in the entire musical experience, from creation to production to playback."
It's quiet and dark in the Emotiva Pro studio. A small mixing board is illuminated by an iMac's screen. Halos of blue light shine from a pair of AirMotiv 4 powered loudspeakers ($399/pair) being fed a signal from Emotiva's Stealth DC-1, a solidly built, 24-bit/192kHz–capable, asynchronous headphone amp–DAC that Emotiva expects to introduce in time for the 2013 Consumer Electronics Show at a price of $699. Emotiva's sales director, Nick Hetzler, takes a seat in front of the board, taps on a mouse, and the room is suddenly filled with music. The sound is clean, clear, and forceful, with a surprisingly wide, deep soundstage. I'd like to hear the AirMotiv 4s at home, but even with its relatively small (4") drive-unit, the speaker would be too big for my desktop. I'd like to see an even smaller model from Emotiva Pro—something with a 3" driver and perhaps a built-in DAC—but Hetzler says there are currently no plans for such a design.
Laufman, however, hints that the Pro models' distinctive air-motion tweeter may find its way into future designs for his Emotiva Reference series—an obvious upgrade from the silk-dome units found in the brand's current loudspeakers.
Down the hall from the Emotiva Pro studio we find a larger space, a two-channel listening room equipped with an all-Emotiva system: An ERC-2 CD player is feeding an XDA-2 DAC, which delivers a fully balanced signal to an XSP-1 preamp, which in turn feeds a pair of massive, 500W XPA-1 monoblocks. Speakers are the XRT-6.2 two-way floorstanders ($699/pair), each of which has two 6.5" blended-cone woofers and a 1" silk-dome tweeter. Bob Reina reviewed the smaller XRT-5.2 for our August 2012 issue and enjoyed its high-level dynamic abilities, but felt it lacked inner detail and delicacy.
Listening to the title track of Mark Knopfler's The Ragpicker's Dream in Emotiva's two-channel room, I note a wide, deep soundstage and clean, precise imaging, with warm but unobtrusive upper bass. I want more stage height, however, and Knopfler's voice lacks some clarity and presence, sounding slightly nasal and distant. I wonder if this has something to do with the tall stools we're sitting on, which put our ears well above the height of the tweeters. Swapping the XRT-6.2s for Emotiva Pro's big Stealth 8 powered monitors ($1499/pair), placed on appropriately tall stands, results in a much cleaner, more transparent overall sound, with greater stage height and more extended highs.
Now Dan Laufman is stretched out on the listening-room floor, in front of a laptop and scrolling through iTunes music files. He has the excited look of a child playing show-and-tell. "Listen to this!" he says. "This one isn't about the recording quality—it's a terrible recording—but this is all about the singer's voice."
Laufman plays "Raggamuffin," the hit single by Belgian singer-songwriter Selah Sue. Her voice is strange—almost childlike in timbre, but with a hint of rasp—and the system communicates it with impressive clarity and color. Laufman is eager to play song after song, and I'm ready to sit back and listen, but it's getting late and we've got still more to see.
Down the hall from Emotiva's two-channel listening room is a small laboratory, where the company's VP of engineering, Ray Dennison—an older, soft-spoken man whose long gray beard hangs over his Led Zeppelin hoodie—is hard at work, "breaking things," he jokes. In fact, he's putting the final touches on Emotiva's XMC-1 media controller, an ambitious product that combines DAC, stereo preamp, multichannel processor, and a new version of TacT's room-correction software developed exclusively for Emotiva.
"We think it's going to be a revolutionary product," Laufman says. And when he deadpans that it'll be priced at $7000, I get the sense that that's exactly what he imagines certain other companies would charge. The XMC-1's actual target price is $1499.
Opposite Dennison's lab is a small home theater driven by Sherbourn processors and amplification. Jade Design acquired Sherbourn Technologies in December 2010, but the companies' shared history is longer: Sherbourn was one of Jade's last OEM customers. Laufman explains that he'd been eager to enter the custom-install market, so when Sherbourn's owner, Ron Fone, decided to retire, Laufman was happy to buy.
Jade Design is looking to acquire other assets, too, but Laufman intends to act carefully, strategically. "If you can't make a difference in a particular market segment, why be in it? We're not growing just to grow. I'm about trying to make something that is meaningful to us."
Still, having wandered around the Jade Design facilities, I'm not sure I understand Laufman's urge to get bigger. What's out there that he doesn't already have? Clearly, he likes making things. Between his three brands, Laufman has a presence in almost every component category, from cables to speakers, and he's taken an interest in the personal audio market, too—Emotiva headphones are almost a sure bet.
I've mentioned the Emotiva Pro studio, the Emotiva two-channel listening room, the engineering lab, the Sherbourn theater. The Jade Design facility also houses a large Emotiva theater, three big warehouses, a repair shop, a wood shop, a customer-service department, and a small photo studio. In total, Jade Design has nearly 40,000 square feet of really lovely working space. Those who shun Emotiva for manufacturing in China should note that Jade Design has 30 full-time employees on-site in Tennessee; and, as I write, two job openings are posted on emotiva.com. It seems like a fun place to work—as long as you like dogs.
What more could Dan Laufman want?
"You have to have a certain size and scale to make it—to be relevant," he says.
If nothing else, Laufman wants his products to be taken seriously; he wants them to be seen as representing high value—not merely for their affordable prices, but for the thought, pride, and care that have gone into designing, manufacturing, and servicing them.
This I can understand. After inspecting many hi-fi products, I wonder how they can be priced so high. But with Emotiva's products, the question that invariably comes to mind is How can this be priced so low?
Nothing I've seen at Jade Design has changed my mind about the company's integrity. In fact, it seems that Dan Laufman has finally managed to balance his work life and his home life. Isn't that the American dream?
It's late when we leave Jade Design, and the cold, light rain that has been threatening to come down all day has just begun to fall.
"Tomorrow will be better," Laufman says.