CAS 2014 Day 2: Soaring Free
Mincing no words, Audioengine's Brady Bargenquast declared, "Bluetooth usually sounds like cat shit. Therefore, when we designed our wireless B1 Premium Bluetooth music receiver ($189), which just started shipping last week, we did four things to ensure good sound quality and satisfactory listening:
1. We're using the aptX codec, which is 16-bit.
2. On the receiver side, we upsample everything to 24/96 and lower the noise floor using the same AKM4396 DAC chip as in our D1 and D3.
3. Our receiver has an extended range, which projects at least 100 feet and covers 1–3 rooms.
4. The B1 is easy to pair with and set up."
What can I say? It sounded like all the other Audioengine products I've heard: not only amazingly good for the price, but just plain amazingly good, period.
Peigen Jiang's fine Eficion F300 loudspeakers ($16,900/pair), with their modified air motion transformer tweeter, sounded extremely musical paired with Plinius SA103 monoblocks ($20,300/pair), Exemplar Audio preamp ($4250), an Exemplar tube-modified Oppo ($4500), Furutech speaker cables, and unspecified interconnects and power cables. There was bit of brightness on top, but the midrange was quite superior to the majority heard at the show.
The music was from First Impression Music's four-CD set of Decca Legacy 32-bit remasters. Prepared for August's Hong Kong HiFi Show, and released just a few days before CAS, the set was commissioned from FIM's Winston Ma by Universal Music Group. While I wish the set contained more complete works rather than excerpts, and certainly more vocal tracks, its sound was extremely clear, with a very warm and inviting midrange. The first movement of the Bruch Scottish Fantasia, conducted by Muti, was very lovely indeed.
Soundscape AV of Santa Rosa presented the world premiere of MartinLogan's Motion Series 60XT floor-standing loudspeakers ($2999.95/pair in high gloss black, $3195.95/pair in high gloss black cherrywood) and 35XT bookshelf loudspeakers ($1199.95/$1249.95). Paired respectively with the McIntosh MA5200 integrated amp ($4500) and Pacific Creek SE300i integrated amp ($2799), both fed by a McIntosh MCD500 SACD/CD player ($7000) and Nordost Tyr 2 cabling, the speakers' sound was totally smooth and very lovely. Bass was expectedly shallower on the 35XT bookshelves driven by 300B amplification, while the bigger speakers also took advantage of the McIntosh to convey a clarity on voice and brushes that the smaller set-up couldn't achieve. I heard some resonant peaks, but have no idea to what extent they were generated by room interactions. Here's hoping I can spend more time with these babies, and compare them in set-ups that use the same amplification and cabling.
"This system really rocks out," I wrote upon hearing "The Fletcher Memorial Home" from Pink Floyd's The Final Cut. "It's warm and fast, and has surprising slam for stand-mounted loudspeakers."
Taking the easy way out, I decided to photograph the only available list of components in the Skogrand Cables room. Suffice it to say that this Onix/Melody/Trinity/Skogrand pairing sounded really fine.
Music First Audio and Audio Note (UK) distributor Warren Jarrett of Fullerton joined with TriangleART distributor Tom Vu of Anaheim Hills to showcase two systems in a single room. To attempt to list it all in sentence structure would take away from the beauty of the creation you have just viewed above.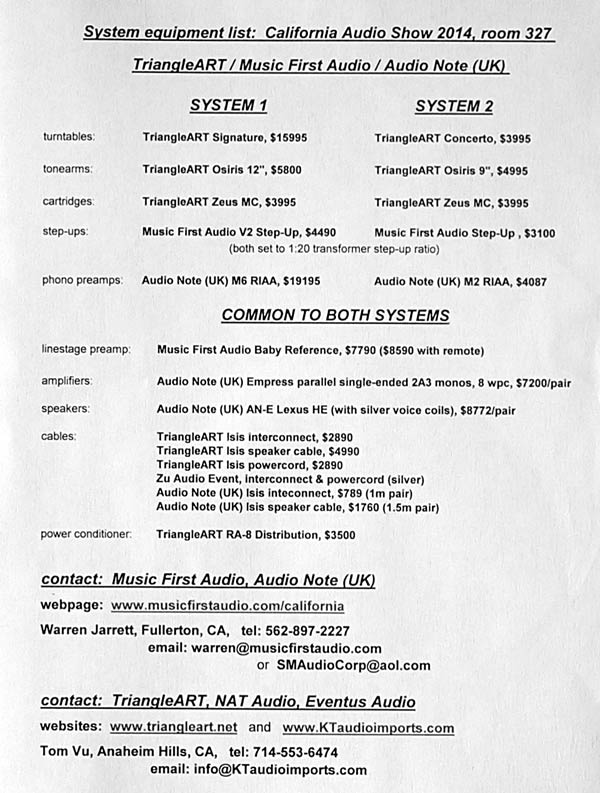 Although the sound was a little bright in the less expensive system, this was, all in all, a most impressive showing. Headline System 1 sounded quite smooth and inviting, with a lot of delicious color that I hadn't come to expect from previous exposure to Audio Note (UK) loudspeakers. Speaker positioning away from the corners, I was told, had a lot to do with the vibrancy of sound. This was certainly one of the better systems in the small rooms on the third floor of the Westin SFO.
I also learned that Jarrett always takes a Music First system to a customer's home. There, he discovers optimal listening levels for the size of the room, and adjusts transformer windings to allow for maximal flexibility of volume control in that targeted range.
I always enjoy the sound of Von Gaylord equipment. This year's set up came across as exceptionally smooth, pleasing, and warm without being overly euphonic. Dynamics and overall enjoyment—mine at least—increased greatly as the volume was raised to levels commensurate with the recordings played.
New to the line-up were Von Gaylord's VG-8 Mk II loudspeakers ($4995/pair), which are claimed to have better low extension and sound staging than their predecessor. The bi-wire ready VG-8s have an 8" fiberglass-cone woofer and 1.5" titanium-dome tweeter in a time-aligned configuration, 91dB sensitivity, and a reported frequency response of 32Hz–20kHz ±3dB. Together with Von Gaylord's Starlet 4 integrated amplifier ($4995), D/A with separate power supply ($13,000), Lemaa interconnect ($395/1m pair), digital cable ($350/1m), and please don't ask me to read that handwriting speaker cable ($1495/10 ft pair), the speakers and friends confirmed how lovely Von Gaylord equipment can sound.
True confessions. When I entered the ATC room, I was so happy to see Jack Vad, the wonderful recording engineer for the San Francisco Symphony, and Oliver Masciarotte, author of the recently released book on computer audio, To Serve and Groove, and presenter of the quaintly titled CAS seminars, "Nuts & Bolts of Digital Audio or, What's Bugging you Today Bunkie?", that I spent little time listening to Bebo and Cigala sing "Veinte Años" on an all-ATC system. I'd love to end this show report with a surfeit of effusive praise, but I confess that I was too busy responding to questions about our move to Port Townsend, and who would take my place in the Bay Area vocal review scene. For the record, the system consisted of ATC's SCM 40v2 loudspeakers ($6999/pair), ATC P1 amp ($3999), and CDA2 ($4299), plus a Mac mini and Cardas cabling.