CAS 2014 Day 1: Lift Off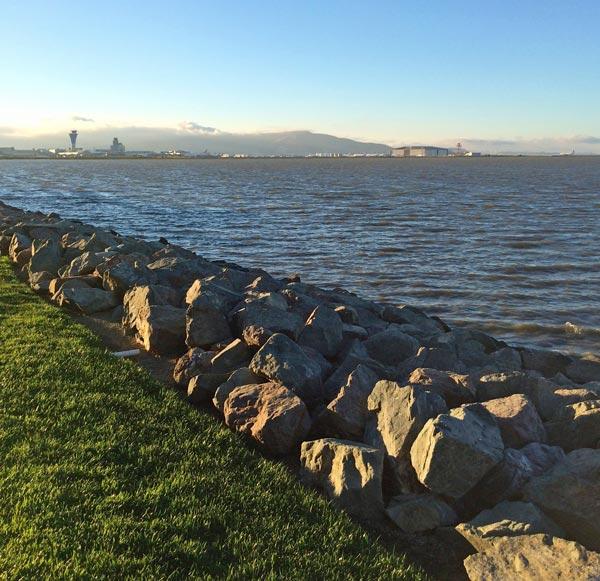 On the evening before the California Audio Show opened, as I gazed at San Francisco International Airport and the beautiful stretch of San Francisco Bay directly in front of the Westin SFO, I thought to myself, "This area is already accustomed to a lot of high-decibel booming and shrieking. But I wonder if it's ready for the sounds that CAS has in store?"
The answer came in the form of what appeared to be a very healthy attendance for Day 1 of the show, and some of the finest sound I've ever heard at an audio show. Virtually every room I entered on the first floor could boast could boast chairs filled with music lovers, and virtually every exhibit had a large amount of positives to offer. There was a fair amount of bass, but far less booming, and certainly far less shrieking than I'm accustomed to hearing at audio shows.
If the system sponsored by Sight&Sound Home Theater ("High End, Highly Affordable") of San Ramon, CA that consisted of JBL Everest DD67000 loudspeakers ($75,000/pair); Mark Levinson No.53 monoblock amplifiers ($50,000/pair), No.52 preamplifier ($30,000), and No.512 CD/SACD player ($15,000); Hanss T-60 turntable ($5000) with MySonic Labs Eminent EX cartridge ($8000) and SME V tonearm ($5000); and Straightwire cabling did not exactly live up to the store's "highly affordable" moniker, it nonetheless was strong on impact. In fact, it was stronger on impact than warmth on a CD of Evgeny Kissin playing Beethoven Piano Concerto No.4 with Sir Colin Davis and the LSO.
When a CD of Latin jazz didn't exactly make the cut—all of a sudden, everyone who had been quiet for the Beethoven began to chatter away, and the little boy in front of me seemed even more deeply engrossed in his phone game than before—we switched to LP. A good move; a fair modicum of midrange and bass profundity entered the picture. Then again . . .
. . . so did the hotel technician on the ladder, giving fair sign that some room tweaking was still in order.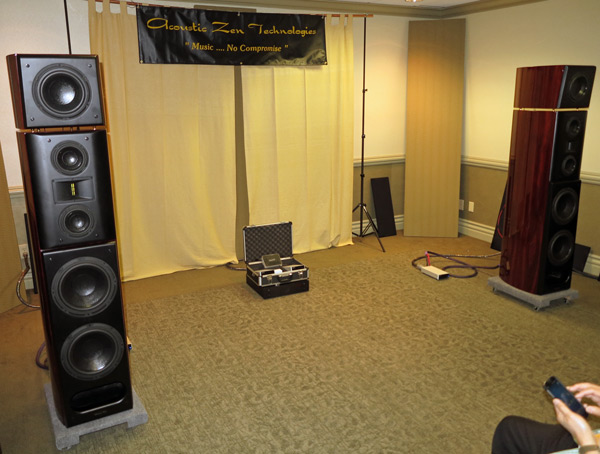 Faring astoundingly well for a wireless set-up, the made-in-China Questyle T2 wireless transmitter +R200 wireless mono amplifier combo ($2400) sounded great with Acoustic Zen's Maestro transmission-line loudspeakers ($43,000/pair), Gargantua power cords ($1488/6 ft), and Hologram speaker cabling ($1428/8 ft. pair). No interconnects or preamp necessary. When I inquired about the source, Acoustic Zen's Robert Lee replied, "It's a Raysonic player. But it doesn't matter, because I can use anything with this set-up."
Playing far more than anything—an attendee's beautiful ECM CD of Dave Holland's Extensions, to be precise—the system sounded really, really nice. The sound was warm and smooth, non-fatiguing, and blessed with a lovely midrange. Equally impressive was the height of the presentation, especially from a nearfield seat. Maria Callas' voice on the Habanera from Bizet's Carmen rang true. While I did not hear the expected ring of the piano on my beloved recording of Murray Perahia playing Handel and Scarlatti, that might have been due to the non-stoppable air conditioning and/or room anomalies. All and all, this was a thoroughly enjoyable system, and an ear opener in the wireless sound department.
Because I've been covering a fair amount of audio shows solo, I've been forced to leave headphone exhibits to Tyll Hertsens of our sister/brother publication, InnerFidelity.com. CAS being a smaller show, however, I've finally afforded myself the pleasure of spending time at headphone exhibit booths. I'm not sure I'll make it to all of them, but at least I made it to a few on Day 1.
First up was the Woo Audio exhibit from one of CAS' major supporters, AudioVision SF. Even on the weekend of the store's grand opening of its new location, the boys managed to put together three rooms and a hallway exhibit.
Woo Audio's class-A WA7d Fireflies Duo Amplifier/DAC, with added Toslink optical digital input ($999–$1500), was shown with its optional upgraded power supply. Paired with KEF M500 headphones ($299), it exhibited really nice tube warmth, and a pretty fast, albeit slightly soft attack on a 16/44.1 track from Daft Punk's Random Access Memories. When we switched music software from iTunes to the new Amarra 3.02, the additional life on top and tighter bass deepened my positive impression of Woo's achievement.
Stepping up the chain, which in this case meant moving my corpus one seat to the left, sat the Woo Audio WA5 ($3500), whose two internal amps can variously drive headphones and speakers. Paired with its external power supply and HiFiMan He-560 headphones ($899), the system produced a very smooth, far more enveloping sound with a wonderful midrange. I was told the WA5 works well with hard-to-drive headphones.
I've heard a number of Sound Lab electrostatic loudspeaker set-ups in my day, but none as good as the installation from Tom Bourrett. The Sound Lab Majestic 945PX loudspeakers ($40,570/pair), as imposing as the stone monuments in the state of Utah from which they hail, seemed especially happy in the company of Ayre's KX-R preamp ($18,500) and MX-R mono amps ($18,500/pair), a Marantz SA-11S2 ($3000), Shunyata's Triton, Typhon and power cables ($18,000) total, and Teo liquid interconnects ($47,000). Some may scream at the price of the power treatment and cabling, but even the biggest naysayers would have to admit that the sound was exceptionally quiet, transparent, smooth, uncolored, and very, very lovely.
When I entered, a visitor was playing a recording of Schnittke's Concerto Grosso. (Now, tell me another audio show where you will encounter, in various rooms, people playing recordings of Schnittke, Corigliano, and Rossini while others sat in silence, enjoying the music rather than running for the door?) The silences were profound, and the depiction of body and size of instruments equally impressive.
A Delos SACD of soprano Sandra Radvanovsky wowed me with the sheer size of the voice and spaciousness of presentation. I wish I could say as much for an all wrong, overly precious and careful interpretation of Verdi's great aria from Il trovatore, "D'amor sull'ali rosee," that demonstrated that Radvanovsky had, at the time of the recording, everything under the sun to learn from Maria Callas, Leontyne Price, and other great exponents of the role of Leonora.
When I asked Antonio Long of AudioVision SF (pictured below immersed in the store's ghoulishly lit Triangle system), to produce an equipment list of the two systems in his room, he in turn enlisted the help of several others, including Triangle's export manager, Rune Jacobsen, and Nordost's soon-to-be Midwest sales rep, Michael Marko. The results were so detailed that I've opted to include a snapshot of the two sheets rather than spend a half hour typing everything out.
As I'll discuss in a separate news story, AudioVision SF has just moved to a new and reportedly much improved location just a block or two away from their old store. One listen to two different Triangle loudspeakers, including the world premiere of the insufficiently broken in Triangle Antal Esprit EZ loudspeakers ($3000/pair), confirmed that even a switch to a challenging hotel environment can produce better sound than in AudioVision's old listening room.
Paired with Simaudio Moon electronics, Triangle's quite efficient new speakers threw a really nice soundstage that reflected a fair amount of trickle-down technology from the more costly Triangle Signature Deltas ($8000/pair) that John Atkinson reviews in the September issue of Stereophile. Yes, an additional $5000 does get you greater refinement and detail, as well as a beautiful high soundstage, but the Esprit EZ was quite satisfying for the price.
With thanks to the world premiere of Pear Audio's Robin Hood turntable ($3000), I loved the very smooth, warm, and immediately inviting sound this system produced on "No Love Dying" from Gregory Porter's LP, Liquid Spirit. A CD track of the divine countertenor Philippe Jaroussky singing marvelously, albeit recorded with an unfortunate electronic edge on L'Arpeggiata's entrancing Los Pájaros Perditos, was equally impressive, with silences handled with wonderful delicacy.
Despite the excellence of the equipment and cabling in the system on the opposite end of the room, I was surprisingly less taken with its sound. The Pear Audio/Kiseki/Musical Surroundings analog set-up, I was told, was "a full step up" from what I had just heard with the Triangle loudspeakers. I also know that the combination of Auralic equipment, Dynaudio loudspeakers, and Nordost cabling can produce unquestionably excellent sound. Yet piano came across as a bit wiry and sharp on top, and somewhat deficient in midrange. Compensation came in the form of quite nice bass definition. A case of first day set-up blues, I'm afraid.