CAS 2014 Day 3: Slowing for the Descent
Sundays customarily draw a smaller attendance at shows, but CAS's Sunday across from San Francisco International Airport was especially slow until, surprisingly, things speeded up shortly before the runway was in sight. Either lots of audiophiles spend their Sunday mornings in church, or they're too occupied with family, brunch with friends, or hangovers to get a move on before noon.
Happily, things were not at all slow in the room shared by Burwell & Sons and Raven Audio. Thanks to Dave Thomson of Raven Audio's impeccably ordered email, I can report that the set-up consisted of a Raven Audio Spirit 300B Reference stereo amplifier ($7295) with Raven Silver SE Han interconnect, Raven Audio Shadow Reference preamplifier ($6.995) with Raven Audio L'Aurora Sound speaker cable, and Burwell & Sons "Mother of Burl" 3-way loudspeakers ($80,000/pair) with vintage JBL 2405 slot tweeter, JBL LE85 midrange horn, and Altec 803 woofers complete with AudioQuest Columbia jumpers.
There were four sources: The Tape Project's Otari ½" Stereo open-reel w/Bottlehead tube rebuild/upgrade (antique) and AudioQuest Columbia RCA interconnect; Wilson Benesch Full Circle turntable with Act 0.5 tonearm, Clearaudio Maestro cartridge and AudioQuest Columbia XLR interconnect; and Mytek Stereo192-DSD DAC ($1595) with black preamp, Dell Inspiron 7000 17" laptop with JRiver Media Center 19 and Raven Audio LED/USB; and Cary CDP-1 with AudioQuest Columbia RCA interconnect.
All those words would mean naught were it not for the sound, which, on a track from The Dave Brubeck Quartet's LP, Time Further Out, was surprisingly fast and quite pleasing. I also enjoyed the special way in which the speakers conveyed the hollow interior of the drum. Soundstaging was also extremely impressive, with the eye-catching speakers paradoxically performing a major disappearing act.
Having heard Raven electronics previously with the very different and immense Von Schweikert loudspeakers, I feel safe in saying that they have a midrange strong, tube-like sound that is very non-fatiguing. Driving the Mother of Burls, the sound was distinguished, not by detail, but rather by its air and musicality. I'd characterize its color palette as the sound one would encounter in a drier hall, but more liquid. I couldn't linger long in the room, but I did get a sense of why Burwell & Sons' vintage drivers are so highly prized.
The first thing I encountered in the Gallo Audio room was a show attendee entranced by the sound. I know why. On both Nils Lofgren's "Keith Don't Go" and Saint-Saëns' Violin Concerto No.3, performed by Gil Shaham and the New York Philharmonic under Sinopoli, the sound was fast, solid, and alive, yet with a distinctive midrange that gave the presentation a curiously laid-back air. I know that seems contradictory, but it's how the system came across. If you're intrigued, check out this pairing: Gallo's Strada 2 ($995 each) and TR-3D subwoofer combination ($984.50/each) with floor stands ($450/pair), Cambridge Audio 840C integrated amp ($1595), Peachtree iDecco ($995) used solely as preamp/DAC, and Olive music server ($2595).
In the curiously paired room sponsored by Pass Labs, it was possible to get a good sense of the superior cleanness and neutrality of the new XA 60.8 monoblock amplifiers ($12,800/pair). This was due, in no small part, to the Pass Labs XP 25 phono stage ($10,600) and top-of-the-line Pass Labs XS preamp ($38,000), together with a modified Technics SP-10 Mk.2 direct-drive turntable equipped with a My Sonic Lab Hyper Eminent cartridge, an Oppo BDP-105, homemade speaker cables, and Silent Source interconnects. But there was no getting around the fact that the weak link in the chain was the loudspeakers.
As Pass Labs' Desmond Harrington explained, the speakers, built many years ago by twin interns, are a home-built design that incorporates Tannoy dual-concentric drivers into a Jensen Imperial folded horn cabinet. "We use them because they're 98dB efficient, and are a full-range point source. They're purely a tool to listen to amplifiers, because they let you hear everything, good and bad." That may be true for folks accustomed to the sound of these homemade loudspeakers, but to this listener, they overloaded the room with bass, and delivered a bass-dominant presentation that marred the unique beauty of Pass Labs electronics.
As someone who loves the sound of Pass Labs products, and has long-lamented the absence of a Bay Area dealer, I wanted to not only hear far more of their gifts, but also experience once again the .8 series' superior bass control. I'm sorry others couldn't as well, because their sound is very, very special. In my opinion, someone who loves the smoothness and beauty of tube electronics but wishes to explore the sound of solid-state equipment would do very well to try Pass Labs electronics. As a former tube user, I've found the Pass Labs class-A lines an ideal mating of grace, beauty and power.
Margules Audio of Mexico may not be well known in this country, but the quality of their equipment, handmade in Mexico City, deserves extensive coverage. When I entered the Integrity High Fidelity Solutions room and sensed what smelled like burning plastic, I learned that the Margules U280SE stereo amplifiers used in mono configuration ($4599/each) had new, upgraded power supplies that were just breaking in.
No matter. The sound was very beautiful, with wonderful air and spaciousness, and just a touch of distortion (perhaps from the LP or needle) on fast passages of an LP of Schlomo Mintz playing the Mendelssohn Violin Concerto. Switching gears to Jack White's LP, Lazaretto, I noted the excellent soundstaging from the Margules Orpheus loudspeakers ($8000/pair). True, the music's razor sharp edge was softened —this may not be the heavy metal system of someone's dark dreams—but the lovely tube midrange sure made the music enjoyable to these ears.
Credit also goes to the Danish Densen CD-410 CD player ($2200); Margules Audio's SF220 preamplifier ($3399), ADE-24.1 Analog Enhancer ($329), FZ47DB RIAA phono stage ($749), TT-10 turntable ($2999), and prototype tonearm ($1599 approx); Rega Exact 2 Cartridge ($595); and Scottish Atlas Hyper Symmetrical interconnects ($378/1m pair), Hyper 2.0 3M Spade speaker cables ($396), Mavros interconnects ($1350/1m pair), and other Atlas products.
The row of Piraeus self-powered loudspeakers ($23,500/pair) looked impressive, but both times I entered, loud talking was vying for supremacy with the sounds emanating from the speakers' 750Wpc class-D amplification and proprietary DAC and DSP boards. For more on this all-in-one system, see my previous blogs on Piraeus Audio of Santa Cruz here and here.
Alas, the M-Supreme loudspeakers ($17,0000/pair) from the unfortunately named Tub's Audio of New Zealand more than lived up to their name. The creation of Toby Shaughnessy, a composite structural engineer who started his company 1.5 years ago while spending most of his time designing masts for high-end sailboats and the like, the speakers boast a paper-pulp cabinet infused with pine sap resin, horn/reflex loaded 12" dual-concentric drivers with midrange horn and 2X bass-horn vents, and a frequency response of 30Hz–20kHz ±3dB. But they also offered, at least with Tri Art Audio Pebbles turntable ($1295) and CD player ($700), as well as a Red Wine Audio Sig57 battery-powered integrated amplifier ($7000), a midrange-dominated presentation that, at CAS, was distant and hooty. The same Nils Lofgren recording that I enjoyed in the Gallo room was virtually unrecognizable, with a gray presentation, smudged detail, and a voice of completely different character.
No audio show would be complete without the introduction of at least one more bookshelf loudspeaker from "Any dealers interested?" Fritz Speakers. This time it was the Carrera 7 ($3500/pair as shown). Variously identified as the Fritz Carrera 7SE and 7 BE, as best as I can make out from the confusing literature, the speaker uses ScanSpeak drivers, has a sensitivity of 88dB and a nominal impedance of 4 ohms, and dispenses with capacitors and resistors in the tweeter circuit crossover. Whatever its name, it sounded very smooth and warm, with a midrange-predominant presentation, on Chesky's superb recording of Rosa Passos and Ron Carter. Sorry to say, Paquito D'Rivera's clarinet excited some less than pleasant resonant peaks in either the room or the speaker cabinet itself.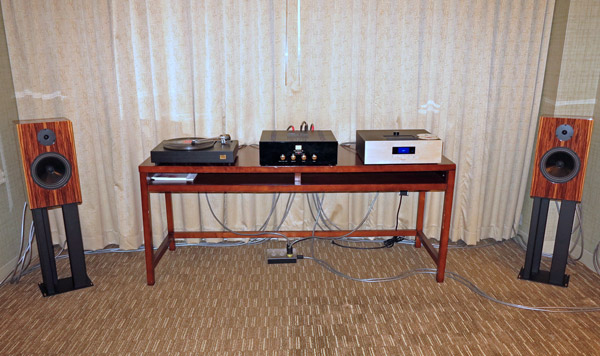 Audio Note (UK) more than redeemed itself this year with a fine showing. In a mid-price, all Audio Note (UK) system consisting of the TT Two Deluxe ($3525), Arm Three V2 ($2000), IQ3 top-of-the-line MM cartridge ($980), CD 4.1x top one-box CD player ($11,800), OTO SE phono stage ($6325, or $5525 line), K/SPe 90dB-sensitive acoustic speaker system ($3700/pair satin), and, I presume AN(UK) cabling, M•A Recordings' marvelous project, Sera una noche, was reproduced with lots of air and space. It did seem a bit over-resonant and laid back compared to other systems I've heard it on, including my own, but there were so many lovely qualities to the sound that it was hard not to be seduced.
In discussion, David Cope told me that he had eschewed the customary positioning of Audio Note (UK) loudspeakers in corners due to booming of the sidewalls. All the better, methinks, because there was something extremely attractive about the sound in this configuration. Those who enjoy a presentation that is midrange dominant and toned down on top will exult when they hear how beautifully this system delivers the ring of a bell and its subsequent decay.