CAS 2014 Day 1: Settling In
As soon as I entered the room sponsored by Loggie Audio of Redwood City, CA, the system's superior air, depth, and resolution were immediately apparent. The reason: YG Acoustics "Hailey" loudspeakers ($42,800/pair), Bryston 28B SST-2 1000Wpc monoblocks ($19,200/pair), Esoteric K-01 SACD player ($20,000), Audio Reference Technology "Analyst" cabling and power conditioning (it must cost a lot, because they didn't list a price), and Harmonic Resolution Systems SXR stands and platforms. Oh, and a large room that gave the system more than enough space to expand and breathe.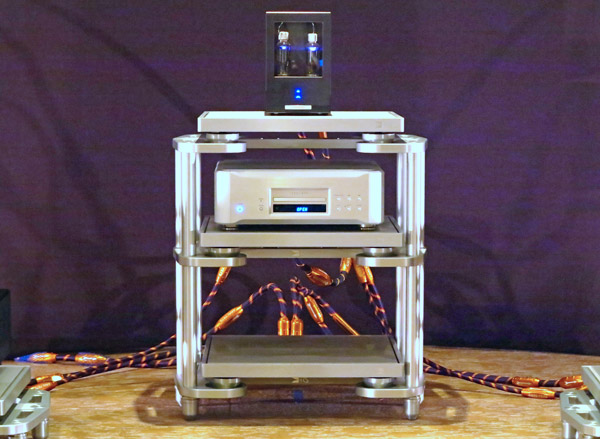 On the Archie Shepp Quartet's Red Book rendition of "The Thrill is Gone," the system's lovely warmth, excellent bass control, and impressive bite made for deep gratification. Ditto for the extremely impressive dynamic range on the Ivan Fischer and the Budapest Festival Orchestra's Channel Classics rendition of the adagio from Mahler's Symphony 5. (I listened to the whole thing.)
I did feel that the Bryston amplification lacked the last ounce of liquidity and refinement. On the Mahler, for example, the expansive yearning of the strings touched me less than their gentle sighs. I also felt the system as a whole lacked ultimate transparency and profundity at the very bottom of the range. But on José James' "Autumn in New York," the beauty of the music confirmed the system's fundamental musicality.
The superior system in AudioVision SF's second room on the lobby level was headlined by Dynaudio Evidence Platinum loudspeakers ($85,000/pair). Hats off to Dynaudio's Esotar2 tweeter, which really shone on soprano Angela Gheorghiu's show-off rendition of Rossini's "Una voce poca fa" from The Barber of Seville. Without question, the Octave MRE 220 tube monoblocks with KT 120 tubes ($23,000/pair), together with Octave's Super Black Box power-supply capacitance upgrade modules ($7000/pair) and the world-premiere showing of Octave's HP 700 tube linestage preamp ($16,000) lent the system extra tube-like warmth that was quite pleasing.
Unable to resist exposing the man who had played the Gheorghiu to two other sopranos of earlier generations, I played a CD of Elly Ameling singing Schubert. Again, the superiority of the tweeter was in evidence. Even early Bob Dylan sounded gorgeous and pleasingly euphonic. Equal credit goes to Simaudio's Moon 750D DAC/transport ($14,000) with Moon 820S power supply ($8000) and the essential Nordost Valhalla 2 speaker cables. I regret I missed the North American premiere of Dynaudio's XEO6 and XEO4, but they weren't playing at the time.
"I come to this room every year and spend as much time as I can," San Francisco Audio Society member Oliver Deighton whispered in the Zu Audio room. "I end up with all the new music that I listen to in rotation for the entire year."
What finer tribute could there be to the unquenchable thirst for great music of Zu Audio founder, Sean Casey? Standing behind a mixing board at the back of a room whose system was headlined by a maxxed-out version of Zu's Omen DEF loudspeakers ($5000/pair), Casey was the picture of handsome dedication. While the Omen Standard loudspeakers were not playing, other contributors to the sound included K&K Maxxed out phono stage, Rega RP6 turntable with modified Michell technoweight and Zu DL103 phono cartridge, First Watt SIT1 monoblocks, a Rupert Neve Designs console/mixer (pre), and Zu Audio cabling.
Casey showed how wild his speakers could sound conveying Telefon Tel Aviv's electronic sound effects. Lou Reed definitely took a "Walk on the Wild Side," although it must be noted that his walk was as rich in midrange and incisive top as in Warhol personages. Smoothness in the middle and a cutting edge top also predominated on Devendra Banhart's "Won't you Come Home." There's something very exciting about Zu Audio's presentation of the familiar and arcane that many find hard to resist.
Music Lovers Audio of San Francisco and Berkeley showcased the third superior system of the afternoon. No surprise there, since the speakers were Wilson Audio's excellent Sasha 2s ($29,500/pair), whose predecessors were my trusted reference before I moved from Oakland, CA to Port Townsend, WA. The amp, preamp and CD player were Audio Research's SP20, REF 75, and CD6 ($9000/each); and the cabling and power treatment Transparent's Ultra ($1485), Music Link Super speaker cable ($1630), Power Link MM power cables ($2100), and Power Link Isolator MM ($4195). Add in Monaco equipment stands ($4850) and amp stands ($1950) from Grand Prix Audio, and unobtrusive HFT room treatment from Synergistic Research, and you had an astoundingly musical system capable of delivering the full symphonic treatment at high volume without an iota of strain or smudging of detail.
Peter McGrath, Sean Casey's equivalent in the classical realm, is prized for going from riches to riches. So did we proceed from pianist Piotr Anderszewski to a rare live performance of pianist Martha Argerich playing Bach's Partita No.2. Many combinations of loudspeaker and electronics will let you hear that her playing, on this occasion, was impeccable, but few will also reveal the different voices Argerich created for each movement, and how appropriate each was for the emotional progression of Bach's journey. The performance was simply brilliant from both a pianistic and equipment standpoint.
Then came the first movement of John Corigliano's Symphony No.1, the "AIDS Symphony," recorded live in Florida. During the recording session, McGrath had met the composer's former partner when he was in the final stages of the disease, and explained that, in the course of the movement, we would hear an offstage piano play the Godowsky Waltz that Corigliano's beloved was playing over and over during the visit. Everything from the smallest sounds to the hugest, percussive and brass climaxes was depicted with perfect control and effortless dynamic swings. No, the modest Audio Research amp could not shake the extremely large room with percussion recorded at 24/44.1, but it could depict everything on the master recording with natural timbres. Even the signature ARC midrange did not overwhelm the top or bottom. Music Lovers' Wilson/Audio Research/Transparent system was a marvelous achievement.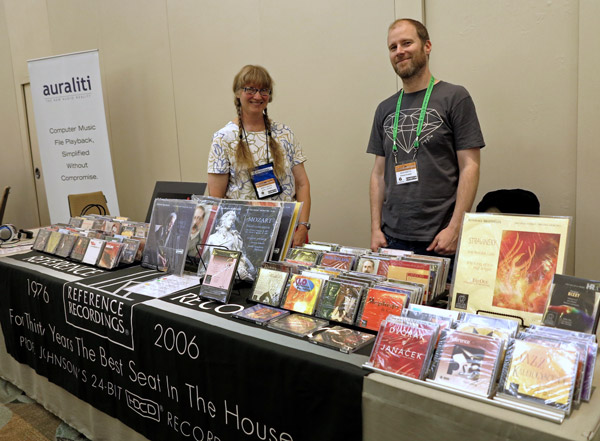 From here I headed into the HeadMasters Room. First up was a visit to Marcia and Sean Martin of Reference Recordings, who were showing off their superb assortment of CDs, LPs, SACDs, and 176.4/24 HRx Master Recordings. As I'll mention later, I heard a bit of RR's recent Kansas City Symphony release of Hindemith, Prokofiev, and Bartók in the excellent Wells Audio/Bybee/Chapman room on the third floor, and was blown away by the quality of the sound. The CD, available now, is wonderful; I expect the SACD, due by September 9, and the HDTracks and Super Hi-Res 176.4/24 master versions in October, to sound even better. Major regrets Major regrets that I didn't get a chance to hear the prototype Q1 USB music player ($1200 est. price when possibly released in the fourth quarter), let alone realize that it was hidden at the end of the table, behind the headphones. Designed by Ray Burnham and digital genius Demian Martin, the Q1 USB will play sample rates of up to 768kHz PCM and 4x DSD. The drive is solid-state, and file playback claimed to be bit-perfect.
Elite Audio of San Francisco had brought along a headphone exhibit that included the Chinese-made Questyle CAS 192D bitstream DAC ($1500), which handles both 192 PCM and DSD by means of five switchable filters; and two Questyle CMA 800R current-mode headphone amps ($1500 each), shown in fully balanced monoblock configuration. Listening to a DSD file through Audeze LCD-3 headphones, Patricia Barber's "A Taste of Honey" sounded very sweet indeed.
For comparison, I listened to the same Patricia Barber file through the Phonitor 2 by SPL ($1899) and a full range of Audeze headphones. This pure analog, fully balanced headphone preamp was equally sweet, but also offered more air and body than the Questyle stack.
At this point, the audiophile reviewer in me took over. Rather than rush to the next booth, I decided to indulge my curiosity and explore how the same file sounded through the four different Audeze headphones on display.
The first thing I discovered is how much more fullness, warmth and refinement the phones delivered through Nordost's superb Heimdall 2 headphone cable ($799 for 2m, complete with multiple adapters). Using Heimdall 2 as my reference cable, I could hear that the superiority of detail and speed of Audeze LCD-3 headphones ($1945) over the LCD-2 ($995)—I have a loaner pair of LCD-2s I use as my reference—as well as the differences in sound between the open-backed LCD-X ($1699) and closed back LCD-XC ($1799). I wouldn't trust me 100% on this—it was the end of the day, after 7.5 hours of listening, and I was both very tired and rushing—but I did feel, in a very quick back-and-forth, that the LCD-XCs did the best job of defining the natural limits of the soundstage. And they certainly sounded fantastic.
I wanted so much to check out the range of new products from Steve Holt's Audio Nerd, as well as Oppo's HA-1 headphone amp and PM-1/PM-2 headphones, and other products from Sony, Olive Media, HeadAmp Audio, and Bob's Devices. I see that I also missed VK Music. I regret that there simply wasn't enough time.