Bricasti Design M15 power amplifier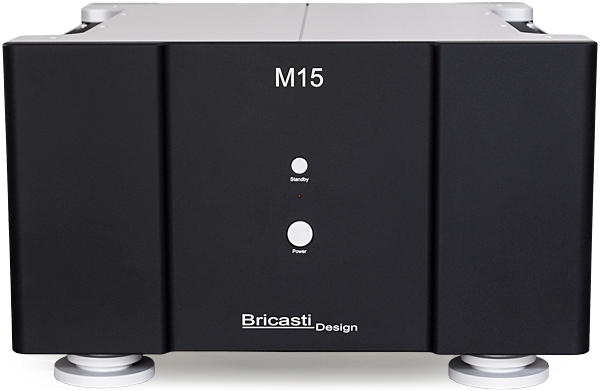 On the second morning of a recent audio show, I walked into the exhibit room of Bricasti Design.
"How about some Mahler?" asked cofounder and designer Brian Zolner.
"Oh God. Not at 10am!"
Listening to Mahler had become de rigueur for my visits to the exhibits of this Massachusetts-based company. From the very first time that Zolner had played part of Iván Fischer and the Budapest Festival Orchestra's recording of Mahler's Symphony 2 (SACD/CD, Channel Classics 23506) through a system that combined Bricasti's M28 monoblock power amplifiers, M1 DAC, and M12 Source Controller with Tidal Audio's Piano Diacera speakers, I'd been impressed by the layered darkness of the bass and midrange, and the system's ability to flesh out Mahler's despair. But beginning the day with Mahlerian doom? No one should have to suffer and be resurrected before noon.
After listening to a modest dose of alternate fare—it wasn't as mindless as "the flowers that bloom in spring, tra-la, nor as hackneyed as "Hotel California"—I learned that Bricasti's M15 fully balanced stereo power amplifier ($18,000), introduced in 2016 and offering 125Wpc into 8 ohms and 250Wpc into 4 ohms, had not been reviewed by Stereophile. After running through the components in my reference system with Zolner and Damon Gramont, Bricasti's head of sales, and noting that my speakers would soon change from Wilson Audio's Alexias to Alexia 2s, we felt that the M15 would be a good match for my system. John Atkinson signaled the okay, and a review sample was on its way to me.
History Lesson
Bricasti Design was founded in 2004 by two former employees of Lexicon, a division of the Harman Specialty Group: sales executive Brian Zolner and DSP software engineer Casey Dowdell. After Bricasti released the Model 7 reverberation unit in 2007, and it became what Zolner described to me as "a staple of the professional recording industry," the partners decided to enter the consumer market, in 2011, with the M1 DAC. In 2014 came the M28 monoblock power amplifier, and in 2016 the M12 Source Controller and matching M15 stereo power amplifier. These later products were engineered at AeVee Laboratories, in New Haven, Connecticut, by a small group of former employees of Madrigal Labs and manufactured at Bricasti's facilities in Shirley, Massachusetts.
"We like to make things that are very musical and natural," Zolner said. "I don't like things that are hyped-up in the top end. Everyone is mixing things with so much hype these days. I can't listen to that pop stuff that they're compressing and then pumping up, so we're careful to not go over the top end as well. We want to bring out what's in the recording while aiming for a relaxed sound that you can listen to for hours."
Description and Setup
Zolner, who calls himself "the mechanical guy," designed the M15's case, which comprises sections of milled and CNC-machined aluminum, assembled and given an anodized finish by Bricasti. Inside are a lot of custom mechanical components, and on the rear panel are proprietary, gold-plated speaker-cable binding posts, also designed by Zolner, that offer what he calls "exceptionally wide contact area," and open wide enough to accept two pairs of thick spade lugs. Inside, rather than using solder, Bricasti creates a superior molecular bond by high-pressure crimping the binding posts to double runs of fine-stranded (8 gauge) copper wire.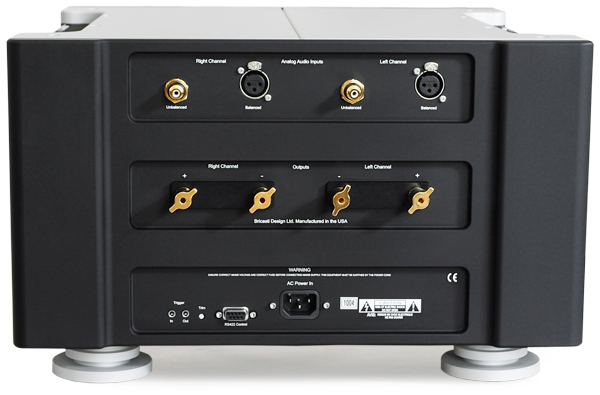 "There's nothing really esoteric or too crazy inside," Zolner continued. "There are 24 bipolar output devices per channel, bolted directly to the heatsink on the side of unit. The power supply has a very large capacitor bank—there are large, US-made electrolytics in the main cap bank—as well as lots of smaller, German-made, high-frequency WIMA film caps throughout the unit."
After consulting Bricasti's website and the M15's manual, and chatting further with Zolner, I learned that the M15 is, in his words, a "big, all-analog, high-current, fully balanced class-A/B power amplifier. Its bandwidth is to the megahertz. There's no filtering on the output, which is the case with analog amplifiers, so that the transients are not differently rendered, and it has very, very, extremely low output impedance and very low distortion. The thing is flat to 800kHz."
The M15's rear panel is in three horizontal sections. In the top section are widely spaced single-ended (RCA) and balanced (XLR) inputs. While shorting plugs (not provided) are urged for the balanced inputs if single-ended interconnects are used, I used only balanced cables between DAC and amp. In the middle section, below the inputs, are those two pairs of widely spaced speaker-cable binding posts.
A healthy distance below, in the bottom section, are, from left to right, trigger in/out, an RS-422 port currently used only for diagnostics, a detented trim control that can lower input sensitivity in four steps of 6dB each, to better match the output of a preamp or DAC, and a three-prong IEC connector. I never felt the need to change the amp's input sensitivity. Nor, thanks to the rear panel's intelligent design, did I ever need to worry about interconnects or speaker cables transmitting unwanted noise by coming in contact with the power cord.
On the M15's front panel are two vertically aligned buttons, Power and Standby, separated by a red LED power on/status indicator. Pressing both buttons generates a click, and triggers the LED to flash slowly as the amp enters Idle stage, in which it consumes only 2W. Only after the M15 has sensed that the voltage is within an acceptable range can it be fully powered up.
A quick press of Standby produces another click and faster flashing of the LED, to indicate that you've entered the pre-heating stage, in which 60W are consumed. A second quick press of Standby triggers a third click, the LED turns solid red, and the M15 unmutes its inputs to enable music playback.
Eager to hear how the solid-state M15 would sound with and without a tube preamp, I installed Lamm Industries' two-box L2.1 preamplifier ($22,790). With the bottom shelf of my five-shelf Grand Prix Monaco rack already filled with power products from Nordost and Isotek, I placed the dCS Paganini CD transport on the top shelf and the preamp's control module atop it. The remaining shelves held the Lamm preamp's power supply, the dCS Rossini DAC, and, sitting on a Grand Prix Formula platform, the Scarlatti clock.
I'd planned to place the Bricasti on one of my two Grand Prix Monaco amp stands, but when I looked at the M15's feet, I sensed in them a purposefulness meant to discourage the use of ancillary isolation products. Finding no information about them online or in the manual, I called Bricasti. It turns out that Zolner designed these feet, which house OEM Stillpoints decoupling modules and are intended to be placed directly on a hard surface. "I didn't want people to try balancing them on Stillpoints and having them fall over," Zolner said.
Goodbye amp stand, hello floor.