Bricasti Design M15 power amplifier Measurements
Sidebar 3: Measurements
I measured the Bricasti Design M15 using my Audio Precision SYS2722 system (see the January 2008 "As We See It"). Before I test an amplifier, I precondition it with both channels driving a 1kHz tone at one-third power into 8 ohms for an hour. At the end of that time, the Bricasti's top panel was warm, at 101°F (38.3°C), and its heatsinks were hotter, at 103.1°F (39.5°C). The M15 has sufficient heatsinking for its power rating.
The voltage gain at 1kHz from the speaker terminals into 8 ohms measured 26.9dB for both balanced and unbalanced signals, and both sets of inputs preserved absolute polarity (ie, were non-inverting). The unbalanced input impedance was 88k ohms at 20Hz and 1kHz, decreasing at 20kHz to 34k ohms. The balanced input impedance was 170k ohms at 20Hz and 1kHz, decreasing to 99k ohms at 20kHz. Though these impedances are somewhat lower than the specified 100k ohms unbalanced and 200k ohms balanced, they are still usefully high.
The output impedance, including a 6', spaced-pair speaker cable, was a very low 0.08 ohm at low and middle frequencies, rising to 0.1 ohm at the top of the audioband. As a result, the modulation of the M15's frequency response with our standard simulated loudspeaker was less than ±0.1dB (fig.1, gray trace). The Bricasti's frequency response is down by 3dB at 180kHz; as a result, a 10kHz squarewave was reproduced with very short risetimes (fig.2), and there was no overshoot or ringing with a resistive load.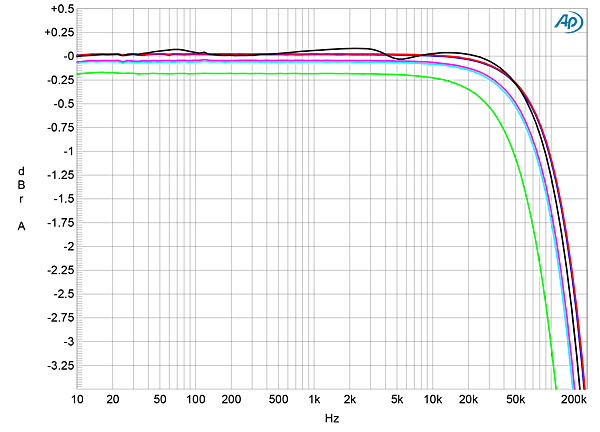 The unweighted, wideband signal/noise ratio, taken with the inputs shorted to ground, was a very high 81.2dB in the left channel but slightly lower in the right, at 77dB. (Both ratios are ref. 1W into 8 ohms.) These ratios improved to a respective 84 and 78dB when the measurement bandwidth was restricted to 22Hz–22kHz, and to 86 and 83.4dB with an A-weighting filter in circuit. Spectral analysis of the low-frequency noise floor (fig.3) indicated that the AC supply–related harmonics were at 60Hz and its odd-order harmonics, suggesting that these are due to magnetic interference from the massive power transformer. They lay at or below –98dB (0.0011%), however.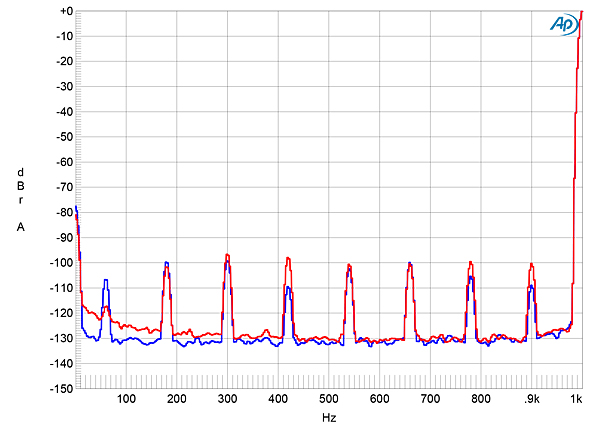 Bricasti specifies the M15 as outputting 125Wpc into 8 ohms (21dBW), 250Wpc into 4 ohms (21dBW), and 500Wpc into 2 ohms (21dBW). The amplifier comfortably exceeded its specified power even with both channels driven. With clipping defined as when the THD+noise in the output reaches 1%, I measured clipping powers of 290Wpc into 8 ohms (24.6dBW, fig.4) and 550Wpc into 4 ohms (24.4dBW, fig.5). However, I had some difficulty measuring the maximum output power, as the M15 went into protection several times, the red LED on its front panel flashing. And when I tried to measure the clipping power into 2 ohms, the amplifier turned off at 362W (19.6dBW). I doubt that this sensitivity will be a problem in real-world systems, but I was surprised by this behavior.
To be certain that I was measuring actual distortion, I examined how the M15's percentage of THD+N varied with frequency at a fairly high level, 20V (equivalent to 50W into 8 ohms, 100W into 4 ohms, and 200W into 2 ohms). Even so, the THD+N was extremely low in the bass and midrange, and while there was the usual rise in the treble due to the decrease in open-loop voltage gain as the frequency increases, this was still not to a significant amount (fig.6).
The THD+N waveform at this level (figs. 7 and 8) indicates that the distortion is predominantly third-harmonic in nature, though at high powers into 4 ohms the second harmonic became the highest in level in both channels (fig.9). Tested with an equal mix of 19 and 20kHz tones, the Bricasti produced relatively low levels of intermodulation distortion, even at high powers into low impedances (fig.10), with the difference product at 1kHz lying at –100dB (0.001%), and the higher-order products at or below –84dB (0.01%).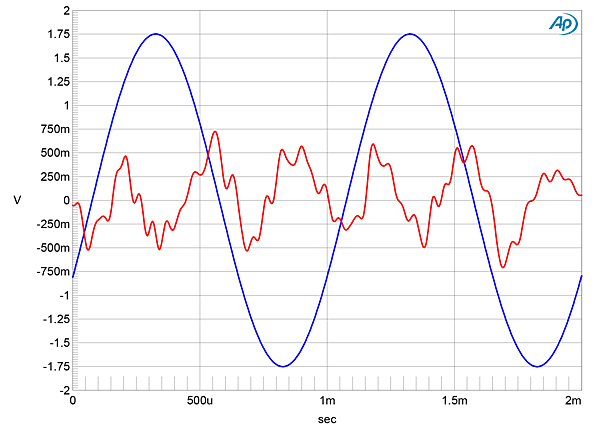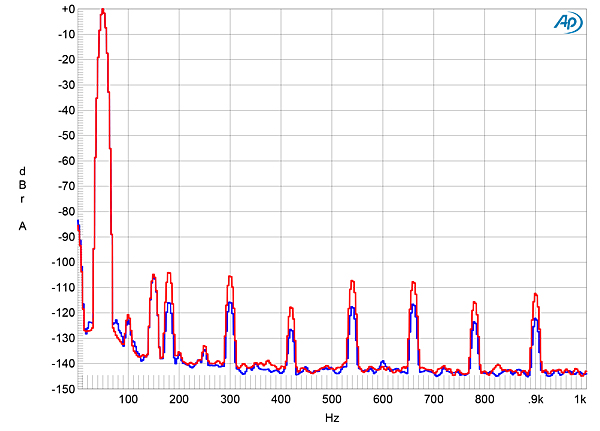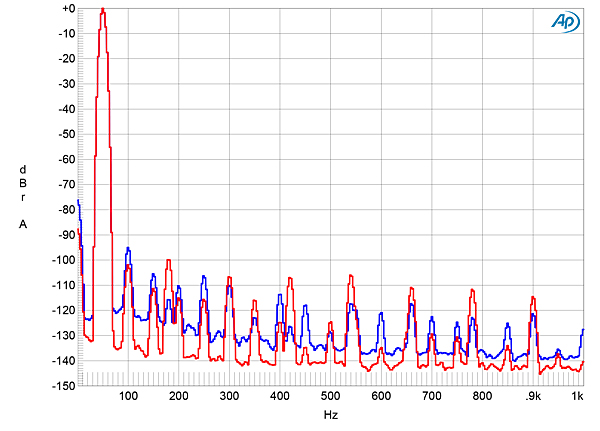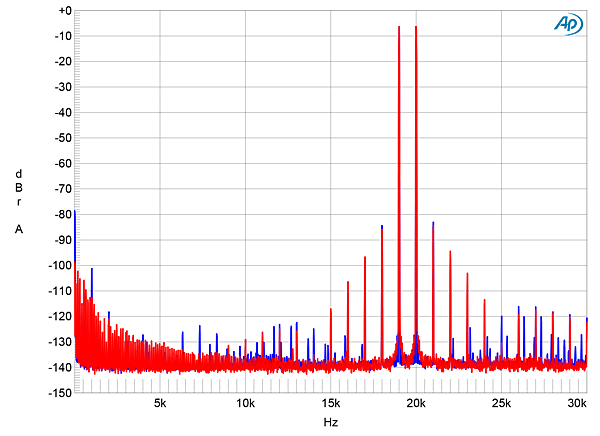 Its measured performance indicates that Bricasti Design's M15 amplifier is conservatively engineered, with low noise and distortion, though it is clearly less happy driving 2 ohms than it is higher impedances.—John Atkinson