Art's Second Report from CAF
I began the second half of my Friday in the room sponsored by Tone Imports and Connecticut dealer Old Forge Studio, enjoying a mix of the familiar and the unfamiliar. In the former category was the enduringly recommendable PTP Solid 12 turntable (2950 Euros, available direct) from the Netherlands—a cleverly refurbished idler-drive Lenco with a smart Corian plinth—with a Thomas Schick tonearm and an EMT TSD 75 SFL cartridge ($2100), itself driving the EMT-specific version of Auditorium 23's step-up transformer ($2200).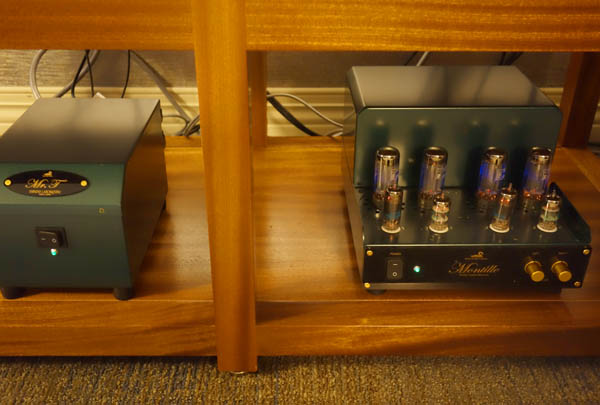 In their first US show appearance in recent memory were electronics by Shindo Laboratory—their line-plus-MM-phono Aurieges preamplifier ($5495) and Montille CV391 power amp ($6995), the latter a variation on the standard Shindo Montille that's designed to use NOS British CV391 beam-power tetrodes, delivering 20Wpc in push-pull architecture. Also from Shindo was their Mr. T isolation transformer/power conditioner ($2200). The support is a double-width rack by Box Furniture, in sapele ($5250).
The loudspeaker in use was one that I've been anxious to hear: Auditorium 23's Hommage 755a ($11,500/pair), designed by Keith Aschenbrenner around Line Magnetic's reissue of the classic Western Electric 755a full-range driver.
What I heard from the title track of Leonard Cohen's valedictory album, You Want it Darker, was an abject lesson in leaving one's prejudices at the door: The sound was wider in frequency range than one might expect from a single 8" driver, and far more dramatic/dynamic than the uninitiated would think possible from a 20W system. But that's just sound, and that's not what held my attention while listening to this system: All I could think of was the strange beauty of the choral arrangement, the meanings of the words, the emotional emotionlessness of the delivery, and every association I have with this artist after more than a half century as a Leonard Cohen fan. I even started to cry a little. Gear that can do that is extraordinary.
Was the experience refreshing or draining? Yes, and in the best ways.
In the room sponsored by the Fulton, Maryland-based dealer Dr. Vinyl, selections from an LP by the the National Symphony Orchestra sounded lovely—warm, liquid, and completely satisfying at the moderate volume levels I prefer—on a system built around the distinctive Larsen 8 loudspeaker ($6995/pair), which I reviewed earlier this year. Also in the system were the Pear Audio Blue Reference mono amp ($6495/pair), Reference preamp ($6495), and Kid Howard turntable with Cornet 2 tonearm ($4995), plus a Bob's Devices Sky CineMag 120 step-up transformer ($1225) and a Hana SL low-output cartridge ($750), plus cabling by EnKlein.
I had a remarkable experience in the listening space put together by High Fidelity Cables—the company, headed by Ric Schultz, that is pioneering the use of magnets as audio-signal conductors. Perhaps the look of the gear added to this experience: loudspeakers that were imposingly large, but in a different manner than most such things—like stage sets obscuring some hidden mechanism, and power cables that looked like James Whale designed them, and some things whose purposes couldn't be guessed. Perhaps the very clever lighting and the scented candles played some role in shaping my reaction. Whatever the peripheral enhancements, the abilities of the system itself were beyond doubt: music emerged from this great bramble of gear like a voice from deep in the woods, and I found the experience very moving. In fact, I left only because I had to make my way to the next exhibit. (The recording I heard was by the duo Angus and Julia Stone.)
The young man who conducted the demonstration didn't have any information on product prices or even model names, but he informed me that every element of this unique system was made or modified by High Fidelity Cables. Special note was made of the company's original power amplifier (the very large piece of gear on the right in the photo above), only a few of which have been manufactured to date.
In the Volti Audio/BorderPatrol/Triode Wire Labs room, I was entertained by a system built around the Volti Rival loudspeakers ($7900/pair and up, depending on finish), the demonstration pair of which so impressed an opening-day customer that he bought them on the spot.
Also in the system were BorderPatrol's DAC SE D/A processor ($1350), used in tandem with a CD transport whose name I didn't catch, and P21EXD power amplifier ($13,500), which uses two 300B triodes per channel in push-pull for 20Wpc. All cabling was by Triode Wire, including their Spirit analog interconnects ($349/1m pair) and Spirit 75 S/PDIF digital cable.
This system charmed me with Madeleine Peyroux's "J'ai deux amours," her voice full-bodied and present, the double bass and twin acoustic guitars put across with very good tone and touch. And when a showgoer brought in his copy of Skip, Hop & Wobble by Jerry Douglas, Edgar Meyer, and the great flatpicker Russ Barenberg (the latter from the '70s band Country Cooking, which also gave the world Tony Trischka and Pete Wernick), and we listened to the fiddle tune "The Big Sciota," I was bowled over by the system's great sense of drive. A darned good way to end my Friday.