Art's First Report from CAF
Perhaps you've heard this before, but it bears repeating: Veteran exhibitors and attendees alike have a great deal of loyalty and affection for this seven-year-old show and its busy founder, Gary Gill. I was reminded of that during my very first stop on day one of Capital AudioFest 2017, when Kevin Hayes of VAC described the reasoning behind the decision to assemble such a large, expensive, and distinctly ambitious playback system: "In light of the move to this time of year, we wanted to help Gary and the show by doing something
exceptional
." The result: a system built around the mighty Von Schweikert Audio Ultra 11 loudspeaker ($295,000/pair), powered by
two
pairs of VAC's Statement 450 iQ monoblock power amplifiers ($120,000/pair).
Among other design distinctions, those monoblocks, which use KT88 output tubes, are the first VAC amps to use the company's patented VAC iQ automatic bias system, in which optimum bias current is kept stable with greater than 99% accuracy, regardless of output level or temperature. (Hayes says that VAC iQ can now be had in every power amp the company makes, and will appear in a forthcoming VAC integrated amp, due out in December.)
During my time in this room, which was sponsored by the Atlanta, Georgia-based dealer The Audio Company, the source was a Transrotor Orion turntable and 5009 turntable ($33,800, combined) with an Air Tight Opus cartridge ($15,000). Esoteric's Grandioso transport ($35,000), Grandioso monoblock DACs ($36,000/pair), and N-01 network layer ($20,000) were also in the system, other components of which included VAC's Statement phono stage ($80,000) and line stage ($75,000), with cables by MasterBuilt Audio ("expensive but extraordinary," according to Hayes) and Critical Mass isolation supports.
While listening, from a front-row seat, to an LP of Tchaikovsy's The Nutcracker, I was fairly stunned—no other word for it—by the realism and presence of the woodwind instruments in particular, and the believable colors and textures of the strings. But to dissect the sound in such a manner is to do this seemingly over-the-top system a disservice: It played the music convincingly, entertainingly, and thrillingly. A pretty good start!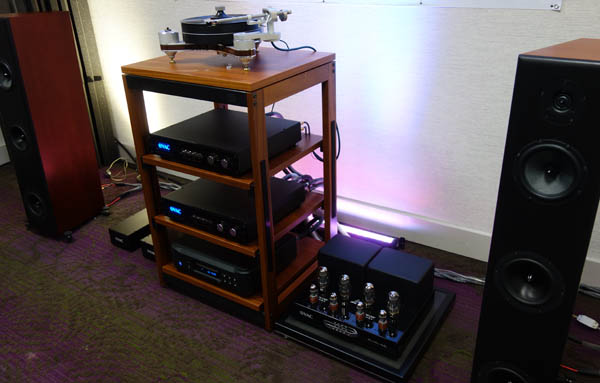 In a second, smaller room sponsored by The Audio Company, concomitantly smaller products were featured. Prices were smaller, as well, the goal being to keep each product under $10,000. The turntable was the Clearaudio Innovation ($10,000, including tonearm), with an Ortofon Cadenza Red cartridge ($1200), driving a VAC Renaissance phono stage ($9900), Renaissance V line stage ($9990), and Phi 170 iQ amplifier ($9900), itself driving the Von Schweikert Endeavor E3 loudspeaker ($8000/pair), the whole thing sewn up with MasterBuilt cables. Also in the system was an Esoteric CD player, the model name of which I failed to get.
Before saying goodbye to the $1.5 million system in the other room, I listened to the Eiji Oue/Minnesota Symphony recording of Rachmaninoff's Symphonic Dances—and I asked to hear the same track on the smaller system; it was pleasing, but in different ways. It was less colorful and impactful, but had just as good sense of flow—and, room volume for room volume, the smaller system seemed more spacious.
On the way out of The Audio Company's demonstrations, I saw David Stanavich of Waxrax, the Brooklyn-based metalwork company whose stylish custom record racks were featured in a recent issue of Stereophile. Stanavich mentioned that his company's LP-H Console ($7000 and up), which holds playback gear as well as LPs, is in use in the Robyatt Audio room, which I plan to visit before the show's end.
Of course, there's no sense having LP storage without LPs—and I was delighted to see a number of people selling new and used vinyl at CAF 2017. They included Doylestown, Pennsylvania-based Sound Stage Direct . . .
Baltimore's El Suprimo Records . . .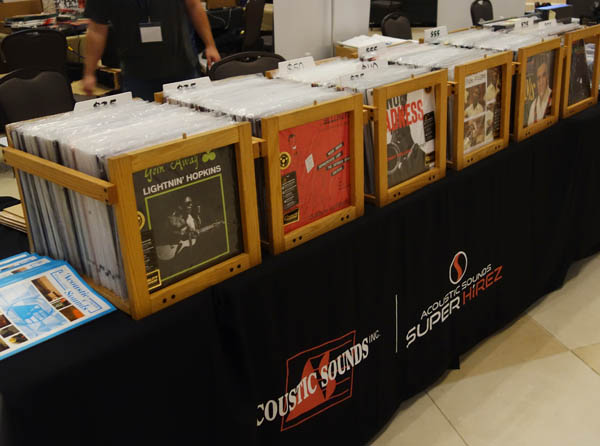 Acoustic Sounds . . .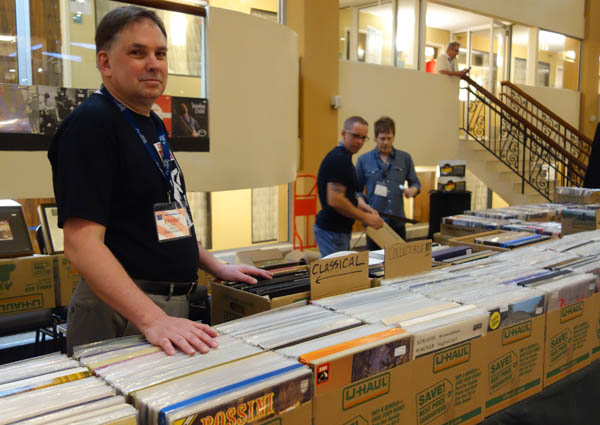 . . . and Falls Church, Virginia's CD Cellar, whose stock of collectible LPs contained two LPs I simply couldn't leave behind.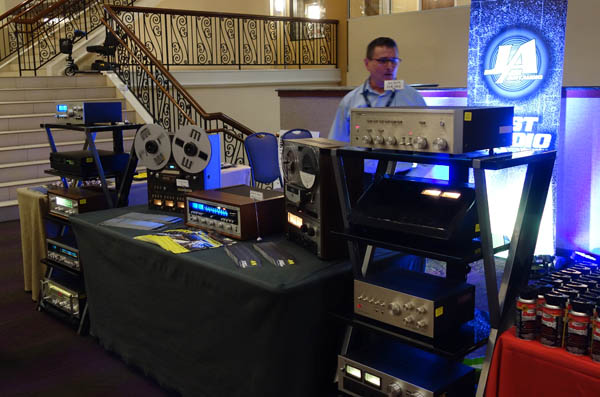 Finally, I visited the booth sponsored by vintage-gear specialists Just Audio, whose founder, John Panzer, is seen in the pic above—and whose Lenny Florentine will join Herb Reichert, Joe Roberts, Early Bender, Blackie Pagano, and me at 10:30 on Sunday morning for a seminar titled The Virtues of Vintage. Fun awaits!