More CAF Coverage from Herb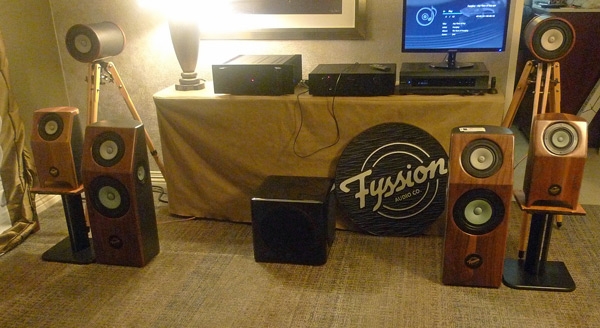 Fyssion? That rhymes with "fishin'," right? Every year I pop in the Fyssion room and every year I start thinking of fishin' before I even sit down, because these Fine Southern Gentlemen remind me of how good the bass fishing must be in their home state of North Carolina. I always cause a little friction 'cause I try to get them to have a room sheet with info about the gear they are playing and they always say, "Why should I do that?" I grin and explain that, "No words from you gets no words from me." They all laugh.
They know I'm a city boy, and they having me on. This time I spoke softly to the Alpha Southern Gentleman—gave him a little snake eye—then we all laughed and started chatting.
I listened to the Natural 6 ($2000/pair) and the Diva 4 ($1500/pair), both of which are handmade from solid walnut and bendable plywood for the curved parts. All Fyssion speakers employ full-range drivers from Moth Audio. Fyssion speakers look a bit home-made, but they do not sound home made—at all! They are smooth and fast, and image like a tactical rifle scope—except the soundstage is Cinemascope and the tone is Technicolor. And here is what they wrote for me about the system: Oppo BDP-105 DVD/CD player ($1200), iPhone streaming Tidal, Vincent SV-500 preamp ($1100), Vincent SP-331 amplifier (NP), Monster Cable power conditioner ($300), the interconnects were "solder on" ($2/each), loudspeaker cables were "Monoprice" 12-gauge ($35/100ft). I stayed a long time because it was fun they played: Four Play, Steely Dan, Frank Sinatra, Accurate Alchemy, Jennifer Warnes, and the Temptations' "Masterpiece." I am already looking forward to seeing these guys next year.
I am a long-running fan of the pro-style/pro-sound approach of PrismSound—a British company that specializes in manufacturing professional-quality analog-to-digital and digital-to-analog converters of modest size. I have only experienced their $2700 built-like-a-tank Callia DAC, but every time do, I think the same thing as I did today as I listened to Camille Saint-Saëns' Dance Macabre: well-toned midrange, pristine highs, naturally-tight bass, and overall sanitary sound. All good business—no monkey business. In the whole-truth school of digital.
The system Prism chose to showcase the Callia used an Aurender N100H server ($3500), and ATC SCM40A active loudspeakers ($13,000/pair). Ancillaries included, Atlas cables, SolidSteel rack, and Artnovion acoustic treatments.
To me, Joseph Audio loudspeakers always sound smooth, dynamic, and quiet—in what I imagine is a low-distortion way. This year Jeff Joseph was featuring the $13,000/pair Perspectives and they seemed even more quiet and alive than I remember. Perhaps it was the Studer A810 reel-to-reel magnetic tape machine with low-inductance heads? Or the Doshi tape stage ($16,995) or the VPI Classic turntable with Audio Technica ART 1000 moving-coil cartridge connected to a Doshi phono stage ($16,995), or the Doshi V 3.0 line-level preamp ($16,995), or Bel Canto REF500M monoblocks ($3990/pair), or the Cardas Clear power, interconnect, and loudspeaker cables.
20/20 Evolution Systems demmed a fancy shiny expensive system that sounded almost as good as it looked—which is to say—fantastic. Up front were my favorite Tidal loudspeakers, the Piano G2 Diacera ($39,900/pair), connected by Carda Clear Beyond cables. There was a LampizatOr Golden Atlantic Dac ($10,530), an Aurender N10 music server ($8499), a Kuzma Stabi Reference 2 turntable ($10,720), with a 4Point tonearm ($6775), and a Kuzma CAR-50 cartridge. Amplification was the Conrad-Johnson GAT Series 2 preamplifier (Limited Edition $24,000), and C-J's big, beautiful ART300 monoblock amplifiers (Limited Edition $38,000/pair).
Rogers High Fidelity makes unique eccentric-looking tube amplifiers that always sound vivid and strong; but while you are listening to music you can't take your eyes off their shapes and color. This year, I could listen without staring at the amps because Rogers was using the beautiful $20,000, 34S-1, class-A, 100Wpc, EL-34-tubed amplifier—but he was exhibiting with Burwell & Sons who were demonstrating the same $87,500/system Mother of Burl loudspeaker array that Ken Micallef and Art Dudley reviewed in October. Burwell's "Mothers" seduce the eyes and soothe the mind. Every bit in the room was a joy to behold.
The rest of the system was a VPI Avenger with a 3-D arm ($15,000) and an Ortofon Anna moving coil cartridge ($9,000). Rack and amp stands were by Box Furnature ($3000) and cables were Transparent Ultra USC10 ($3900), UPH2 x 2 ($3600), and USE2 ($1800).