Art Wraps It Up from CAF2017
After the Capital Audio fest vintage seminar and my visit to Vinyl Revivers, I looked at my phone and saw that time was running out: I had just over three hours left to cover seven or eight more rooms. Time to get cracking!
I remembered Charney Audio from a previous show: based in Somerset, New Jersey and run by designer Brian Charney, they specialize in horn-loaded, full-range speakers and low-power amplifiers—and the last time I heard their products, I thought the company had considerable promise. Based on what I heard at CAF 2017, Charney has upped his game even further: the sound from the company's Companion Mk.II loudspeaker ($12,000/pair as shown, with optional Voxativ AF 2.6 drivers and maple veneer and hardwood accents; other versions start at $5850/pair), driven by a pre-production Charney amp and fed by a Japanese Sparkler Audio 503 CD player ($1500), with cabling by Jena Labs, sounded clear, detailed, and very tactile and present—but without the shout that plagues other Lowther-like designs.
The system had a somewhat light balance, but was richer than the last Charney system I heard—and actually did a creditable job on a recording of Bach's Toccata and Fugue in d. Worth checking out.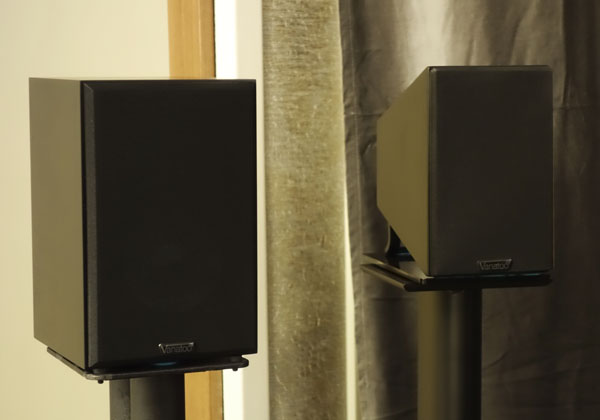 While listening in the Vanatoo room, I scribbled in my notebook: What a great dem! Friendly! Thorough! Detailed! No bullshit! A breath of fresh air! Just as clear and direct was the sound from Vanatoo's two DAC-equipped, DSP-enhanced, powered loudspeakers: the relatively new Transparent Zero ($359/pair), and the Transparent One ($499/pair), which has been in production for approximately five years. They both sounded competent and clear—and both have subwoofer-out jacks, as demonstrated in a comparison test of the Transparent Zero with and without a sub. (Even without it, the Zero sounded well-balanced and full for its size.)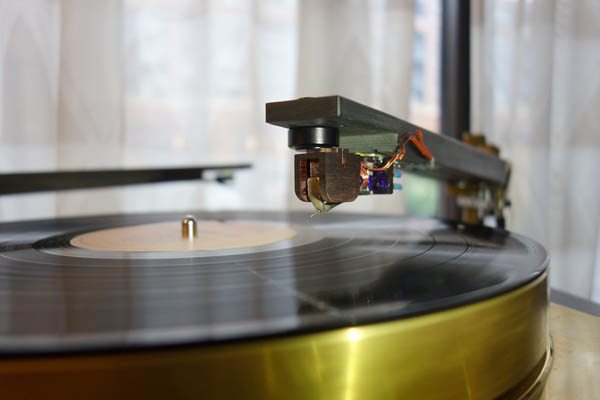 It's a good thing that, at our vintage-audio seminar earlier in the day, no one asked for our thoughts on which rooms had the best sound of the show—because it was just an hour and a half before closing time that I listened to music in the EMIA room. And that system, built around Dave Slagle's stacked and heavily modified Quad ESL loudspeakers, produced some of the most compelling sounds I heard all weekend. It did everything: Color. Texture. Force. Humanness of touch. And, especially, that system conveyed the momentum and drive in every record played through it while I was in the room.
The room's two turntables were both Garrard 301s, both built into custom EMIA plinths and fitted with Dave Slagle's transcription-length tonearms. (The motors of both were also driven by a pre-production version of a speed controller designed and manufactured by Bryan Edewaard—and both were run at 230V.) In addition to using a silver-wired version ($4200) of the EMIA phono step-up transformer I wrote about in the August 2017 Stereophile, the demo system included something that, at this point in time, is not yet a commercial product—and in fact is described by Dave Slagle as an experiment: a moving-coil phono cartridge that uses a field coil in place of a permanent magnet. (Slagle was quick to give credit to the late Hiroyasu Kondo of Audio Note Japan for his own success in making and bringing to market such a thing.)
I'm still trying to wrap my head around the idea of an American mortal making his or her own phono cartridge, let alone one energized by a field coil—which, of course, requires an outboard DC power supply. As I believe I have observed before, Dave Slagle is equal parts fearless, humble, and eager to learn; as evinced by the EMIA system I heard in Rockville, those qualities are serving him well.
Ever since publishing the first US review of a Rethm loudspeaker—in 2000, in Listener Magazine—I've followed this company with interest, and I was very happy to see company founder Jacob George at CAF 2017, and to hear, in the room sponsored by Well Pleased AV, his new full-range Rethm Bhaava loudspeaker ($3750/pair). Driven by a Qualiton A50i integrated amplifier ($7500), with a digital front end comprising the LinnenberG Telemann DAC ($5400) and Innuos Zenith SE server ($7000), and with Anticables cables throughout the system, these entry-level Rethms were immediate, fast, and musically and sonically clear.
Listening to Traffic's "Freedom Rider," I was especially impressed by the system's really good drive. Jim Capaldi's drumming was appropriately forceful: his slightly haphazard sound—in some ways, he was like a British version of the Band's Richard Manuel, if perhaps just a bit less loose—came through loud and clear. And the recording of Sarasate's "Zigeunerweisen" by Edgar Meyer, Mike Marshall, and Bela Fleck sounded beautiful—very colorful and richly toned and textured. A really remarkable system, one that I wish I could have listened to much longer. (I made it to this room approximately 25 minutes before the show closed!)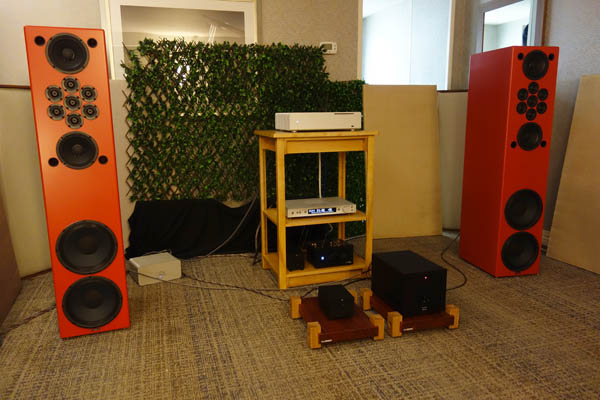 Not only did I run out of time toward the end of Sunday—I ran out of paper: both sides of every sheet in my yellow legal pad, and even the cardboard backing, were full, and I found myself jotting notes in the margins of manufacturer's info sheets and, in one case, on the back of a business card. So while I recall enjoying the sound in the room sponsored by Takoma Park-based Linear Tube Audio—and it's also my recollection that they played real music as opposed to audiophile-grade sonic cheez-whiz—my sketchy notes on their dem don't reference any specific titles: sorry! But there was just enough space on one crumpled sheet for Joe Parvey of Jacksonville, Florida's Wolf Audio Systems to detail the system: Wolf Audio's Roon-ready, MQA-friendly Alpha 2 server ($4000) with a Mytek Manhattan II DAC ($5995); Linear Tube Audio's MZ2-S preamp/headphone amp ($1830) and ZOTL 10 Mk.II amplifier ($3200); and Tekton Design Double Impact loudspeakers (3300/pair), all roped together with Audience SX cabling.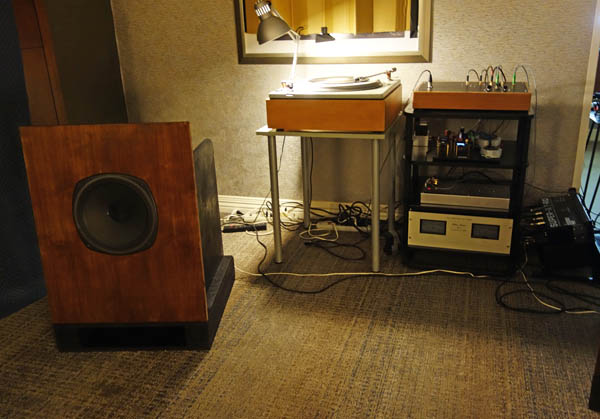 No visit to Capital Audiofest would be complete without a visit to the room perennially sponsored by DCAudioDIY, a group of technically adept hobbyists who design and build gear for love of music—and, in some cases, love of gear—rather than for commercial reasons. This year, DCAudioDIY's fine-sounding room included a vintage Gates CB-500 16" transcription turntable with 12" Schick arm and various pickups (provided by Joe Roberts); Hashimoto HM-X step-up transformers, provided by Roscoe Primrose; an op-amp-based phono stage with Intact Audio passive, stepped attenuators (provided by Roscoe Primrose); a DIY AK4497-based DAC (provided by Roscoe Primrose); Western Electric 124 clone amplifiers (provided by Roscoe Primrose); and 12" Tannoy coaxial speakers on open baffles (provided by Roscoe Primrose).
The closing bell was within minutes of being struck, so after making it from the portion of the first floor that's on one side of the atrium to the portion on the other side—the layout of the Rockville Hilton is interesting, to say the least—I dashed into the room sponsored by the Long Valley, New Jersey based retailer GTT Audio and found . . . a headboard! The reliably friendly Dick Diamond of YG Acoustics was there, chatting with a very nice DC-area couple, but the system, like the Pretenders' city, was gone! Too bad I missed it, because the system was said, by Diamond, to have included: YG Acoustics Carmel 2 loudspeakers ($24,300/pair); an Audionet Watt integrated amplifier ($18,800) , alternating with Mola Mola's Kaluga preamp ($7850) and Makua monoblocks ($11,740/pair); an Audionet Plank CD player/DAC ($18,800) alternating with a Mola Mola DAC board ($7850); and Kubala-Sosna Elation! cables.
And that was that—for the next hour, at least: CAF abides by a very civilized set of rules, whereby the show closes at 4:00pm, exhibitors and attendees alike rest for an hour—typically with the beverage of their choice—and then, at 5:00pm, the crowd re-gathers in the Hilton's atrium, for a giveaway.
Throughout the show, attendees were encouraged to visit the room sponsored by Mark Audio-SOTA for a chance to enter the CAF 2017 raffle and to audition the system being given away, which combined a VPI Cliffwood turntable ($900) with PS Audio's 50Wpc Sprout integrated amplifier with integral phono preamplifier ($499) and a pair of Mark Audio-SOTA Tozzi One loudspeakers ($445/pair), built around designer Mark Fenlon's 5" alloy-coned full-range driver. The lucky winner: Dave Leeger of Burtonsville, Maryland. Congratulations, Dave!
And there you have it. According to Capital Audiofest founder Gary Gill—a great guy and a tireless worker who responds to incivility with kindness, grace, and even more hard work—has already scheduled the next Capital Audiofest for November 2–4 2018, also at the Rockville Hilton. I hope I'll see you there!