Art's Saturday Morning at CAF
Pros: Tactile, clear, colorful, and remarkably spacious sound; beautifully made gear
Cons: Audiophile music, audiophile demonstration protocol.
The sound in the room that featured the Daedalus Apollo 11 speaker ($22,800/pair), a selection of tubed electronics from ModWright, and cabling by WyWires was superb: detailed without sounding etched, and pleasantly liquid and warm, with good texture and a really great, spacious sense of scale. On top of all that, the gear from both brands is gorgeous: as rich and colorful in appearance as in sound.
But when I entered the room and sat down to listen, it became apparent that a before-and-after dem of some accessory was underway: the same portion of the same song—Rickie Lee Jones, maybe?—was being played over and over and over. I thought I was there to enjoy some music, but in that regard I was out of sync with the guy running the dem—who said, not long after I sat down, "Now I'll pop them back in, and we'll play that track again." (To tell the truth, I thought the system sounded slightly better without them, whatever "them" were.)
A couple minutes later, Stevie Ray Vaughan's "Tin Pan Alley" came on. I bailed.
With all due respect, Daedalus and ModWright products deserve to be used for playing music, not for public exercises in audiophile fiddliness.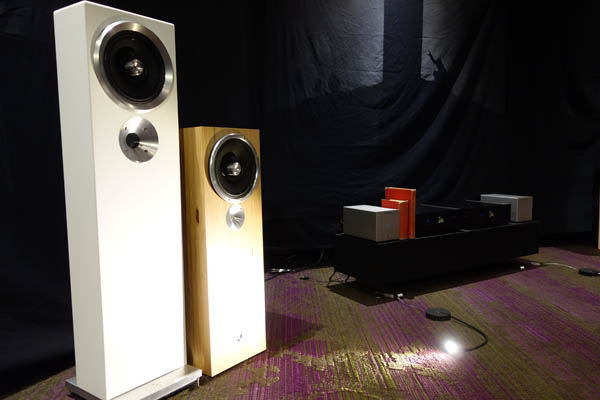 More in tune (haw) with my listening habits was Zu Audio, which bows to no company in their dedication to playing real music at audio shows. I entered their room to the heavy metal sounds of the title track from Disturbed's fourth album, Indestructible: the playback was well-balanced, appropriately muscular, and fun. A couple who appeared to be approximately the same age as I were in the room at the same time, and they seemed to be enjoying themselves immensely; at one point the husband exclaimed, "Some of the other [music played at the show] is nice, but it's a little like being at a funeral."
The speaker in use was the Zu Druid Mk.VI (the white one in the photo above: $10,000/pair), driven by Linnenberg and First Watt electronics and stitched together with Zu Event interconnects and speaker cables.
Reviewers often speak of how a system can or cannot communicate bass, treble, impact, spatial depth, detail, texture . . . you name it. Sadly unmentioned by me and most everyone else is whether a bunch of hardware can get across the mood captured in a recording—and the system in Robyatt Audio's room succeeded at doing just that while playing an LP of Astor Piazzola's Milonga de l'Angel, performed by Salvatore Accardo and the Orchestra da Camra Italiana. From start to finish, I was captivated.
Built around a pair of original Quad ESLs rebuilt by Kent McCollum of Electrostatic Solutions ($5500 and up), the system also included DNM's 40Wpc P3 power amp ($8250) and 3D SIx Preamp ($12,500), plus all DNM cabling.
The turntable was a refurbished Garrard 401 turntable with Wood CB and BA tonearms from Schroeder (respectively $5750 and $4850) and Miyajima Labs's Madake Snakewood L/E ($7500) and Zero Mono ($2150) phono cartridges. This record player—and the electronics, and a healthy selection of LPs, old and new—was supported by an LP-H console from Waxrax ($7000 and up).
More great-sounding music followed the Piazzola piece, including Nat King Cole's "Candy," from After Midnight, the delightfully weird "Baltimore Oriole" from Bob Dorough's Devil May Care, and—for those who might incorrectly assume that the Quad ESL is incapable of dynamically believable bass reproduction—Munyungo's "Drums, Drums." Another room I left only because I had to.
It's hard to believe I had never met Odyssey Audio's Klaus Bunge prior to CAF 2017. His is a larger-than-life but thoroughly warm personality, and his enthusiasm for making affordable perfectionist gear is unmistakable (and infectious). (An example of the Klaus Bunge mindset can be seen in the title of the presentation he would give on Saturday afternoon: "Doing Away with the Bullshit of the High End Industry, Part II.")
Actually, the minute I entered the Odyssey room, I was impressed: It smelled really good. (Candles? Incense? Spilled perfume? No idea.) I was even more impressed when Klaus killed the lights and played a selection from Mobile Fidelity's One Step pressing of Santana's Abraxas: Believable, colorful sounds of piano, organ, timbales, electric bass, and, of course, solo electric guitar emerged from an exceptionally wide soundstage, with billowing room air and lots of realistic detail. It wasn't the meatiest sound, but the room was considerably larger than the CAF average, and I wondered if the speakers wouldn't sound more fleshed-out if they were closer to room boundaries.
The system included Odyssey's Kismet loudspeakers ($4200/pair), Khartago mono amplifiers ($1995/pair—an extraordinary bargain, it seemed to me), and Candela preamp ($1600).
Featured in the room sponsored by Channel D, whose product line evinces their expertise in both computer audio and vinyl playback, was their new Seta L20 phono preamplifier ($48,000), which offers lower distortion and a higher signal-to-noise ratio than their previous top-of-the-line model, the Seta L ($5000). As designer Rob Robinson told me, the Seta L20 began "as an engineering exercise," to see if he could improve on the Seta L—which remains in the line—and led him to increase both the number of preamp modules in the product and the number of (rechargeable) batteries. There are fully eight of the latter in the Seta L20, which are user-replaceable; Robinson estimates a four–five-year lifespan for the batteries, and pointed out that, given a properly designed charger—Channel D's is not an off-the-shelf unit, but rather was designed from the ground up—the presence of batteries will exert a filtering effect on the power supply: "Batteries really are an internal noise sink—this isn't about going off the grid."
I liked the guy who ran the Carver dem—he was engaging and enthusiastic, and seemed to be having fun—and the system, which included Carver's tall, thin, and camera-defying Amazing Line Source loudspeaker ($15,000/pair), might sound good in some other space. But in spite of the observation by the rep, whose name I didn't catch (it wasn't Bob Carver), that "we know how to subtract the coloration from a room: nobody else in the world knows how to do that," the system sounded like what it was: a stereo tucked away at one end of a cavernous and otherwise empty room that was way too big for it.
Benchmark and MartinLogan used their CAF 2017 space to create a surround-sound demonstration, using three well-synchronized samples of Benchmark's DAC3 HGC ($2195 each), as well as Benchmark amplification and five MartinLogan loudspeakers—three in front, two in the rear). Listening to a surround mix of "Never Going Back Again" from Fleetwood Mac's Rumours album, I thought the basic sound had fine tactile qualities: timbrally and texturally, the instruments and voices sounded right and real. But ultimately, though entertaining at times, the multichannel presentation was spatially distracting: during the parts where a fingerpicked acoustic guitar was the only instrument playing, that one guitar was coming at me from every direction, in a manner one never hears from a real performance. Well executed, but not for me.