Herb's Final Report from CAF2017
Dan Wright is most famous for his Oppo disc-player modifications that seem to cure the colorlessness and industrial ennui that contaminates the stock Oppo players. They look a bit weird sci-fi with the two tubes sticking out the top like alien antennae—but his BDP-105 and 205 mods sound rich fast and wonderful. Dan also makes beautifully crafted amps and preamps. And lately, he's been making glamorous-looking and -sounding headphone amplifiers like the shiny red $7900 300B tube-powered HA300 amplifier pictured above.
With quick auditions at shows, and especially in noisy CanMania surroundings, it is hard for me to make accurate assessments of sound quality, but using the excellent MrSpeaker Ether headphones ($1499) I could fully sense the lush viscosity of the HA300's presentation. I am looking forward to spending more time with this 300B-powered beauty. Power cables and interconnects were by Wywires.
Jack Wu, of New York City's Woo Audio, is surely one of the nicest, most humble, understated, people in the headphone world. He and his father Wei-fu Wu make and sell relatively reasonably priced, all-tube amplifiers that operate at the cutting edge of today's headphone market. I reviewed Woo Audio's transformer-coupled, dual-chassis, single-ended 300B, WA5 amplifier ($5899) in January 2017. Don't let its price fool you, the WA5 is surely one of the best headphone amps ever.
In addition to their own amplifiers, Woo Audio also sells, a carefully curated group of premium headphones by Sennheiser, Focal, Stax, MrSpeakers, HiFiMan, Sony, Fostex, and now, the brand new Klipsch Heritage HP3 ($1100). I auditioned the Heritage HP3 with the jewel of Woo's lineup: the WH7 Fireflies ($1599). These exquisite little plexi-top cubes are all class-A, single-ended tube designs: no solid-state anywhere—except in the 24-bit, 384K DAC. Klipsch's new wood, metal, and leather HP3s looked and felt very luxurious—especially on my head!
As usual, Jack's room was filled with noisy, chanting Woo Audio parishioners, so I was not able to get an reportable impression of the quality of sound. My quick take was that the Klipsches sounded as luxurious as they look. More later on this interesting newcomer from a loudspeaker company founded in 1947.
The look of Bryston audio gear strikes me as crisp and clean—sanitary, even. Bryston rooms are consistently well-vacuumed and smartly laid-out. Therefore, I am always a little surprised by how Bryston's house sound is more earthy, breathy, fleshy, and real than I assume it will be. I am sure all these warmer impressions are fueled by the charm and professional savvy of Bryston's Gary Dayton, who is usually making the demonstrations. He always turns me on to music and performers I didn't know I needed to know about. This time it was jazz singer Gretchen Parlato, indie pop duo Sylvon Esso, and eccentric singer-songwriter, Sufjan Stevens. (Thank you Gary.)
Besides being elegant looking and expensive sounding, Bryston's gear is mostly moderately priced. Gary Dayton's cool artists were showcased via: a BDP-3 DAC ($3495), a BDP-17 (cubed) preamp ($3495), two 21B (cubed) "3-channel mono" amplifiers (the system was tri-amped), and the Middle T active loudspeakers ($6240/pair + BAX-1 DSP crossover $3495). (The tri-amped Model Ts work like this: analog power in; then A/D conversion; then DSP crossover; then D/A conversion; then analog out. Got it?) All these Bryston bits were connected to a "Bit 20" power conditioner ($3995). Cables and racks were unspecified.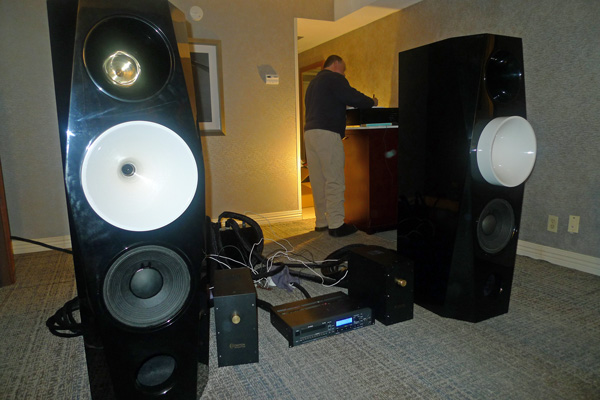 By contrast, the sound in the Orinda room was loud, hard, and stark. I felt like was being attacked by 103dB peaks and 93dB average SPLs. Actually, Orinda was not the only offender; many rooms I visited were playing music at, what old-me considered, uncomfortably high SPLs. What made this room unique—loudness wise—was the cost of the associated gear.
The Sunny Lo-designed (and constructed) Orinda Acoustic 3-way horn loudspeaker sells for $62,000/pair. The Orinda dual-mono integrated amplifier that powered it sells for $18,200/pair. The source was a modified Tascam CD player. The amps and CD player were plugged into Orinda's "The Box" power conditioner ($13,800) with Orinda Reference power cables ($8000/each). Interconnects were Orinda Reference (also $8000/each). Loudspeaker cables were Orinda Reference ($12,000/pair).
Sunny Lo was playing Marches and Overtures à la Française (Mercury Living Presence) and no matter how hard I tried to "relax and enjoy the music"—I failed.
Summing Up the Show
I always wish audio shows could be less ponderous and liturgical. I'd like audiofests better if they were more like state fairs. (Perhaps a little pie-tasting, polkas, and ring-tossing in the atrium?) This one came closer to that dream than usual. It had a good, live, Saturday-night jazz band.
At the end of Saturday, I showed up for a hamburger and a chance to air out my audio-assaulted brain. But alas, foolish me: I thought I'd be listening to a relaxing, all-acoustic jazz quartet, but that was not what I found. Besides the electric keyboard, the standup bass had a pickup and an amplifier. At first I was perplexed and disappointed. Then, very quickly, I understood that the bass and keyboard needed amplification to match up sound-pressure-wise with the saxophone and drums. I understood also how the whole band had to punch through the ruckus and cacophony of the chattering cocktail-enhanced revelers.
This scene also made me realize . . . all those audio room hi-fis had to do the same thing. Which was probably why so many rooms played their music so loud. The presenters felt they needed to quiet the jabbering and focus the listener's attention on the music.
It reminded me too that even at home, all our perfectionist gear, the amps, speakers, DACs, cartridges, and even the recordings (!) need to literally punch through their table-radio artificiality—just to get our attention, and, don't laugh, to even attempt to sound like a live performance. This is why, late at night, just to calm myself, let out my breath, and bring on sleep, I close my eyes and listen to simple-miked recordings of choral or unamplified chamber music on little LS3/5a-type speakers.
The burger, the jazz, and all the excited people, turned a DC Saturday night into one of many satisfying CAF 2017 moments. Thank you Gary Gill and Christina Yuin. See you again next year!