My Journey to Jazz
Like most older teens growing up in the South in the late 1970s, I had two poles of rock and roll heroes: The Allman Brothers Band and ZZ Top on one side,
Yes
and King Crimson on the other.
But big sister Diane lived on 78th Street at Columbus Avenue in New York City—and when I moved north, her apartment floor became my bed. One day, as we walked down Amsterdam Avenue, Diane said, "Miles Davis lives down that block." "That block" was 77th Street. I'd read that Miles was the founding father of the jazz-rock music I was devouring, but I didn't yet know him as Miles, Prince of Darkness, Charlie Parker's bebop apprentice, muted-trumpet master, one of the most significant musicians of the 20th century.
Walking down the block, I spied Davis standing in front of the Spanish-style entrance to his otherwise nondescript apartment building, engaged in conversation with a woman who was doing all the talking. It was the era that would be known as his period of seclusion, 1976 to 1981, when he neither performed nor recorded. Holding up my cheap Instamatic camera, I asked if I could shoot his portrait. He didn't speak a word but slowly waved his arm across his torso, a king granting a wish. I took a couple of photos.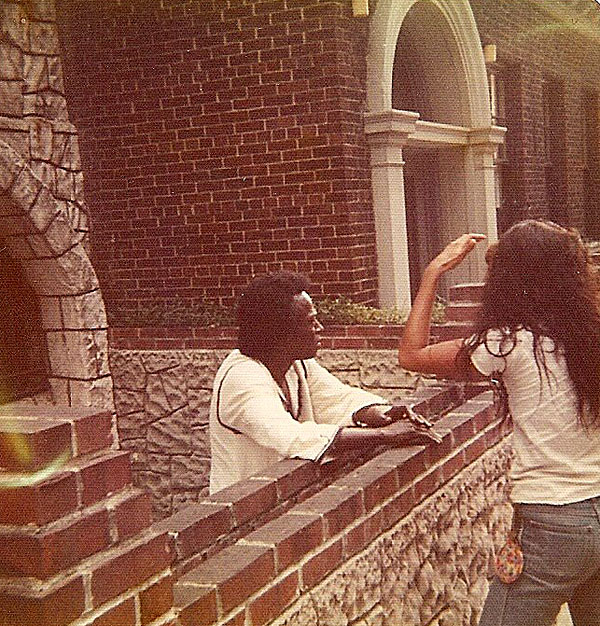 When I returned to North Carolina, I bought two of Davis's albums, both compilations: Basic Miles and Circle in the Round. I'd worn out vinyl copies of Mahavishnu Orchestra's Birds of Fire, Return to Forever's Where Have I Known You Before, Woody Herman's Giant Steps, and Billy Cobham's Spectrum, thinking I understood jazz. But Circle, a double-LP collection of session outtakes featuring alternates of "Two Bass Hit," "Love for Sale," and "Sanctuary" and unreleased material such as "Blues No. 2," threw me for a curve.
Ever since I was 12, I had played drums in marching bands and then garage bands—but Davis's jazz sounded like a beautiful foreign language, its pull slow but sure. I'd got used to practicing many hours a day, and the unusual rhythms and longer solo forms in Davis's music pushed my imagination further.
Circle in the Round included alternate takes of tracks from recordings as diverse as Milestones and In a Silent Way performed by many of Davis's greatest musicians: Wayne Shorter, Bill Evans Philly Joe Jones. Not Papa Jo Jones, the Basie stalwart, but Philly Joe, the master swinger and powerhouse pugilist who drummed on hundreds of Blue Note sessions. I couldn't get enough of Philly Joe, his perfectly spaced "dang-dang da-dang" ride-cymbal beat driving the music like a hurricane that never lost torque. When Jones took extended solo breaks on "Blues No.2" and the alternate "Two Bass Hit," my jaw dropped at his perfect timing and grand swing pulse.
And Tony Williams! His sprawling, disruptive drumming on the title track was like nothing I'd heard. His chaotic rhythms sounded like tin lids flying off trash cans, like some enormous insect, its wings battering the air. I'd seen Mahavishnu Orchestra at an all-day festival in Charlotte and found Billy Cobham's speed-driven playing otherworldly. But I soon sensed that Tony Williams was the core, the locus of all that came before and that would follow in jazz and jazz drumming.
Williams ignited jazz-rock with his distorted 1969 release, the Tony Williams Lifetime's Emergency!. He would eventually introduce the world to another innovator, guitarist Allan Holdsworth, on 1975's Believe It.
It was then I realized that Miles Davis was the other consistent focus point, his discography huge, each record dissimilar to the last. I remember standing in my mother's backyard grilling chicken and red peppers on a humid summer day, drinking too much red wine as Wayne Shorter's "Fall," from Miles Davis's Nefertiti, played from my homely hi-fi: Garrard SynchroLab 55B turntable, Utah loudspeakers, crummy Lafayette integrated amplifier. "Fall" unfolded like a fever dream. Davis, Shorter, Herbie Hancock, and Ron Carter repeated the dissonant melody like waves, static, while below Williams flashed brilliant explosions. Williams drummed with unbelievable energy, charging the group with exotic rhythms from a seemingly bottomless well.
Other intoxications followed as I delved. The Real Book—an initially unlicensed compendium of lead sheets and a constant companion to jazz musicians seeking the hidden recesses of jazz compositions—exposed me to the standards jazz musicians lived by. Compositions by Steve Swallow, Paul Bley, Chick Corea, Steve Kuhn, Sun Ra, Pat Metheny, and Keith Jarrett presented serious challenges to most musicians; I held on to the rhythms by my bare knuckles.
Later, I would discover the music of Thelonious Monk, Charles Mingus, Count Basie, Sonny Clark, Hank Mobley, Sonny Rollins, Duke Ellington, Louis Armstrong, and Eddie "Lockjaw" Davis. My brief moment with Miles sparked a fascination that continues to this day.